Recently, Rosa 'Othello' sent out a long stem that bore a big bud outside my gate that eventually blossomed into a beautiful pink rose. You can see it in the second pic.
This big blossom made me wondered, how in the world the rose bush can endure the hot blazing sunshine here?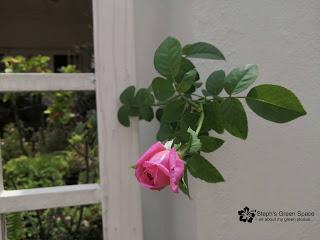 There was a faint sweet rosy smell in the air when the rose opened that morning...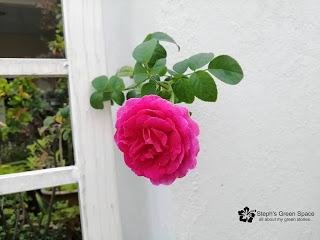 The whole crown-of-thorns plant below was rotting away many months ago leaving several surviving stems in the pot. So, I poked the stems back into the soil, hoping that they will take root again and they did and now, they are even flowering :D.
The little pink blooms all over the top of the plant are like icing on a cake.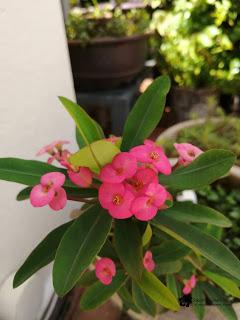 This is another beauty that has shown up too - for the first time! It is a bloom that appeared from my white flowering Papilionanthe Poepoe.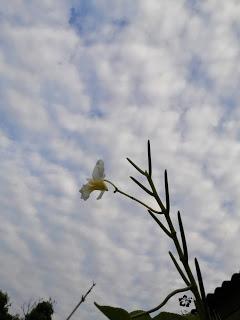 This Papilionanthe Poepoe was planted in my garden several years ago from a cutting that was about one and a half feet long. Now it has reached a few feet high. And as it settled on a pot, I have to raise my hands up high to snap a shot of the pure white bloom with yellow centre...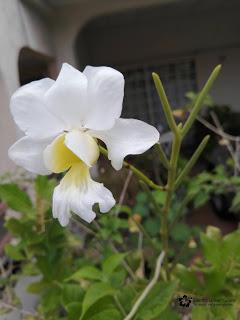 The rain lily below in yellow and apricot shades did not come with an ID and it rarely blooms. Do you have one that is similar in shade in your garden?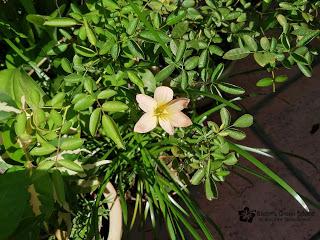 I made the herb bouquet below with a few sprigs of Thai basil, dill and marjoram. Sat it into some water in a little bowl next to the kitchen window for myself to enjoy while cooking. Once the sprigs have taken root, I would use them to grow more herb plants.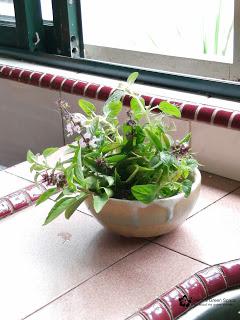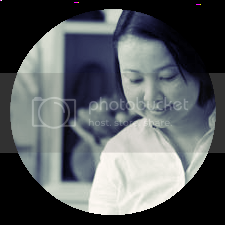 Share your experience and your thoughts on this post by leaving a comment :-)