[Content note: sexual assault]
I wrote a Daily Dot piece about rape "joke" t-shirts.
An unnamed Coachella attendee is making headlines online after Jemayel Khawaja, managing editor of Thump, tweeted a photo of him wearing a shirt with what I assume is meant to be a "joke" about rape:
This guy wins the award for worst fashion/lifestyle choices at @coachella. I'm not easy to offend, but this is shitty pic.twitter.com/fyjod24nAx

— Jemayel Khawaja (@JemayelK) April 12, 2015
The shirt, which is presumably a reference to Fatboy Slim's song, "Eat, Sleep, Rave, Repeat," is not that unusual. Similar ones have made the rounds online in recent years, prompting retailers to hastily pull them off their shelves.
For example, the SM Store, located in the Philippines, caused a backlash after a customer found a shirt with the slogan "It's Not Rape, It's a Snuggle with a Struggle." Online retailer eBay was criticized for selling shirts saying "I'm Feeling Rapey" and "Sometimes No Means Yes." Solid Gold Bomb, a clothing company that uses automation to generate t-shirt slogans, sold shirts saying, "Keep Calm and Rape A Lot" on Amazon. Topman sold a shirt that featured a checklist of excuses for domestic violence, such as "You Provoked Me" and "I Was Drunk." Anti-violence advocates rightfully pointed out that these are actual excuses that abusers use all the time.
Why do these shirts keep being made and sold? The eBay shirts were oh-so-helpfully labeled "offensive cool geeky funny" in the online store, and that provides a clue: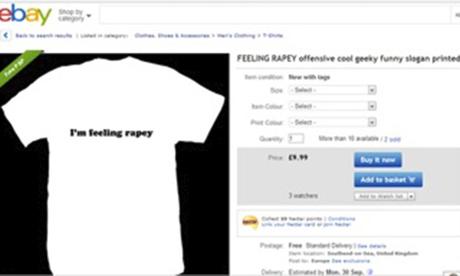 Screengrab via eBay
Some people like to wear (or make) clothing with "offensive" slogans because they think it identifies them as someone who doesn't care about others' opinions of them, which therefore makes them "cool." However, if anything, filling your closet with these types of shirts marks you as someone who desperately wants to seem "cool" more than anything else.
As for "geeky," I don't know where that comes from, except maybe a cynical assumption on the part of the shirt's designer that geeky people would want to wear such a thing. And "funny?" Well, given how many comedians are still trying to use rape as a punchline, it's obvious that people still find it funny.
Sexual assault can be funny, in a certain context, when joked about by certain people. But jokes about rape that work tend to make fun of rapists or people who engage in rape apologetics, not actual or potential victims. The "joke" in the Coachella guy's shirt, if there even is one, is "I find raping people as necessary for my continued survival as sleeping and eating."
Read the rest here.