Hello friends, 
Followed by my BIBA post, today I bring you another fabulous website which boasts with the most extraordinary and comfy Ethnic wear at your favorite shop's price!!
Yes girls, I found another glorious website called Rangriti - which is an online shopping portal for women which hosts a range of ethinic wear for women.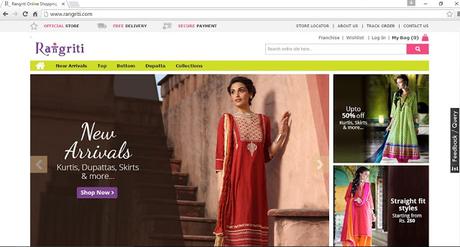 For those of you who are new to this website, Rangriti is a range of bright & happy women's Indian wear.
A unique fusion of Rang-color and Riti – fashion, Rangriti brings out a line that is a fine blend of feminine cuts and beautiful shades in sync with the latest fashion trends.
Rangriti provides high-end fashion at very attractive prices making it a perfect answer to every woman's wish of making every day exceptional. With a wide range of beautiful kurtas, Anarkalis, churidars, dupattas, leggings and kurtis in pleasing prints, colors and patterns, the brand aims at bringing freshness, variety & style to every woman's closet.
Their Kurthas start from Rs. 250/- and their bottom pieces are priced from Rs. 314.! I must say I was quite impressed with their collection.
Their website home page looks inviting and their portal is very easy to browse through. Given the temperatures outside, it is indeed comfortable to sit in the comfort of your home and flip through their collections.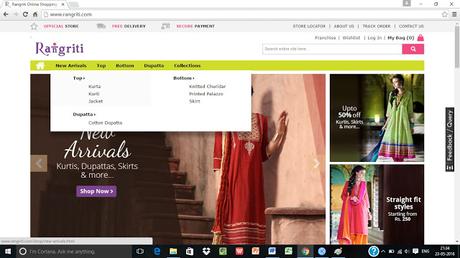 They have a dedicated menu for Tops, Bottoms and Dupattas. Their collections are comfortably grouped together under various categories and it is very easy to spot the perfect style.
Another thing worth mentioning about them is that they offer free shipping within India! And they claim to deliver within 5-7 working days. Not bad considering the amount we end up paying as shipping in most of the reputed websites.
Taking about their collection, though I would not call them very unique, the price at which they offer is very competitive and the pieces which they show case are very pretty!
I have listed some of my personal favourites here and they are:
Blue Cotton Flared Skirt:
Skirts are "in" this summer. These ethnic skirts when paired with a well fitted shirt of a solid color or just a simple white tee will indeed make a fashion statement. Perfect for a day out with your friends.
Price: Rs. 489/-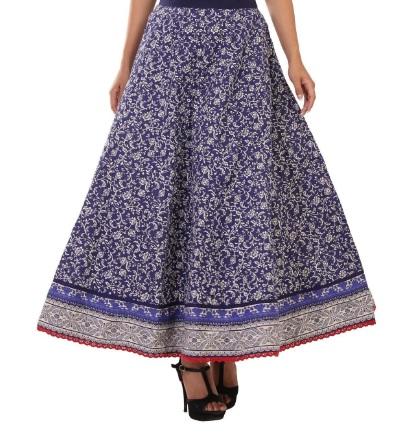 Lime Straight Cotton Kurtha:
This bright lime colored kurtha looks super classy whilst retaining the summer vibe. We can easily pair it with a knitted chudidhar in white or black for work. The material being cotton is the most recommended one to take on the unforgiving weather. Lovely one indeed!
Price: Rs. 1,299/-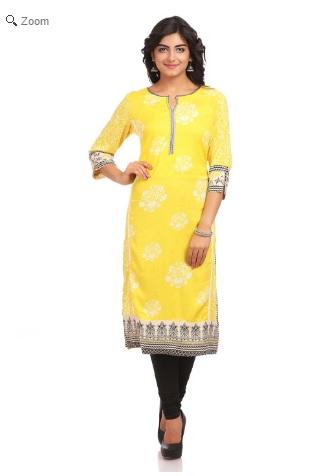 Red Kalidar Viscose Kurtha:
How can I ignore this one? The yolk piece, the cut and the color makes it perfect for festivals and celebrations where you cannot afford to dress up way too much and yet wish to make a subtle statement.
Price: Rs. 1,049/-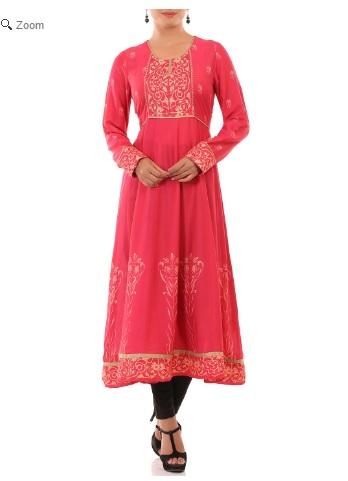 Red Kalidar Cotton Kurtha:
Another red grabbed my eyes! I have mentally styled this piece with some gorgeous earthen colored Teracotta earrings. This is something which I would wear to work. The Kurtha can be easily paired with a black knitted chudidhar. I can even carry my holii handbag with it!
Price: Rs. 979/-.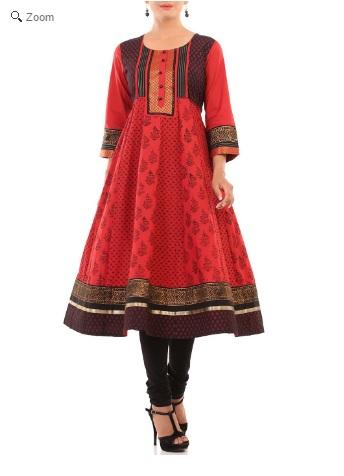 Blue Cotton Straight Kurtha:
This is so irresistibly priced at Rs. 350/-! This piece will look gorgeous when paired with a white palazzo or a long skirt.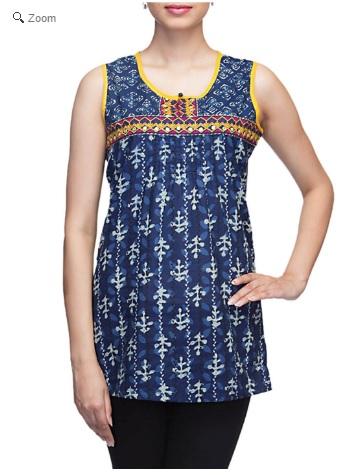 Hope you all loved reading about Rangriti. Do check out their website and let me know what you think.