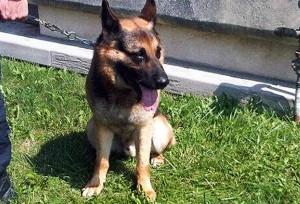 A police dog named Ranger is being credited with possibly saving the life of Christopher Peloso, days after the husband of former politician George Smitherman went missing from his midtown Toronto home.
Peloso, 39, was recovering at Toronto Western Hospital Wednesday, hours after police found him conscious and breathing in thick brush near the railway tracks at Dupont Street and Lansdowne Avenue.
He was reported missing to police early Tuesday morning, after he was last seen at his home in the Davenport area on Monday afternoon.
A team of police officers set up a command post near the railway tracks Wednesday morning, and fanned out on foot and on horse after receiving some investigative leads, including a signal from Peloso's cell phone.
About 30 minutes into the search, Ranger found a "somewhat disoriented" Peloso curled up in a ball deep inside thick brush.
The dog, who is trained to pick up human scent, started barking, alerting his handler, Sgt. Scott Fowlds.
"Without the dog, we wouldn't have noticed him, unless somebody had actually walked into that thick bush," Fowlds said in an interview with CTV Toronto.
It was the outcome everyone was hoping for, the officer said.
"It is good that someone can go to the family and say we found the missing person, we found your loved one, they're OK. We need to take them to the hospital to be checked out or whatever it is but we don't have to be knocking on the door with our heads hanging down," he said.
In a brief statement to reporters outside the hospital, Smitherman said he is grateful to police – and police dog Ranger — for their efforts in finding Peloso, and to hospital staff who are now caring for his husband.
Smitherman did not comment on Peloso's current condition, but said his family is facing a long road ahead.
"The path forward isn't firmly clear except that we know that it's long, and it will be hard," he said, with family friend and former Toronto mayor Barbara Hall at his side.
Smitherman added: "We're going to do all the work that we need to do to make sure that together, and with our kids, we have long and rich and vital lives."
He also thanked the public for the "outpouring" of support.
"The thoughts and prayers that you've had for Christopher have touched us deeply," Smitherman said.
~ Courtesy of CTV News
Tags: dog finds missing person, Dog Search, K9, missing person, Police Dog, scent dog