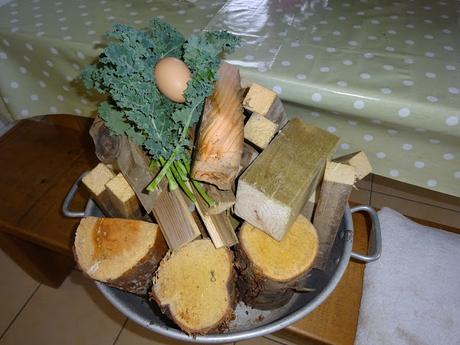 A random harvest, that's what I call the things I bring back into the house after cleaning out the henhouse each morning.
There is usually at least one egg there already when I go to clean out the house, we have had three a day for the last two weeks, I'm more than happy with that it means we have a plentiful supply for the kitchen and the occasional half dozen for Mum.  Yesterday I brought a handful of Kale back from the polytunnel on the way back from the morning doggy walk around the paddock, and since the weather has taken a turn for the chilly I bring at least one bowl full of wood into the house.  
I like my big old handled bowl, we picked up a couple of these from a farm auction we went to years ago and they have proved useful for all sort of things.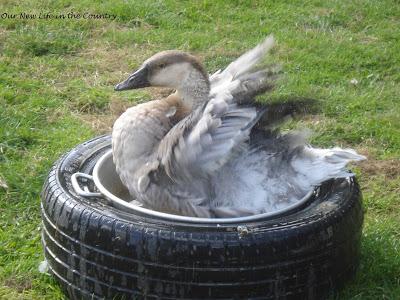 The best ever use of this larger one was as the 'day bath' for the geese, Harry, Larry and Mo.  We sat it in a tire so it didn't tip and they had lots of fun washing, preening and generally playing with the water.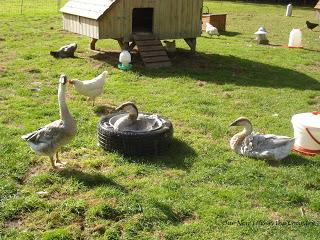 Of course all the chickens, including their Mum, the Hyline hen Mother Goose (hence her name), thought this bathing in water malarky was totally ridiculous and would have nothing to do with it.  But they would happily take it in turns to bath or just sit there watching the world go by.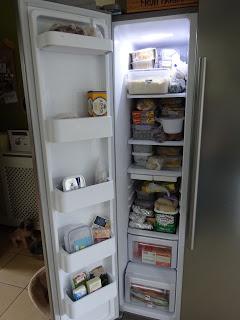 Today it's been raining virtually all day ... yet again, so I finally got round to a bit of freezer stocktaking.  The small freezer half of the fridge/freezer in the kitchen is all done now and a list of the contents has been scribbled down on to waste sheets of A4 paper (we use the back of printed out things that we have no further use for) and will be typed up neatly once I get round to stocktaking the big chest freezer.  I'm not doing it yet in case I can combine any duplicated items.  I was amazed at how much this freezer had in it.
I virtually got frostbite while going through it ,and had to make a coffee to warm my hands around after spending five minutes separating slices of lemon that had stuck together.  I found two boxes, both half full and decided to combine them into one for ease of use and stacking.  The slices were pretty stuck together but I persevered and now they are free flowing again.I think a pair of gloves will be used once I bring myself to tackle the big chest freezer.
Time to feed the dogs now and take them for a wet and muddy walk round the paddock, the chickens will be closed up for the night as we get back to the house and then the fire will be lit.  The only good thing about these short dark, wet days is the long, cosy evenings cuddled up in front of the television with snoozing dogs and the flicker of the candles on the mantlepiece.
Have a good evening.
Sue xx