Maybe this is just a
ploy

to get two successful black women to shade each other for the sake of

publicity

and album sales or maybe these two have a genuine dislike for each other. Social media is accessible to these celebrities so immediate feelings and

thoughts

 are posted via Facebook, Twitter, and Instagram etc. 

As a music lover, I

have

had enough of controversy, as

aspiring publicist I understand

that it garners 

attention

 whatever you are trying to sell to the public, but it is

quite

overdoneLet us dissect these two divas so we can finally put this so 

called

 beef to rest.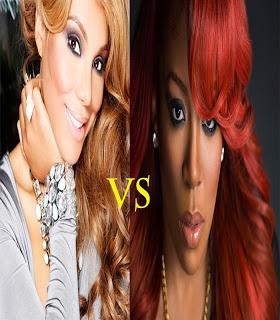 Photo Credits : Lyrics.com & AtlanticRecords.com
Tamar Braxton
is no stranger to the music business, she was ¼ of the nineties group The Braxtons , her sister
Toni Braxton
is a one of the
most
efficacious artist in R& B music and her husband
is
the man behind
Streamline Records
, associated with some of today's popular artists such as
Lady Gaga
and Mindless Behavior. Before
Vince Herbert
entered the picture, Tamar
had
a record deal in 2000 but never propelled her to the success that she has today. According to
BillBoard.com
, her recently released album " Love &amp
;
War" debuted in the top 10 Billboard chart selling 114,000 copies in its first week. It has been a long time coming for Tamar and her own
success
, but we have to admit there is a "who you know" factor, which includes
her
sister(s) and husband.
K. Michelle's career had a great start in 2008 with the
mentorship
of
R. Kelly
; her two singles released on
RCA Records
, one featured
Missy Elliot,
showed minimal success on the charts. She did however develop a
fan
base that encouraged her to do more music by releasing
mixtapes
that gained attention of music executives.
 Becoming a cast member of
 Love & Hip Hop: Atlanta TV series most definitely helped K. Michelle re-launch her career. 
Warner Bros Record
s released
Rebellious Soul
 and the record
sold
72,000 in its first week and debuted on the Billboard at number two and
the
US R&amp
;
B albums at number one.  There are  some familiar factors that
common
to Tamar's success, except the Husband manager, and a prominent family. So
let us give us
her props for her
hardwork
and dedication to her craft.
Reality TV has been the platform responsible for all these
two
women
success, and it is a shame how they have to keep bickering back and
forth
with each other in the media. Why is it that two black talented young
women
cannot congratulate each other on their successes and show a united front
in
a male dominated industry? Have we ever heard
Reba McEntire
and
Dolly Parton
calling
each other out? All this
shade
feeds into the way other women of other
races
view African Americans; angry all the time. As a music fan, both ladies
are
equally talented, at the end of the day; longevity is that matters. First
week
sales, touring and TV appearances are all good for publicity, but if they
were
not putting out good music things would not be possible. The entertainment
business
is big enough for both divas to co- exist. So now, can the
beefing
  and 
 bickering end, let us get
back
to making music.
Do you have a preference between these two divas? Why?
Are you frustrated with all these simulated feuds?