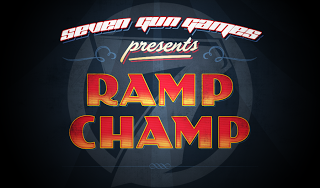 Seven Gun Games has released their latest title, Ramp Champ, a new twist on those classic boardwalk games all from the comfort of your iPhone.
The official blurb from the game is below.  
Ramp Champ will delight and challenge players young and old. Four levels, or "ramps," are included by default: Clown Town, Breakwater Bay, Icon Garden & Space Swarm. Flick your finger to roll balls down each of the themed ramps to earn virtual tickets which can be redeemed for prizes and digital loot. Ramp Champ is great for players wanting to play for 5 minutes collecting tickets or several hours working to solve the unique puzzles hidden inside each level.
Features
• Easy to learn and beautiful to look at
• Four built-in levels or "ramps" each with themed goals & prizes
• Collect tickets and exchange for dozens of virtual knickknacks
• Purchase additional Ramp Packs in-app for new, exciting challenges
• Dozens of hours of addictive gameplay
• Original soundtrack
You can never have enough iPhone games right?  Check out the iTunes link after the break.