On Thursday night, RALPH brought a party to the Mod Club in Toronto when she headlined the College St. stage in front of a packed house of excited fans.
The hometown pop star played a setlist that combined songs from her new EP Flashbacks & Fantasies, her breakout 2018 album , and her earlier releases too.
Related: RALPH, Flashbacks & Fantasies EP Review
In my best voice, let me tell you that the Mod Club had everything. There were tank tops and turtlenecks. Teenagers with Xs on their hands. Mom jeans and tight tees. Leather, mesh, and lace. There were hipster 'staches and enthusiastic dancers. And there was RALPH, on stage with her pop/disco/synth vibes moving the Toronto crowd from the front to the back.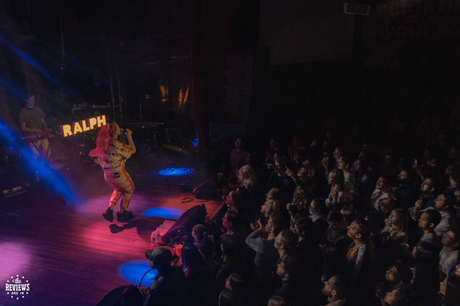 Some love also has to be given to who opened the show. The Toronto pop singer/songwriter did everything we could have hoped for from her in the show-starting slot. She got the crowd warmed up and involved. She moved well across the stage to bring some early energy and engagement with the Mod Club audience. She hit the keyboard to give everyone a taste of everything she has to offer. And she did herself a service by making her mark in a way that should have people looking up more of her music today. (Check out more photos of GRAE at the bottom of the post)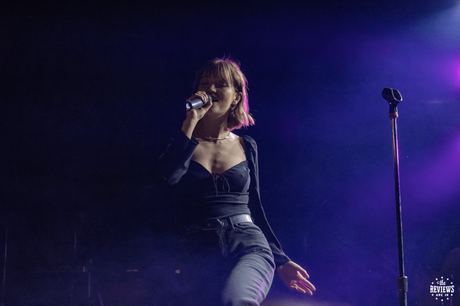 We've been listening to and writing about RALPH for the last couple of years, but Thursday night was the first time I'd been able to get to a live show and see her perform. It was well worth the wait. The energy and glee she shows on stage are legit. She's happy to be up there and from experience, we can tell you that the crowd feeds off of that (even if it's subconsciously).
We also know that RALPH's goal is to connect to the crowd through her songs. In an interview earlier this year she talked about that with us, and how her commitment to that connection has lead to DMs and conversations with fans about the songs and their lives and where they intersect. We haven't asked her if she got any messages after last night's show - but it wouldn't be a surprise to hear that she has.
Related: Girl Next Door - RALPH Interview & 5 Quick Questions
With songs like Weather, Last Time, Sunday Girl, No Muss No Fuss, and Dark Clouds (and maybe especially Dark Clouds) she shared stories and support and songs that are hers, but in the moment, belonged to everyone in the room.
Note: There was a cool surprise in the early part of the show when TOBi came out on stage with RALPH to perform their 2018 duet, Girl Next Door. Surprises like that in live shows are always a welcome bonus!
The crowd was lined up shoulder-to-shoulder and from the front of the stage to the back of the room at the merch table were all-in on RALPH. They sang, the danced, the smiled, they held their phones up to take photos and videos, they welcomed her with big cheers and showed her how much they appreciated her throughout the show.
It's been a busy couple of years for RALPH with new music, lots of shows, and work work work behind-the-scenes, and we watched as she showed off the results of that work and the dedication that she has for what she does.
As an entertainer, performer, singer, and party host, RALPH owned the room at the Mod Club on Thursday night. And if we had to make a prediction, we'd tell you that it won't be the last time she does exactly that!
Photos of RALPH at the Mod Club, Toronto
click images to view larger size/start slide show
Photos of GRAE at the Mod Club, Toronto
click images to view larger size/start slide show