After a lot of anticipation and varying levels of success at patiently waiting, Arkells fans can rejoice with the release of Rally Cry!
We listened to the album streaming live from Edmonton's 102.9 on Thursday night and enjoyed the hell out of it and the stories that went with the songs. During the broadcast lead singer, Max Kerman said something along the lines of, we hope you have the volume at 11, that's the way to listen to this album.
He's right.
We've heard Arkells and Max Kerman give off a Tragically Hip vibe (especially live), and on this album, we can hear Springsteen too. It's a tribute to the rock and roll the band has loved in their lives as fans of music, and a bridge to the now.
Now, check out our track-by-track breakdown of the album, hit play and listen for yourself, don't miss the videos at the bottom of the post, and leave a comment to tell us what you think of Rally Cry!
Hand Me Downs
When talking about the song on the radio during the Thursday night First Listen, the boys were quick to say after the song, "we expect that to be very loud in the crowd.".
They were talking about the oohs in the song, but we expect that there will be a lot of loud singing along to the rest of the song too.
As a leadoff song to a brand new album, Hand Me Downs does its job. We're in, right away. It's Arkells, it sounds good and familiar but new at the same time. And, folks are going to be able to sing along.
American Screams
The song premiered prior to the album's release with a wonderful 1-888 number and billboard campaign that was so popular upon release that it overloaded the phone line service and left many, many Arkells fans tweeting about waiting their turn.
This song flows with all the catchiness and impact that you'd expect, but don't miss the message. With references to the tragic and senseless shooting tragedy at the Route 91 festival in Las Vegas and the endless offerings of thoughts and prayers instead of meaningful reform, Arkells are hitting hard. And it's fantastic.
"You've got your good book all wrong // You wanna do God's work, it's gonna be hard work."
Relentless
We talked about this track in our 5 Reasons We're Excited for Rally Cry post a while ago, and we're going to restate a point here that's important...
When the song was released we got an email from the band's team where we learned that Max and Mike hung out with Paul Langlois of The Tragically Hip last fall for a chat and a beer. They talked about music and band life, and (of course) Gord Downie. At one point Langlois said, "Ever since I knew him, he was relentless. Like a dog on a bone.", and Max remembered that. The thought became the chorus, with the Kerman adding, "I was thinking about the band, and how we lean on each other, and how each guy brings something different but contributes to a larger idea. We find strength in each other. In being relentless.".
Blessed be the long-lasting and far-reaching legacy of Gord Downie.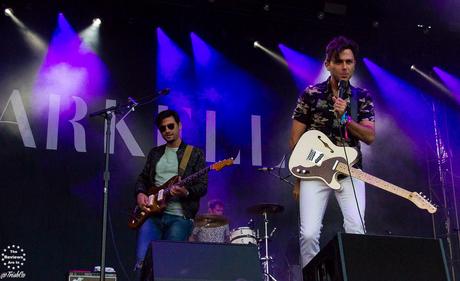 Only For A Moment
When talking about the song, Max said - " We're all huge fans of Fleetwood Mac and the simplicity of those pop songs...", and while this sounds nothing like Fleetwood Mac, we can see what he means when we step back and listen to the song and imagine the construction and writing. This has that pop song feel that avoids complications in favour of getting to the good stuff.
Max's voice stars in the song, the same way it's done in many Arkells' songs in the last 10+ years. There's also a great breakdown moment in a late chorus that has the ability to create a loud moment in a live show near you.
Show Me Don't Tell Me
The first ballad on the album comes at the half-way point. And after the fun rock and roll in the first four tracks, we're ready for it.
Max said that they've been honoured to receive videos of songs like My Hearts Always Yours, And Then Some, and 11:11 being played at weddings. He added that if he were to guess, I'd say that this one might the one that becomes the Rally Cry song that may or not be played at people's weddings.
If you asked us to bet on it, we'd take that action.
"This time I ain't bluffing, You're always my number one."
People's Champ
This was the first song we got to know and love from what has now become Rally Cry. The song was the first recorded, and as Max said on 102.9, "We felt like we had to get the song out as soon as possible because it felt like Donald Trump might be impeached any day, and the song might not make as much sense."
The song is catchy as hell and has a video that is must see too.
"I'm looking for the people's champ, and it ain't you."
Note: We're also pretty sure that we've seen reference to Ontario Premiere, Doug Ford and this song on the Arkells' Twitter feed. And if we're imagining it, maybe that's because it just makes sense.
Eyes On The Prize
Give some love to those horns, who were given direction to play like they were drunk in New Orleans at 2 am when they played!
The background vocals are also awesome and offer a little different taste than the five dude arrangement that you first think of when Arkells start playing on your speakers.
This one is a little off to the side with the rest of the album sonically, but it still feels like Arkells and could be a really fun change of pace song in their live set.
Saturday Night
We got a little taste of this one on Hockey Night In Canada... and the whole thing is even better.
From the chorus, "Saturday night in a world of possibilities." - We might not know exactly what it means, but in following the lyrics of the song we're all in on the idea of kicking back to be with the people that make our lives the most fun, not caring about the time, and living to the fullest. Conspiracy theory talk included.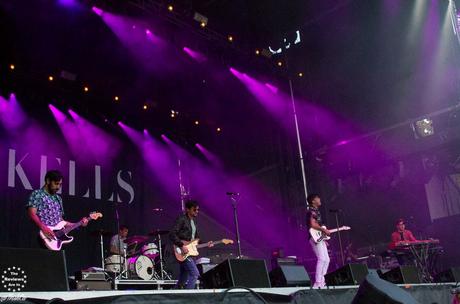 Company Man
This song isn't a blatant political track on the surface, but when Max explained that Sean Spicer had been the inspiration, it made sense as another Arkells protest song.
The idea of blind loyalty, instead of doing the right thing is uber-present these days it seems, and if rock and roll isn't the place to call it out, we don't know what it.
"Hey company man, start walking on your own two feet."
Don't Be A Stranger
This was the last song recorded for the record. And the band says that it felt appropriate to make it the last track on the record. We're not sure what song we'd swap it with. They nailed it.
The vibe is more laid back, it's like a cool down on the way out of an intense workout. And while it doesn't go as hard as People's Champ or Relentless, it belongs and it fits.
Here's us using the song to remind you to reach out and connect with the people that are/have been important in your life. Don't be a stranger.
-------
At 10 songs, Rally Cry is a full listen. It changes pace and vibes, it gives us the Arkells we know and love, with some new flavours thrown in. And, in listening to the band talk about the songs, it feels like it's an album that the love and can't wait to share. We like that.
At the end of the album's first play on Thursday night, Max closed the radio broadcast with a message to all of the listeners...
"Get to know these words because we're coming to your town to play soon."
We couldn't have said it any better. If you've seen Arkells live, you know how great these songs are going to sound and work with the show. And if you haven't seen these dudes play their live set, find a tour schedule asap and get a ticket.
And like Max said, learn the words.
Arkells Rally Cry Tracklist