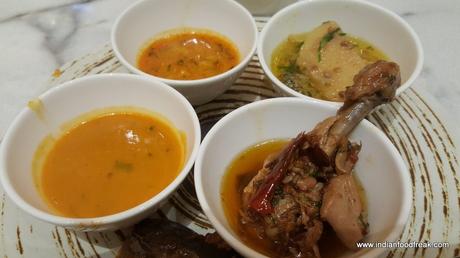 The current trend in food industry is going fusion. There are people who are coming up with various new innovative dishes and are calling it Modern Indian. At the same time there are very few who are trying to preserve (and take forward) their family recipes and legacy. ITC Maurya recently did a trendsetter event – 'Royal Kitchens of India' where they invited royalties from rajgharanas of India and asked them to cook for guests. It was an event that was not only very well received but will also help preserve many of the dishes.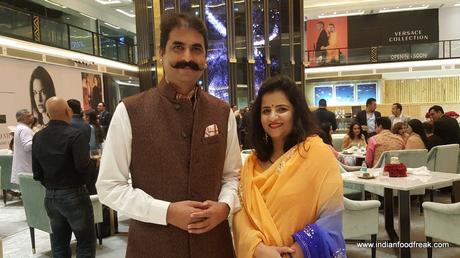 Kunwar Hemendra Singh & Vrinda
At the ITC event I met Kunwar Hemendra Singh and his beautiful wife Vrinda who represents the rajgharana of Bhainsrorgarh near Kota in Rajasthan. Given over 100 dishes that day from different royal kitchens, I was overwhelmed and it wasn't possible for me to do full justice to any one rajgharana so we promised to meet some other day. While I forgot about the promise, Kunwar Hemendra Singh did not (Royal family, you see) and he invited me to Royal Fables launch event at newly opened Cafe C at The ChaNaKya. I saw Kunwar Hemendra who was now out of Kitchen after cooking with his wife and now greeting the guests. He was guiding one of the servers to take back the shami kebab as they were tad undercooked from the edges. When there is a catering going on for over 150 guests and someone has an eye for such details, food has to be great. And yes it was!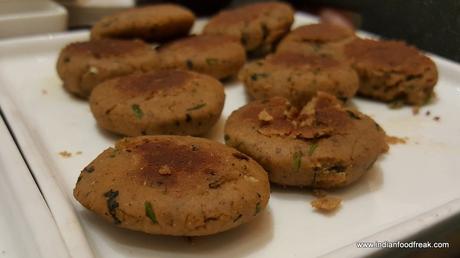 Shammi Kebab
I started with the shami kebab and texture was the same as I have had at Rocky Mohan's home with crispiness of the shami outside and soft inside. While Rocky Mohan's shammis are awadhi, this version was Rajasthani without the chopped onion and mint inside. Fish Sule was made using sole fish and mustard oil. However most interesting starter for me was the Chakki Ke Sholey which I was eating after a decade. Chakki is aata and it is a Rajasthani speciality made by continuously washing aata to get the gluten out. The texture is like soybean but much spongier. This gluten is mixed with spices then steamed before cooking over charcoal. Many of us have neither tried this dish nor know about it.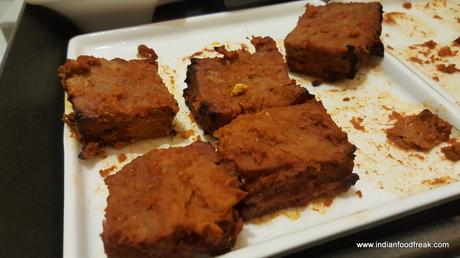 Chakki Ke Sholey
Similarly in the main course every dish stood apart. Dal was thick , jungli chicken itself was bhonood but had thin gravy, gatte were soft. Here again while every dish was unique and had its own characteristics, the dish of the day for me was hari mirch ka ghosht. The deseeded green chilly in soft and succulent mutton made in desi ghee was a star. It wasn't too spicy but the green chilly effect comes as an after taste. Even the roti was made with whole wheat atta including chokhar.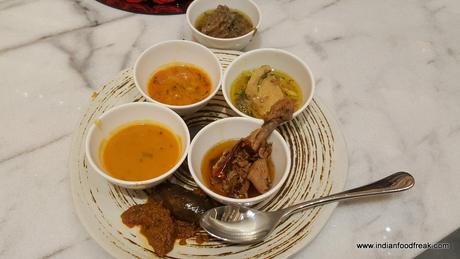 I am not too fond of desserts but when I took the second helping of
pista halwa
, it deserves much more than a mention.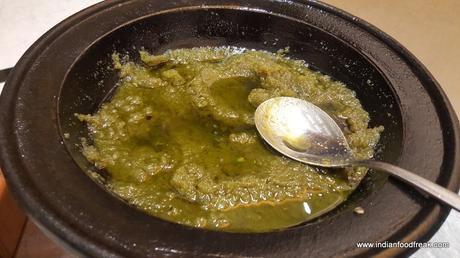 Now the good news. While speaking to Kunwar Hemendra Singh I got to know that they have started serving his menu as a take away under the name of
Rajpootana Kitchen
. Since all the dishes are made fresh, they want a day's notice in advance for a party catering and 4-5 hour notice for a family catering. The minimum order quantity is just Rs1000 but they don't deliver as of now. One will have to pick up the food from their Vasant Kunj residence. Well that's the least one should do for a princely meal

Contact Details: Phone: 9871077771 / www.bhainrorgarh.com