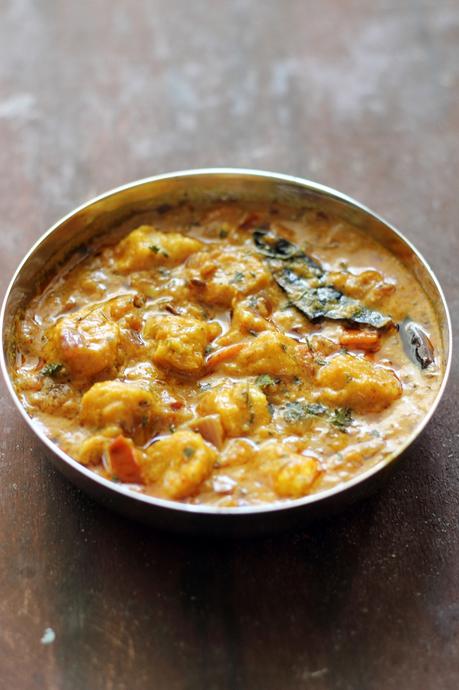 Very proudly I can say that Marwadi recipes are the most popular ones in the blog. Why not, after all I am marwari and that too from Rajasthan and thus, I am good with authentic marwari cuisine. Today we are talking about very classic, simple and yet royal looking Gatte Ki Subji.
Gatte Ki Subji is another invention that happened because of necessity. The shortage of rains and water always made Rajasthanis think out of the box and thus they commenced using gram flour (besan) to make gatte and then use it the curry. Besan is also called as chickpea flour and is so widely used in Rajasthan that you can't even imagine.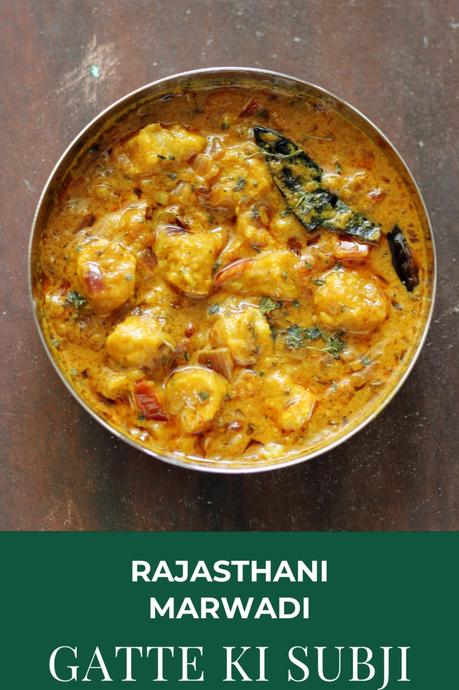 If you go to a Marwadi house on a regular day then this sabzi is made in a very casual way without any garlic, onion or tomatoes. So yes, authentically this is a no veggie curry but if it is paired with Daal Baati or is made on a special day then, you will see slight rich variation where it is uplifted by garlic, onion and even tomatoes.
Originally from Rajasthan, this curry has also changed its taste as it traveled from one part of India to other. Now we see its dry variation (without gravy) , a sindhi variation wherein its very spicy and also a Gujarati version which is sweet and sour. I will share the recipe that is made with garlic, onion, tomatoes and yogurt (dahi/curd). Also, I was once asked to share the recipes that is without curd. To be honest, yes you can make this curry without curd but what it will lack is that yellowish orange color. To do so, just make a semi thick tomato gravy that you would do for any curry and then just dunk in the gatte.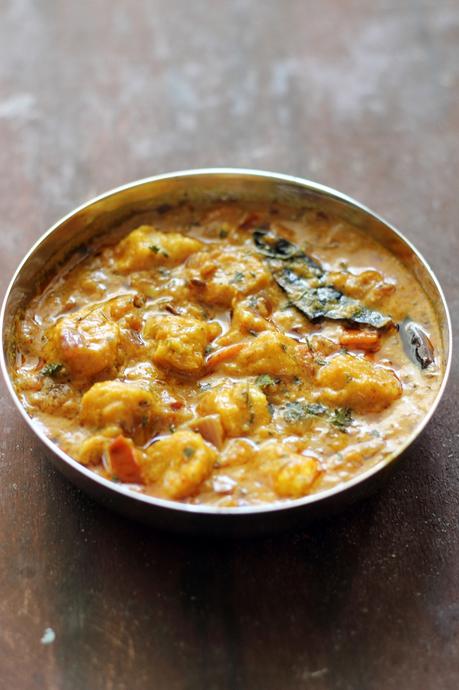 How to make soft gatte for gatte ki sabji?
-Always add in a litter yogurt while kneading the dough for gatte.
-You will also need to add oil in the dough.
-Do not rest the dough. Keep the water for boil and then start making the dough so that you don't have to wait.
-The dough should be just right-not too soft and not too hard either.
-Spice up the dough too. The dough needs salt, red chilli powder, turmeric and fennel seeds (saunf). My mother will always say that fennel seeds is so important in gatte ki subzi.
-Lastly, boil the gatte till you see bubbles on its skin and it becomes light and start to float on the water.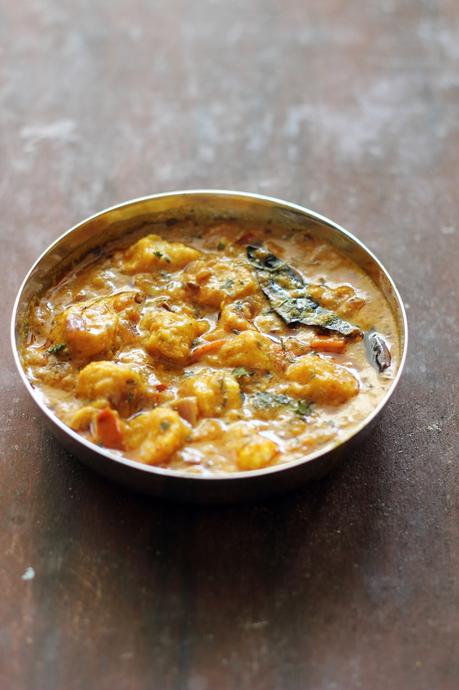 Ingredients:
For gatte
1/2 cup chickpea flour/besan
4 tablespoons yogurt/dahi
¼ teaspoon turmeric powder
½ teaspoon fennel seeds/saunf crushed
red chili powder as per taste
salt to taste
1-2 teaspoon oil
For Curry:
3 tablespoons oil
1 teaspoon cumin seeds/jeera
1 bay leaf/tej patta
2-3 dry red chilli
1 medium onion, finely chopped
2-3 garlic cloves, grated
1 meduim tomato, finely chopped
3/4 cup whisked yogurt/dahi
1 tablespoon coriander powder/dhaniya powder
¼ teaspoon turmeric powder
Red chilli powder as per taste
1 teaspoon kasuri methi crushed
1/4 teaspoon garam massala
water as needed
salt to taste
1 teaspoon sugar
Method:
For Gatte
Start by putting water for boil in a pan.
Mix all the ingredients listed in the gatte list and make a soft dough. Add water as needed. The dough will start becoming sticky and thus it's a good idea to oil your hands.
Divide the dough into 4 parts and shape it into logs.
Put these logs into boiling water and boil. It will take around 15-20 minutes. The gatte will become light and start to float on the water. You will also see bubbles on its skin. Boil till a knife inserted comes clean.
Take the gatte out of the water and cut into pieces.
Heat around 1 teaspoon of oil and fry the gatte.
For Gravy
Heat oil in pan. When oil gets hot add in cumin seeds, bay leaf and dry red chilli.
Add in garlic and onion and sauté till it gets cooked.
Add in chopped tomato and cover and cook till tomato becomes mushy and soft.
Mix salt, turmeric, red chili powder, sugar and coriander powder in the yogurt and mix well.
Add the yogurt mixture in the tomato paste and keep mixing till it comes to a boil.
Add water and let it boil for some time, around 5 minutes. I used around 1 and 1/2 cups water.
Add in the gatte and garam massala and boil again for 10 minutes. You might need to add in more water because gatte will thicken the gravy. So I added 1/2 cup of water again.
Garnish with kasturi methi and serve.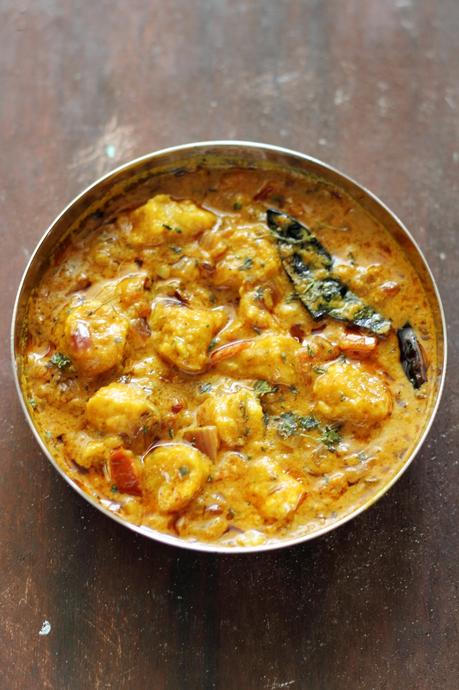 More Marwari Recipes you might be interested in:
Mangodi Matar
Sev Tamatar