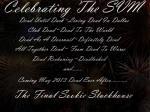 As a part of our "Celebrating the SVM" series, we here at E&SL want to honor the books that have brought us to Eric and Sookie. We know a majority of us are avid book readers, so these will not be your typical review but a way for us to highlight each book and some thoughts around them.
What better way to start us off then the first book of the series: Dead Until Dark.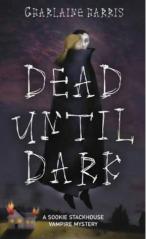 I previously asked the gang a few simple questions and this is where we stood.
How did reading Dead Until Dark make us feel? Could we put it down?
We (Erika, Evie, Nymeris, and I) all pretty much agreed that we were unsure how we felt when we first read this book. Of course with Sookie being in a relationship with Bill in this book, we all were looking for the umpf factor to go with our sassy Telepath. We also had just a few encounters with Eric… though they were all extremely memorable.
Evie, approaching it from seeing the show before the books, was surprised that Rene was not dead like he was in the show and did not think book Jason was a nice guy like Jason is as portrayed by Ryan Kwantan.
What moment made us cry?
Erika and Nymerias both agreed that the "Bill" factor is what brought them to tears.
For me, it was grans death. It's extremely tough to lose a loved one… and Sookie's loss was confounded since Gran was murdered. The Jason factor and having to deal with the Bartlett situation where about questions upped my tear jerk reaction to this moment as a whole.
What moment made us laugh?
There was a group consensus that one of the moments that made us laugh was when "Sookie meets Eric for the first time in Fangtasia. You know the moment; he calls her sweet and she replies with "Not especially". Classic sass from our favorite Telepath the oldest vampire in the bar.
My morbid humor popped up with a second moment. It was while Sookie was in the hospital after Rene tried to kill her and Eric and sent her flowers… that looked like female genitalia. And the words "vagina flowers" entered my vocabulary, for how can you not laugh at that

Favorite moment and/or line:
With the Sookie and Eric interaction being at minimum for this first book, our options were pretty limited for what could be our favorite moment.
Erika and Nymerias both agreed that their favorite part was when Eric saved Sookie by staking Long Shadow. It was where you start seeing the Viking in a different light… plus we saw Sookie have to be creative to divert the bloodlust.
My favorite moment took us back to the hospital when Sookie looks out her window and sees Eric looking back in, and he smiles before flying off. He was checking up on her, on top of the flowers. Le sigh

What were some of your favorite moments from Dead Until Dark? Sound off below!