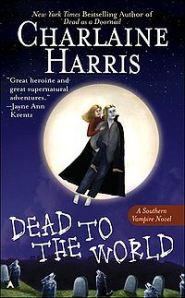 Continuing with our celebration of the books, it is time to raise the "dead" with "Dead to the World", the fourth book in the Sookie series.
The book that is highly considered the holy book for Team Eric.
The book where Sookie and Eric.. you know…  dot, dot, dot…
The book where the mere mention of the title triggers conversations around THE shower scene, and longing for an international butt competition, and…. you know

In fact, when I sent our standard questions around to the staff for this book… i added the caveat that their responses could not include THE shower scene. This was very mean of me, I know. My reasoning behind this decision was this scene is the aknowledged favorite scene from all of the books for us here in ESLland that it deserves a seperate post from this one. Forgive me?
Good

And on that note, here is how we "Raised the Dead".
How did reading it make you feel?
Erika put it best with "Pretty damn good." . And since she enjoyed it so much, so did her hubby. *waggles brow*
I admit to warm and fuzzy feelings, and the fact that I am on my third paperback copy from rereads… and now have a digital copy on kindle to go with me everywhere.
What moment made you laugh?
Nymerias was laughing at Eric's choice of undergarments.
Erika… well, she was laughing over the moment Sookie told Eric he had a Gracious Plenty. A term that is now mainstream.
Me.. I had a hard time picking just one and named a few, but one of my top favorites laugh moments has to be the big Viking in tiny red underpants. Then telling Jason he should be providing for Sookie as the man of the family (very old school but shows his inner beliefs that woman should be treasured not taken for granted). His joy in just being and how she couldn't tell him no (flying to investigate when Marnie and crew were breaking into Bill's house). Pam's reaction to their being late to the witch war meeting at her house… between some nookie and then not being able to follow a map. Priceless.
What moment made you cry?
The moment that made both Erika and Nymerias cry was when Sookie realized Eric's memory had returned and he didn't remember anything. It made me cry as well. Because you know her emotions are going haywire and he's feeling them to and not knowing why.
I was also shedding tears for while she liked Eric-lite, she knew he had to get his memories back so he could be the whole Eric package. And who wasn't crying for Sookie when Jason going missing. Especially after loosing Gran a few months before.
Favorite Moment/Line from the book:
Me, I went with the whole freaking book. This is  book I feel that i could turn to any page in the book and find a favorite moment. How could I pick even a couple?
Nymerias agrees with me on my choice on the whole book as a favorite moment. She also wanted to single out that she loved that Sookie was so worried about Jason and how they looked out for each other, because we all know Jason was a real dick to her at times.
Erika, I don't know how she did it, was able to pick some of her favorites. Some of her stand out moments from the book were: Eric saving Sookie's life during the witch war. And Eric telling Sookie that he wants to stay and be with her always. That they would know each other in every way…kind of like a marriage. She also enjoyed when amnesic Eric "met" Bill for the first time while he was under the curse.
…….
After all this recapping and rehashing, I'm ready to pick up the book again a reread. How about you?
What are some of your reflections of "Dead to the World"?
Share them below and join in as we continue to "Celebrate the SVM".