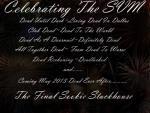 Depending on who you are talking with, time is either flying by or dragging its heels as we are awaiting the release of Dead Ever After. Which is now only 3 months away and coming ever closer.
Thus making this the perfect time to "Raise the Dead" and celebrate, this time for the 9th book of the series… Dead and Gone.
Ohhh, I am feeling goosebumps

We here at ESL have been have been enjoying our casual conversations of the books, and the one for Dead and Gone was no different.
How did reading it make you feel? Could you put it down?
Erika: I enjoyed this book from beginning to end. I felt many different kinds of emotions. 

Could I put it down? No, especially when Eric and Sookie had sex for the first time since he got his memory back, and at the end when Lochlan and Neave tortured her. I kept waiting and hoping (just like Sookie) Eric would come to the rescue. It was definitely a nail-biter!
Nymerias:  I flove and fly through all the Sookie Stackhouse Novels so of course I could not put it down and I have constant re-reads!
B: This was the first of the books I had to stalk from the library… since I spent my budgeted book money on the first 8 books over 3 weeks. But once it was in my possession, it was devoured. I will admit I was worried to read Dead and Gone, for the 3 book extension to the series was just announced… and I was worried for what might happen to Eric. It was called the "Sookie Stackhouse Series" not the "Eric Northman Series", so we knew Sookie would make it to the final book. But it all changed as I continued reading and broke with Sookie.
What moment made you laugh?
Erika: I laughed when Sookie told Eric, "Eric, when I'm back to being myself, I'm going to nail your ass for putting me in this position of being pledged to you." "Darling, you can nail my ass anytime." Then Pam rolls her eyes and says, "you two." I also laughed when Eric initiated the conversation about living together, and he thought it would be what Sookie wanted, much to his chagrin.
Nymerias: Ditto on Erika's! I was also cracking up at the 'Best Dressed Vamp' show Amelia, Octavia and Sookie were watching.
B: I agree with you both 1000%. I am laughing just thinking about those moments. I will also add the meeting in Eric's office AFTER the pledging by the knife. You know… when Eric is trying to push calmness to her and all. I keep picturing the look of innocence on his face.
What moment made you cry?
Nymerias: This part broke my heart for both Eric and Sookie.

"It's not like you were obliged to come find me," I said, "but I hoped the whole time—I hopedyou would come, I prayed you would come, I thought over and over you might hear me. . . ."

"You're killing me," he said. "You're killing me." He shuddered beside me, as if he could scarcely endure my words. "I'll explain," he said in a muted voice. "I will. You will understand. But now, we don't have enough time. Are you healing yet?"
Erika: The moment Nymerias said made her cry is the same for me too.
B: I am making it 3 for 3 on that one. I was also very emotional when Sookie was being held captive by Neave and Lochlan. And when Sookie saw Crystal on the cross.
Favorite Moment/Line from the book:
Nymerias: One of my other favorite lines is "The vampire is not a bad man, and he loves you," Niall said.
Erika: Favorite lines/moments from the book…there were so many! When Eric tricked Sookie into being a vampire marriage. I really enjoyed Eric's 1000 year trip down memory lane; his wife and children. How he was turned by ALO. Eric and Sookie making love and the whole conversation afterwards. I love how Eric always seems to know exactly what Sookie needs the most as he has throughout the series.
B: Can I claim the whole book as my favorite moment.. again? But, the key moment for me is that Sookie went to ERIC for comfort and conversation after the discovery of Crystal.
What are some of your favorite moments from Dead and Gone? Share them below!