With just over 8 months until Charlaine Harris will share the final book in the Sookie Stackhouse novels, Dead Ever After, I think it's a wonderful time to celebrate and "Raise the Dead".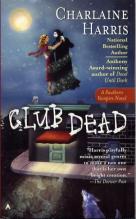 With the third installment in the series, Club Dead, we all agreed that we could not put it down once we started reading it. I devoured this book 2 days after reading LDID. I thought I needed to pace myself for some reason… I still can't fathom why.  For Erika, she stayed up all night to read it in one sitting. There were 2 reasons why she forego sleep that fateful night; 1) there was very little Bill in it and 2) Lots of Eric and Sookie flirty scenes. Nymerias shared that this quickly became one of her favorite books.
Here is how we answered the questions for Club Dead.
What moment made you laugh?
One of the moments that made me (B) laugh was when Sookie blushed as she noticed she had a great view up Eric's boxers after being healed. Another one is when she had to hide the body… the one hidden in the closet. Yes, it's an A/S moment but it was still entertaining as all get out.
Erika said the moment that made her laugh was when Eric laughed when Sookie said, "water water everywhere but not a drop to drink."
Nymerias also agreed that the  'Water Water everywhere nor any drop to drink"  is what got her funny bone. It was also Eric laughed and she said Eric just got her.
What moment made you cry?
We all agreed we were crying at the trunk scene. It was painful to read as I am sure it was painful to write for Charlaine. Erika put it best when she said "And I cried at how helpless and in pain Sookie felt while Bill raped her in the trunk of the car".
Erika also found herself shedding tears when Sookie discovered that Eric had re-paved her driveway. What a sweet thing to do…give her something that she really needed.
Nymerias was tearing up when Eric held onto Sookie as the stake was being pulled out and he said "Let go".
Favorite Moment/Line from the book:
Nymerias loved the scene when they were driving back home and they kind of argued he bitched about her driveway. The next day or so she had a new driveway, the first of many things Eric did for her.
Erika found out that trying to list out her favorite moments from this book was a lot like eating Pringles, you can't have just one.  Her favorites are:
When Sookie was making out in bed with Eric after being staked and Sookie drinking Eric's blood for the first time.
When Sookie woke up and thought it was Bill in her bed but it was really Eric and he told her they were snuggling.
When Sookie noticed Eric watching her from across the bar after her dance with Tara.
And when Eric and Sookie took care of the bikers at the gas station.
Erika and I were apparently sharing a brain, because I too was having an issue just listing one moment and my list pretty much mirrored hers. I mean, who wouldn't want to wake up snuggled to Eric Northman?

. For me, Sookie's dance with Tara was an iconic "I am woman, hear me roar." type moment that was amped up by the look in Eric's eyes afterwards.
But the moment that takes the cake for me…
"You are speaking of my future lover. Be more respectful".
Need I say more?
What were some of your favorite moments from Club Dead? Share them below