New to little Indiana? Subscribe for free to my RSS feed. Thanks for stopping by!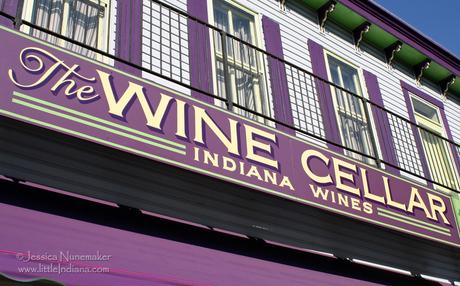 The Wine Cellar in Vevay, Indiana
little Indiana
Vevay, Indiana
Um, oops. I guess I always know how to make an entrance!
The Wine Cellar in Vevay, Indiana
In case you hadn't heard, Indiana wine is something else! You'll be happy to hear that The Wine Cellar has it!
Wines from all the wonderful Indiana town wineries are here.
What? You didn't think that wine only came from California or France–and only in big cities did you?
Indiana Wine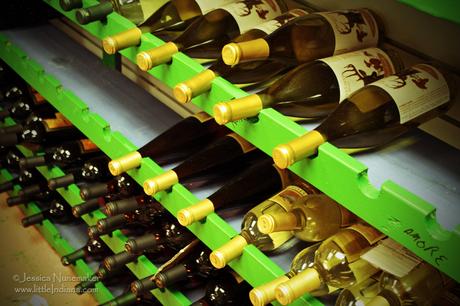 There's plenty of big city wineries out there–but have you tasted anything from the small towns yet?
You'll discover bottles from towns like Bristow, French Lick, Rising Sun, and Corydon, Indiana (among many others).
Lucky for me, the owner kindly refilled my glass. Can you guess what I tried?
Yes, I got a bit of White Zinfandel from a souvenir bottle. Those were selling like hotcakes!
Good Grapes in Indiana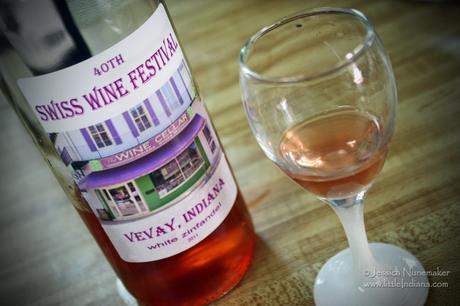 The Wine Cellar in Vevay, Indiana: Souvenir Bottle
Don't worry–they didn't use the grapes I stomped at the Media Celebrity Grape Stomp in any Indiana wine so you you can rest easy. Kidding aside, I think you'll enjoy browsing.
More than just buying a great bottle of small town wine, you can also take part in a wine tasting here at The Wine Cellar.
You might even catch live entertainment. Now how is that for fun!
Go There
You won't want to miss this one. Find it on the corner next to the only stoplight in town. Even we couldn't get lost (and you know we have a knack for that)!

Find The Wine Cellar  images and other pictures in Indiana on my Flickr photostream.
The Wine Cellar
216 Ferry Street
Vevay, Indiana 47043
812.599.1358
812.427.9819

View Larger Map
little Indiana: Where to Stay, Play, and Eat in Small Towns in Indiana. Discovering Indiana's best small towns!Now get little Indiana on your Kindle.
Targeted. Relevant. Affordable! little Indiana advertising!