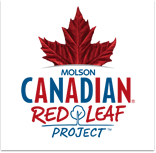 Help plant over 100,000 trees in Canada. Just by clicking a button.
Molson Canadian ( yes those beer makers eh ) have created The Red Leaf Project to help reforestation in Canada this summer. Every time you plant a virtual tree the project plants one in real life. Sign in with your facebook account, play a little game where you pick the area, dig the hole and water the seed and the deed is done. I could really do without the video game but I guess it's the way you have earn your free tree.
The Molson Canadian Red Leaf Project is working with Evergreen and Tree Canada to make this a summer an event to be proud of!  When the first 100 people sign up as volunteers for the real life tree planting they get free tickets to concerts througout Canada this summer. I really love how they tie in charity/green events / live music, Molson should be congratulated for this! After the free tickets for vounteers are taken there's a link to buy tickets for the shows. The Project has been on for awhile so I'm not sure what state those free tickets are in.
Nicely done Molson!
The Red Leaf Project will plant just short of 5 million square feet of trees when this is done but it needs you to start it off by planting that virtual tree. Lets see how many you do.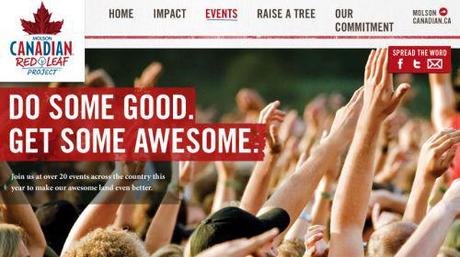 So you tell me, what charity or fundraising events have you seen that combine green ideas? Drop a comment and let us know.
twitter @justfundraising