&version;
I'm happy that I baked another spectacular rainbow cake today!
... but this is not another rainbow cake with a spectrum of colours. It is a traditional Indonesian layer cake with thin layers of rainbow colours. Pretty challenging, huh? Yeah! It did took me more than three hours and lots of patience to bake this cake. After enjoying the success of this cake, I like to call it the kek lapis with flying rainbow colours! LOL!
What is kek lapis? As mentioned at here before, it is an Indonesian layer cake developed during colonial times in the Dutch East Indies. Typically, it is very rich and a 20cm square cake can contain up to thirty egg yolks, half a kilogram of butter, 2 cups of white sugar plus generous amount of condensed milk.
Remember that I said before that I have a favorite kek lapis recipe? Yeah and this is the one! Since the day that I started baking kek lapis like more than 12 years ago, I have been using this recipe to bake all sorts of kek lapis for my family and our Chinese New Year. Being slightly lower in the amount of egg yolk (12), butter (325g) and sugar (1 cup, 200g) added, this recipe is somehow like the less sinfully chocolate kek lapis that I baked last year.
Why is this my favorite kek lapis recipe? With a reasonable amount of yolks, butter and sugar added, I can assure you that every slice of this cake is as good as most kek lapis that I have tasted. Yeah... It is buttery, moist and too greasy at all to touch! Plus, this recipe makes very stable cake layers and I can assure you... again that the cake surface won't peel off easily like the chocolate kek lapis that I baked before.
I hope that I don't sound like I'm making big claim about this recipe but I have to say that this is the best basic kek lapis recipe that I have baked so far. Every kek lapis that I have baked with this recipe turns out to be moist and nice with distinctive and uniform thin layers. Well, I would say it is kind of fail proof in a way and today, I like to share this fantastic recipe with you.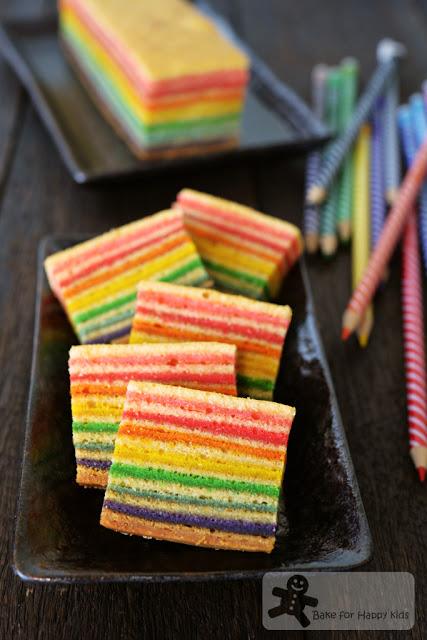 Rainbow Kek Lapis baked with my favorite recipe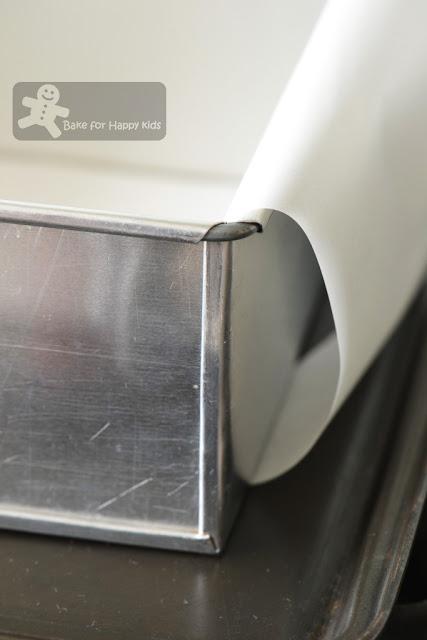 If you are using a square baking pan with removable bottom, you don't have line the pan with an overhanging baking paper. Just line the bottom of the pan with a baking paper with an exact size.
It is important not to use too many baking paper to line the pan as the multiple layers of paper might form gaps in between the layers causing the batter to flow in between the papers.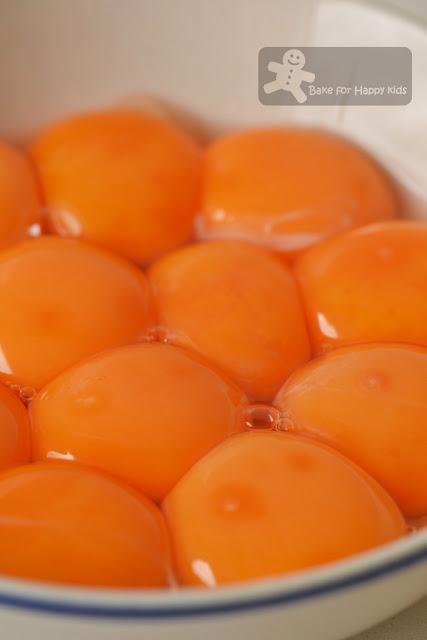 There you go... Here's the 12 egg yolks that I'm using to bake this cake!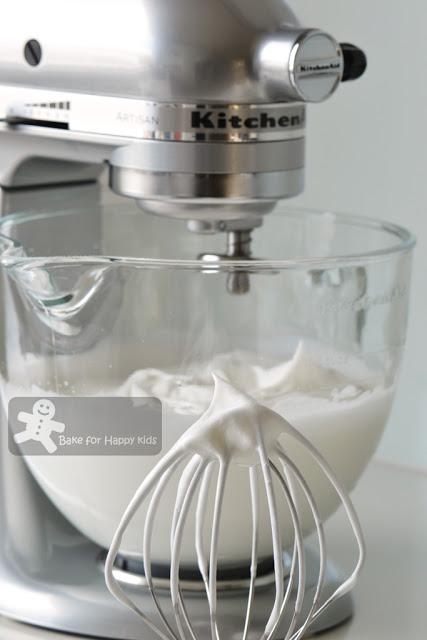 Instead of using all 12 egg whites, I need only 8 to beat until stiff peaks formed.
The remaining 4 became fried egg whites and went to our tummies :)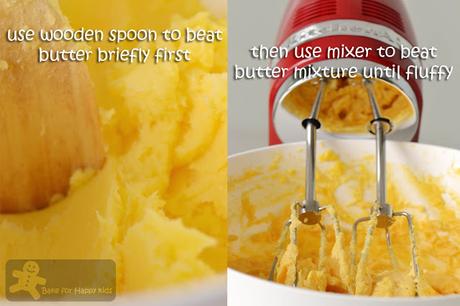 To avoid frying my mixer, I usually use a wooden spoon to mix the butter first and use an electric mixer to beat the sugar, yolks, condensed milk and vanilla paste.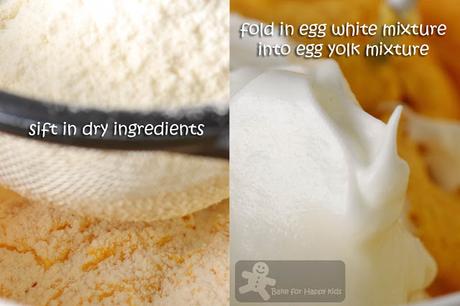 Easy... The cake batter is now ready!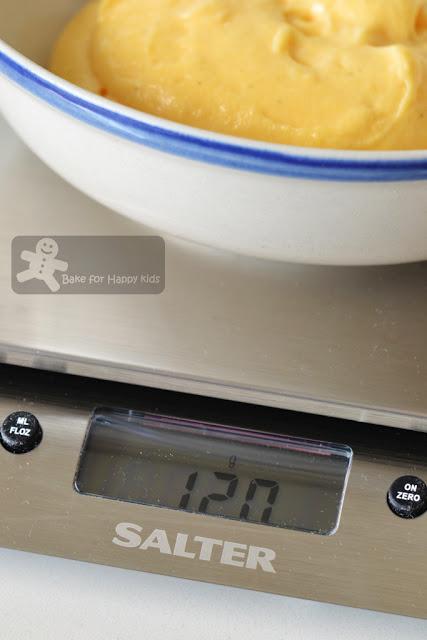 To bake the first layer, I weighed out 120g batter.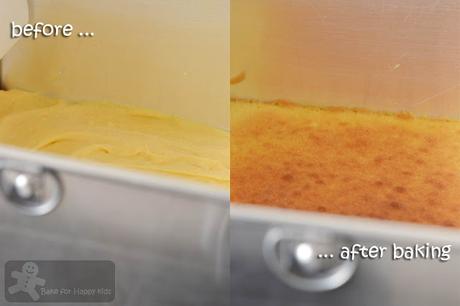 Each vanilla layer need 9-10 mins to bake.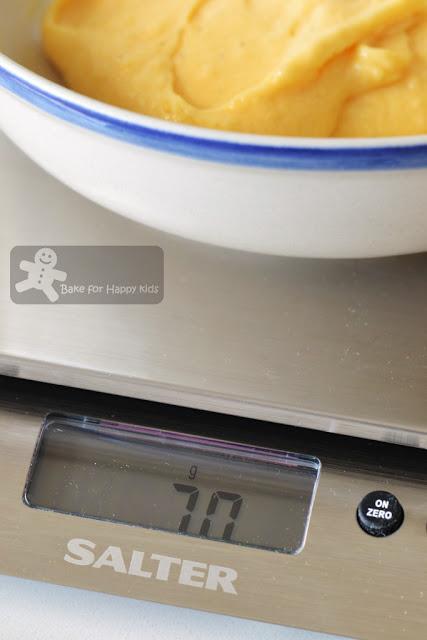 To bake the subsequent layers, I weighed out 70g batter for each layer.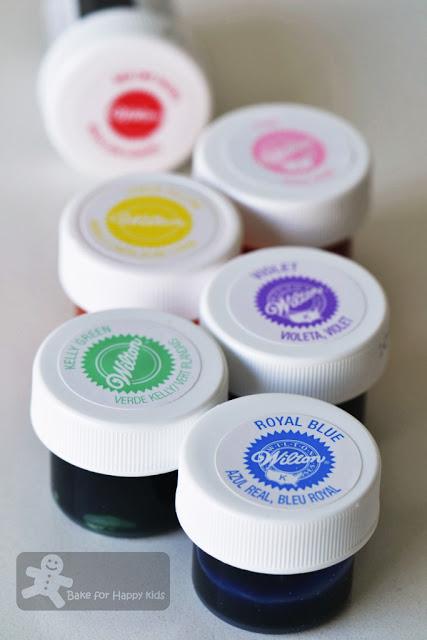 To bake a rainbow cake, I have used these colouring gels to color every alternate layer of batter.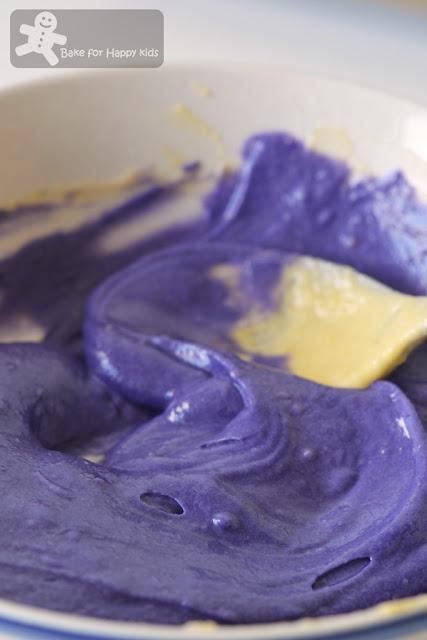 Please pardon me that I'm not going to be stingy with the amount of colouring added here!
I'm going to liberate myself and bake this cake with bright colours!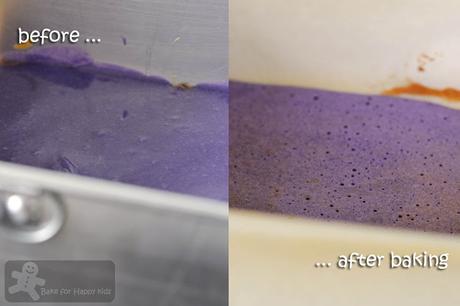 Each coloured layer needs only 7 mins to bake.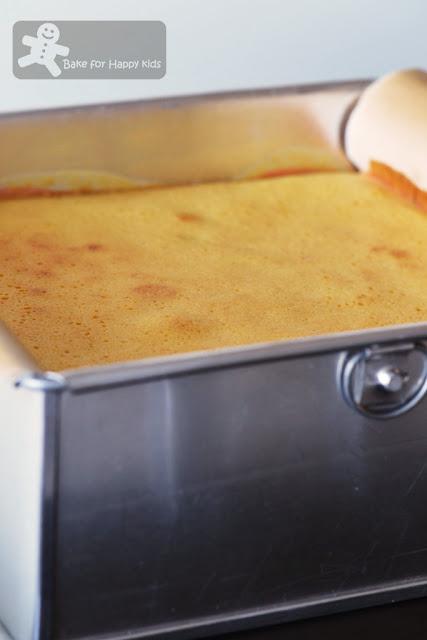 Continue to bake the subsequent layers until all the batters are used.
All done! Happy that I have finished baking 15 layers of this cake!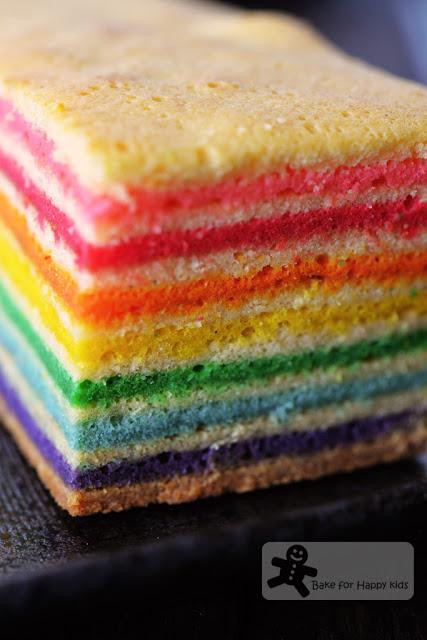 Perfect!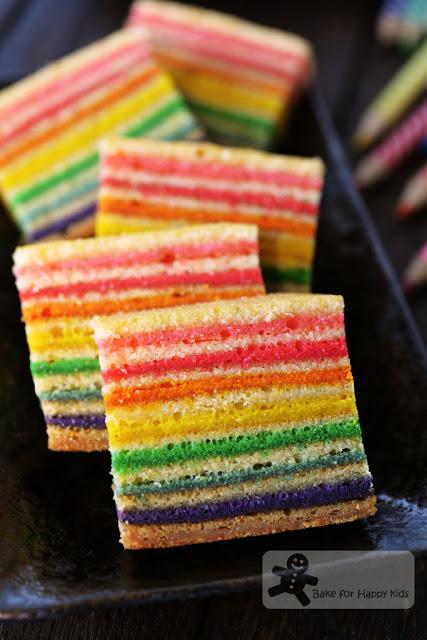 This is why I'm so happy baking this cake!
I can't remember the source of the recipe and all I know this is always my favorite basic kek lapis recipe and here it is...
Makes one 17 cm square cake
A
325g unsalted butter, semi-soften at room temperature
80g caster sugar
12 egg yolks (15g each)
90g condensed milk
2 tsp vanilla extract or 1 tsp vanilla paste
B
8 egg white (35g each)
120g caster sugar
C
160g cake flour
D
Colouring gels (violet, blue, green, yellow, orange, red, pink), optional
Preheat the oven to 180°C (No fan forced) at top grill mode. Place baking rack on the second highest position. If you are using a removable bottom square pan, you can line just the bottom of pan with a baking paper cut into its exact size. If you are using a regular square pan with no removable bottom, line the bottom of the pan with one long strip of baking paper that over-hanging two sides of the pan and this will help me to remove the cake easily. IMPORTANT: Do not use too many pieces of baking paper to line the pan. The multiple layers of paper might form gaps in between layers of paper resulting for the first layer of batter to flow through and causes the bottom layer of cake to be too thin or burnt.
For ingredients A:
Place butter in a large mixing bowl. Use a wooden spoon to mix butter briefly until it is semi-soften. This initial mixing of this massive amount of semi-soften butter might too much for most basic electric mixer to handle and so using a wooden spoon to mix initially can help to minimise most mixers from frying! Believe me... I have learnt this trick by frying at least 3 of my $20 cheap cheap kind of mixers! LOL! Using an electric mixer with a paddle attachment, beat butter and sugar until light and fluffy. Add the egg yolks one at a time, beat well to combine after each addition. Beat in condensed milk and vanilla until all are fluffy and well combined.
For ingredients B:
Using another electric mixer or a cleaned electric mixer (absolutely clean with no grease or water)
 with whisk attachment, beat egg whites with a medium speed until foamy. While beating, add sugar gradually in batches and continue to beat until stiff peaks form.
For ingredients C:
Sift flour into the yolk mixture. Fold into the mixture until combined.
Fold in a third of the egg white mixture into the yolk mixture and fold in gently. Repeat with the rest of the mixtures until all are combined. Be sure not to deflate the egg white.
To bake the first layer, weigh out 120g vanilla batter. The first layer has to be slightly thicker than others as it requires extra batter to brown well on its bottom. Spread the batter on the lined pan and place baking tray on the top rack of the preheated oven and bake it for 10 mins or until nicely browned. 
For ingredients D:
To bake the second or subsequent rainbow layers, weigh out 70g batter from the batter. Using a toothpick, pick a good amount of colouring gel and mix into the batter. 
For thinner and uniform layers, press the cake gently with the back of a metal spoon when the before layer is done and spread the coloured batter on it. 
Bake at it for 7 mins on the top rack of the oven (with grill mode) or until firm. Do not over bake this layer to avoid losing too much of the coloured layer.
To bake the subsequent vanilla layers, weigh out 70g vanilla batter. When the before layer is done, press the cake with the back of a metal spoon and spread the vanilla batter on it. Bake it for 9-10 mins on the top rack of the oven (with grill mode) or until nicely browned.
Repeat baking this cake alternating between the rainbow layers and the vanilla layers.
For the last layer (the 15th and also the vanilla one), bake it for 9 mins or until slightly firm. Move the cake on the baking rack to the middle position and switch the oven to 170°C with top and bottom heat and bake for another 5 mins or until the top layer is firm and cooked.
Remove cake from the oven. Set aside for 10 mins to cool slightly. Transfer the cake to a wire rack and allow it to cool completely. Note: Cake can be dry and crumbly when it is freshly baked. For a moister texture, place the cake in airtight container and allow it the rest for a day at room temperature.
To serve, trim off the sides and cut it into slices.
Happy BakingPlease support me and like me at Facebook...
This post is linked at Cook and Celebrate: Chinese New Year 2016 hosted by Yen from GoodyFoodies, Diana from The Domestic Goddess Wannabe and Zoe from Bake for Happy Kids at here.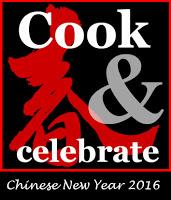 Before ending this post, I like to remind you something...
To welcome the Year of the Red Fire Monkey, 10 cooking bloggers have come together to bring you the chance to win a SGD$500 (USD$350 / AUD$500 equivalent paypal cash prize) ang pow! This giveaway is open to ALL participants!!! And you can be the lucky winner!!!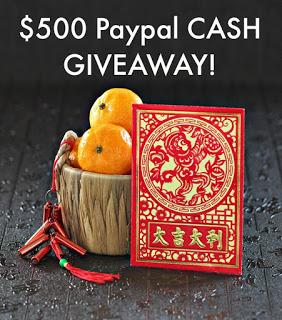 To enter, please complete the Rafflecopter below:
a Rafflecopter giveaway
This giveaway is brought to you by:
Diana from The Domestic Goddess Wannabe
Zoe from Bake for Happy Kids
Alvin from Chef and Sommelier
Ann from Anncoo Journal
Amy from Amy's Baking Diary
Charlynn from My Baking Cottage
Karen from Luvswesavory
Sharon from Delishar
Victoria from Victoria Bakes
Weilee from Wei Lee's Passion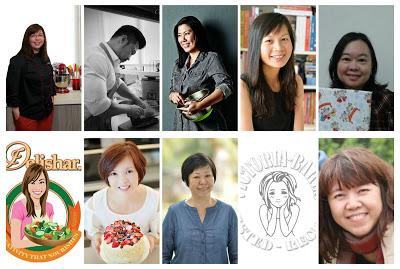 Terms and Conditions Apply: One Prize of SGD500 will be sent to one winner via Paypal (or bank transfer within SG). An email will be sent to the winner to notify him/her of the win. Should the Organiser (Diana) not receive a reply within 48 hours, another winner will be selected. This contest is opened to ALL international participants. Good Luck!