The scene can be quite dramatic. A zoom out from a dead or dying Christian martyr as the moving music swells. There's a sense of poignant heaven in the air as a human being breathes his or her last, lapsing into the hands of an unseen, waiting father. That's a kind of typical ending to the particular genre of a martyr movie. We're left feeling sad but somewhat inspired that someone cared so much that they would give up their very life for their belief. I can see the scenes already building as Kim Davis goes to jail for contempt of court. Davis is the Rowan County clerk in Kentucky who refuses to issue marriage licenses to homosexual couples. Although her action violates federal law, she has her conscience for a pillow at night. All she has to do is spend a day in jail before she will become a martyr/cause célèbre for the religious right. I'm sure it's already started.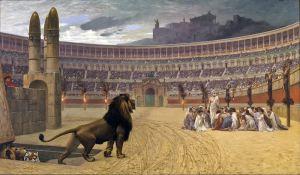 I don't believe anyone should be made to go against their conscience. I also believe that if you're an elected official being paid a tax-payer's salary of $80,000 a year, that you should do your job. I'm sure the case isn't so simple as all that, but as someone who's never made anywhere near that much money, I could see myself easily stepping down if asked to do something that I just could not, in good faith, do. Most of us spend our lives compromising a bit here and there when our employment pushes us in directions we feel uncomfortable going. Nobody would consider us spineless for trying to hold onto tenuous jobs in an economy that seems to be endlessly faltering as the wealthy suck up more and more of the free cash. We do what we have to do. Go to confession at the end of the day and live to die another day. The evangelical, however, has a soft spot for martyrs.
Historians tell us that early Christians were probably not killed off as radically as the early records suggest. It seems the numbers might have been exaggerated to make a point. No doubt, many did die, and some in very gruesome ways, but they faced an unspeakable compromise—to deny the creator of the universe and burn in Hell forever. Issuing a license to a couple whose right to marry you question doesn't seem to fall into the same category. Standing before the great golden throne your defense would easily be, "it was my job. I couldn't quit because I needed all that money." If there's another viable source of income, the argument becomes spurious. I'm sure there are those in Rowan County who feel they've got a hero in their jail. The rest of us just get dressed and go to do the job we're paid to do.