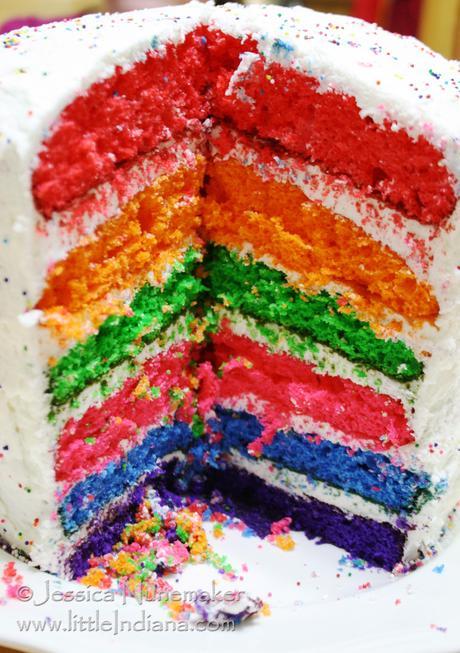 Rainbow Cake: It's a show-stopper and perfect for those times when you want to do something big in little Indiana! I thought I would need to break out the step-stool to reach the top of this one. I'm only slightly kidding.
Anyway, back to the wonder that is Rainbow Cake. This stuff is awesome. From the outside, you can't tell that it's six layers of super colorful and amazing on the inside. That first cut is a definite "Wow" moment! Even  hubs was impressed.
Hubs was so impressed that he's already put in his order for his birthday: black cake, white frosting. I love that man but I don't know if I love him enough to do this all over again in two months!
Rainbow Cake is amazing in three ways:
1. because it's visually striking
2. because anyone who can handle a two-layer cake can handle this six-layer beast
3. because it takes an amazingly long time to make for a cake that will be devoured in seconds!
You know I hate mixes of most any kind. That definitely applies to cake mixes, however–even I recognized that kids don't care and that it's probably complicated enough without having to double a regular from-scratch cake recipe.
Yes, this cake uses two boxes of cake mix! I did, however, hunt down and make a homemade White Chocolate Frosting. That. Was. Good!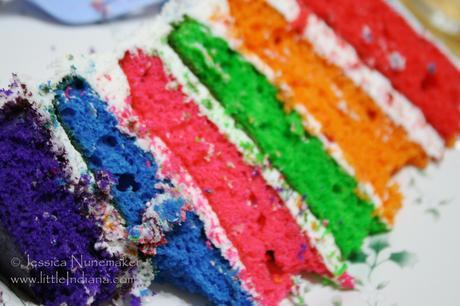 While the cake mix box advises not to use the whole egg (to only use the white) I say (with emotion) "What a waste!"
As you can see–the color is vibrant and fun even with the whole egg in there. If you have another use for six egg yolks, then go right ahead, but if, like me, you hate just pitching it, throw it in there!
Rainbow Cake started with Whisk Kid (a fantastic food blog) and was featured on Martha  Stewart Living! I, however, took the weenie way out and used cake mixes. The white chocolate frosting comes from Food.com. Of course, you could use the pre-made frosting and make it even easier!
So, here it is with my personal directions because that, my Hoosier friends, is how I roll.
I don't have 6 of the same cake pan size. Heck, I don't even have 4 of them same. I had to use 2 pans at a time until all the Rainbow Cake batter was baked. Grease and flour the pans, of course.
Rainbow Cake Recipe
2 Boxes of White Cake Mix (not the kind with pudding inside)
6 Eggs
1 Cup Water
2/3 Cup Vegetable or Canola Oil
Food Coloring (not the liquid stuff)
White Chocolate Frosting Recipe (Posted Below)
White Chocolate Frosting
1 Cup Butter, softened
Lots of White Chocolate Chips (I had a 2 lb bag and used about 2/3 of it)
2 3/4 – 3 LBS. Powdered Sugar
1 Cup Milk (Don't dump it all in at once! See what you need to make the frosting spreadable)
You can use a bit of vanilla here but don't bother if it will change the color of the frosting! You want this bright white!
Dump the cake mixes in a bowl and add the eggs, water, and the oil. Combine. Then divide up batter between 5 other small bowls (the mixing bowl counts as number 6!). Generously add gel food coloring to each bowl in the desired colors. I used red, orange, green, pink, blue, and purple.
Grease and flour six 8 inch round cake pans. Grab a glob of batter and spread it into the cake pan. Bake at 350*, for 15 – 20 minutes (depends on how hot your oven runs) until done. Let Rainbow Cake cool for 5 minutes then invert onto wire rack. Cool completely before frosting. You can see more Rainbow Cake images on my Flickr photostream!
Confession Time: While you are frosting this monster of a Rainbow Cake, make sure to mix it up every now and again, adding a smidgen of milk if necessary. It could be that I was so concentrated on frosting it that I didn't do that and that everything was so hard at the end I had to whip sprinkles at it to make them stick. It could also be that my kitchen counter had sprinkles on it from one end to the other.
little Indiana: Where to Stay, Play, and Eat in Small Towns in Indiana. Discovering Indiana's best small towns!
Help little Indiana win a $2000 grant for web design tweaks and advertising. Simply click here: It will take you to a Page on Facebook. In the right-hand corner click the green "Vote Now" and you're done! Vote every day until April 15, 2011. Thanks!