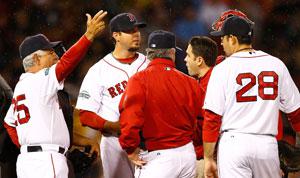 The Red Sox won a rain-shortened game against the Tigers at Fenway, 4-1. It was raining throughout the game, and it was finally called in the 6th, when the Tigers had the bases loaded and two outs.
The Sox beat Justin Verlander for the second time this season. The Red Sox have now four straight. Clayton Mortensen got the win in relief of Josh Beckett. And on that subject...
Beckett left in the third inning after he walked in a run with two outs. He felt something in his back and called out the trainers, and he left.
And he left to a loud chorus of unhappiness from those in attendance.
Personally, I would NEVER boo any player leaving the field with an injury. I can't picture this happening to any other Sox player (well, maybe John Lackey). It doesn't speak well to those fans at Fenway last night, but it also speaks volumes for the dislike the fans have of Josh Beckett. The embarrassment of last September is still fresh in the minds of the fans, and most think of Beckett as the main reason for last season going down the crapper, whether that is true or not.
Beckett has done next to nothing to repair is image as a surly individual. He took no responsibility for what happened last year, and seems to have pushed the fans further away. Many fans were hoping he'd have been traded yesterday at the deadline, but that was simply unrealistic. He maybe the most disliked Sox player since Roger Clemens.
Baseball has always been a "what have you done for me lately" game. No Red Sox fan should forget how dominant he was in the 2007 postseason. But that is seemingly like much more than five years ago now.
The fans spoke last night, and Beckett had to hear it. He didn't comment on it after the game. His injury was back spasms, and there's no word how long this could keep him out.