Ragi/Finger millet Cheela with oat and semolina -Multigrain Cheela-Cheela Recipe-Nachani recipe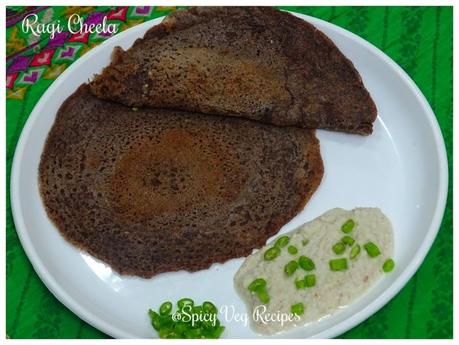 Ragi/Finger millet Cheela
It  is an excellent combination of Ragi, oat, and semolina which makes this a healthy snack recipe. Finger Millet is the rich source of Calcium, Iron, Amino acids.
Ragi (Mandua) Cheela is an excellent way to Include Ragi in our Diet.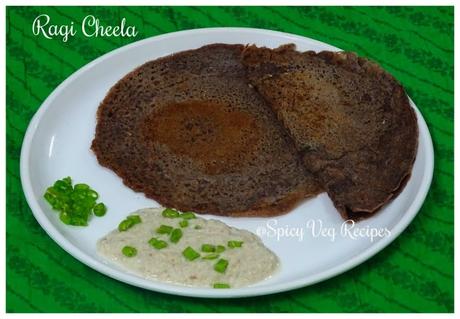 Ragi/Finger millet Cheela
More Ragi/ Finger Millet Recipes from this blog:
Ragi Ladoo
Ragi Halwa
Ragi Semolina Halwa
Ragi(Finger millet), oat and semolina Cheela Recipe
Step by Step with Photo
Prep Time: 15 min   Cook Time: 30 min    Serves: 20 dosa/cheelaMain Ingredients: Finger millet, Semolina, and OatRecipe Type: Indian BreadCuisine: IndianLevel of Cooking: MediumAuthor: Swati Paathak Ingredients:
Water

Salt to taste

Oil for cooking

2 cups ragi /nachni (finger millet) flour

1 cups oats 

1 cup semolina (sooji)

1 cup finely chopped onion (optional)

2-3  chopped green chilli (optional)

1 teaspoon grated ginger (optional)

1 teaspoon cumin powder (optional)
Preparation:
Blend the Ragi, oats, semolina, grated ginger, salt, cumin powder  and green chilli with 2 cups of water in a mixer to make a chilla batter.
Add more water to the mixture if required to make a thin batter get the consistency of pancake batter.
Add chopped onion and mix well.(optional)
Method:
Place a skillet (tava) over medium-high heat.
**Test by sprinkling a few drops of water on it. The water should sizzle right away.
Pour ½ cup of the batter mixture into the skillet and spread evenly with the back of a spoon. Starting from the center, spiral outward until evenly spread, about 6-7 inches in diameter.
When the batter begins to dry, gently spread 1/2 teaspoon of oil over it. 
Wait about 30-60 seconds, then flip the Cheela using a flat spatula.
Press the Cheela lightly with the spatula all around to assure even cooking, turning those two to three times. 
**Cheela should be crisp and golden brown on both sides. Repeat for the remaining Cheela.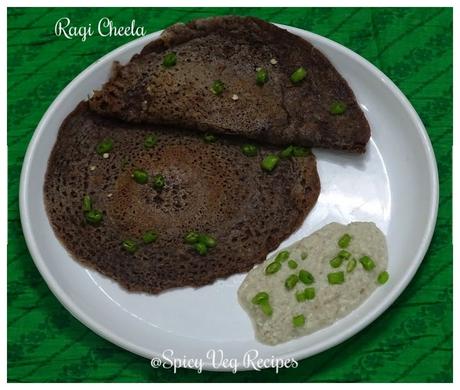 Ragi/Finger millet Cheela
Serving Suggestion:

You Can serve it with any chutney or with yogurt. You can also fill Cheela with freshly grated Paneer or favorite cheese.


 I

f you liked this, please share. Thanks!