Today I bring to you the ragi soup for toddlers and kids.
Anyone heard about ragi soup? This is one of my most recent eureka recipes when thinking 'what to do with my sprouted ragi flour other than usual chapathi/idli/dosas'.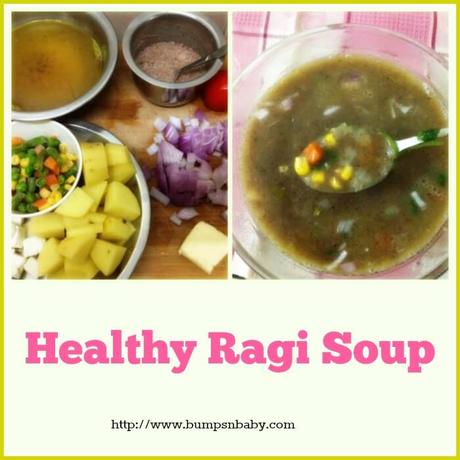 Soups are always everyone's comfort food regardless of age. I am a soup lover. I follow my own standard method for preparing most of my soups by just changing the vegetables or adding in any greens
You can refer to the 7 healthy soups for babies and kids.
I had this ragi soup for my dinner mixed up with one spoonful of cooked brown rice. I must say that it turned out to be such a yummy soup.
This ragi soup can also be used as side dish for dosa/ idli/chapathi or even rice for kids. Its best for kids with all the nutrients loaded. I use this as side dish for dosa and rice for Rithvik. He eats with a happy happy face with big open mouth.
You can also refer to the step by step preparation method for sprouted ragi flour at home for your baby.
How to make ragi soup for toddlers and kids?
Heat oil or butter in a pressure cooker and saute garlic, ginger and onions. Add the tomatoes and vegetables sauteeing continously. Add paneer along with turmeric powder, pepper powder and salt.
Add the required amount of stock or stock. Meanwhile mix ragi flour in water without any lumps. Add this to the cooker and pressure cook for 3 whistles.
Add milk and boil the soup. Add coriander leaves and serve it warm.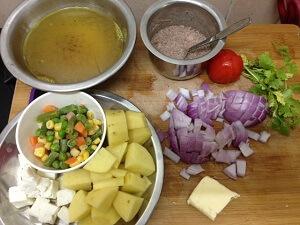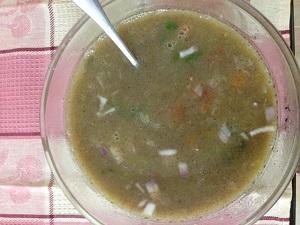 Notes
You can add any vegetables of your choice
You can even add chopped spinach leaves or any greens to this soup
If you are looking for ragi recipes, you can try the ragi paratha and ragi cake.
Hope you liked this ragi soup recipe. Do try at home and let me know the response in comments.