Welcome to Saturday's
Ragbag
blog, a collection of loosely related musings on that theme.
To begin with, some random things I have learned this week:
- The brain 'cleans' itself while we sleep (physically washes out plaques etc)... this from a BBC tv documentary about dementia. 6.5 hours minimum is the recommended dose.
- Rape causes me to sneeze uncontrollably... I take anti-histamine medication from May to September and have done so for years. It works successfully against all irritants except rape pollen, which I must do my best to avoid.
- Olive pesto on toast is amazing and goes down very well with ice-cold retsina... That's the wonder of Lidl's occasional Greek week.
I'm currently reading Margaret Drabble's excellent novel 'The Seven Sisters'. The central character has emerged from a painful divorce and 'down-sized' to live in a tiny flat in west London where she gets leered at by "lumpen boys in big boots" which prompts her to offer this aside:
"Lumpen means ragged. I read that in a book last week. I thought it meant something different. I think most of us think it means something different."
Nick Hedges created a starkly shocking but quite brilliant photographic record of slum life in Britain in the early 1970s, recording the hard times that inner city dwellers endured in the run down areas of Birmingham, Glasgow, Liverpool, London and Manchester. The people whose lives he was documenting could justifiably have been described as lumpen: dispossessed, displaced, uprooted people cut adrift from the socio-economic class with which they would ordinarily have identified.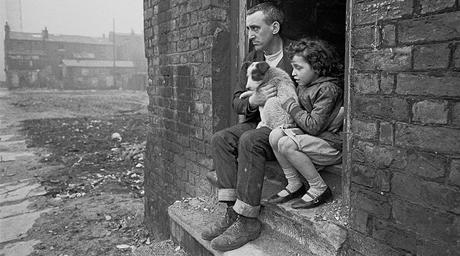 From Nick Hedges' documentary portfolio
It's a world that we thought and hoped we were leaving behind for good in the relatively affluent last quarter of the 20th century- but nearly fifty years down the line, this long decade of austerity is ushering in another age of inexcusable social division and deprivation. The lumpen proletariat is being superseded by the lumpen bourgeoisie - life in the northern poorhouse.
Here's a
ragbag
'square', a
thesauros
(Greek: a treasure house) of approximate synonyms (Greek again) obtained at the click of a button from a prominent website: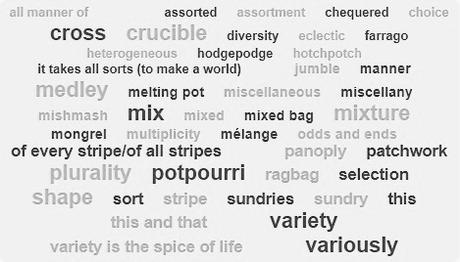 I thought I'd set myself the challenge to match the synonyms (or as many as I could incorporate) with Nick Hedges' visual image to trigger this week's poem....
Ragbag Square
On Ragbag Square,
this backwater of austerity,
this crucible of diversity,
all manner of mixed bag kids
from farrago families
are busy playing hotchpotch
among the mishmash
as sun dries
a miscellany of jumble,
odds and ends of every stripe
strung cross the patchwork yard.
It takes all sorts (to make a world)
but this plurality of chequered life
is not here by choice.
Under the panoply of poverty,
Ragbag Square sits host
to an assortment of losers.
It is far from fair, this half-life.
The odds are rigged,
An underclass of every shape, sort, stripe,
variously disenfranchised
by a multiplicity of power plays
is centrifuged by circumstance
into a melting pot of deprivation
off the map, out of sight,
just struggling to play its mongrel hand.
A medley of eclectic music floats
through the broken windows
of cold-water flats
round Ragbag Square
hints of a spirit that won't be flat-lined.
One day this magma will erupt
in demands for justice, retribution.
One day it will rise.
Thanks for reading. Have a good week S;-)
Email This
BlogThis!
Share to Twitter
Share to Facebook
Reactions: