Okay, go and collect a box of tissues.  This is going to be a little emotional.  After all we all need a good old cry sometimes.  Okay, are you sitting comfortably?  Then I'll begin. ( For any of you under fifty years old, the last sentence may have no  meaning at all: for the rest of us- it signals the time in the afternoon that we sat to down to 'Watch with Mother".
Anyway, I am not going silly.  I know that the theme this week is 'Rag bag' and not Rag, Tag and Bobtail, but I wanted to introduce you to the idea of spending time with your children. If you don't have any then this blog may be a complete revelation but I hope that it may evoke some childhood memories for you.
I have a son, now 27 and a daughter who is in her 25th year.  I loved being their Mum.  Even though I was the one in my form at school, voted by all the girls as 'least likely to ever have children'. Unfortunately my marriage didn't hold up and at 41, I was getting used being a single parent, while my ex-husband tried out a few younger models. I was doing OK, holding down my job, keeping up with the children's activities and generally enjoying having enough time with them, when a movie called
Step Mom
was released.
In case you haven't seen the film, the sensational Susan Sarandon is a wife and mother to two children.  Her husband meets the lovely, career minded Julia Roberts and leaves her.  It is a tough film to watch when you are experiencing the grief and pain of your own marital breakdown. If the situation isn't terrible enough,  the mother, who is angry about the break-up and resentful of the other woman spending time with her children, (well who wouldn't be?) is diagnosed with terminal cancer.
Now she has to manage her own feelings in the hope that she can successfully hand over the parenting role to her rival. Before she dies, she gives her two children gifts that she has made for them. For her little boy, a magician's cape and hat, covered in shiny stars, because he wants to be a magician. For her daughter, who is in her teens, she has sewn a patchwork quilt from pieces of all her clothes and the mother goes through describing them, sharing with her all the memories, so my tears fell like rain. I cried like a baby.
Unlike the character in the movie, I didn't keep many of my daughter's clothes, although I have quite a few bits and pieces.  She is expecting a baby this Summer: my first grandchild.  This poem from my memory 'rag bag' is for Katie.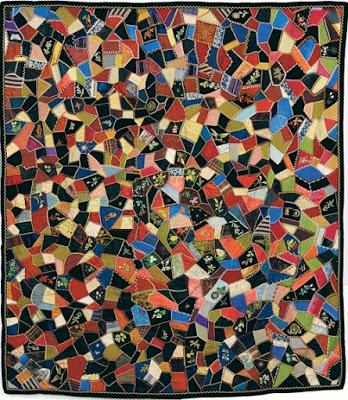 Memory quilt
If I had to leave you soon - too soon,
my heart would overflow to share
the love that I have feltwatching you grow.
A joy for all eternity: this is you what mean to me...
You see, a floral, cotton square,
Cut from the sweetest peach and turquoise dress
You wore, with sun gold hair,
A Turkish holiday – remember?
In this tiny dress of white, yellow and blue,
you came second in Miss Jubilee,
The winner, "Just a painted doll,"
one judge said, "your daughter is so lovely."
And here, one of orange and red,
A sun dress with a halter-neck,
billowing on an Indian Ocean balcony,
you with cocktail umbrellas round your head. 

  
Red gingham from summer uniform
From five until eleven,
And all your teachers loved you,
Well behaved and clever: made in heaven.
Ballet pinks worn with Wayne Sleep,
who laughed and said you were a dream,
Skipping as you led the group,
a delightful little dot:just like he once had been.
Feel the burgundy and cream, shot silk
that frames the edge. A chequered mix
cut from the bridesmaid dress you wore
in Germany when you were six. 
Swimming, track, gymnastics badges,
Each made me swell with pride,
The senior badge, royal blue and yellow tie, 
Prom dress in net and lace but still a baby face.
Snuggling in Tartan PJ's through winter nights,
Sewing cross-stitch samples as Christmas gifts,
some you scrapped, not good enough to give away,
I kept them safe.I loved them anyway. 
A hand made welcome shawl, your baby shoes,
The letters that you wrote to Santa,
All neatly patched into my memory,
A quilt of joy my daughter made for me. 
I wouldn't swap a single square -
for all the treasures of antiquity.
Thank you for reading. Adele
Email This
BlogThis!
Share to Twitter
Share to Facebook
Reactions: