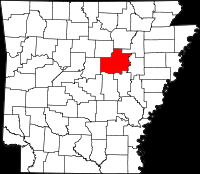 Map of Arkansas (red is White County, which is part of Little Rock Combined Statistical Area).
On January 15, 2013, heavily radioactive sleet and snow fell on White County, Arkansas, but no one told the residents about that.
As reported by Activist Post on Jan. 22, the usual background levels of radioactivity in the White County area are 35cpm. But the sleet and snow on Jan. 15 were at an alert level of radioactivity of above 100cpm, the equivalent of flying at 30,000 feet or exposure levels for nuclear plant workers.
No warnings were issued to parents to keep their children indoor.
Thankfully, the high levels of radioactivity lasted for only about 24 hours, indicating a short half life of the hot particles. However, though brief, this kind of exposure can reduce our bodies' immune system and may be the cause for recent spikes in flu and illness in this area and others.
Here's a video showing the radioactivity count rising, then subsiding.
~Eowyn