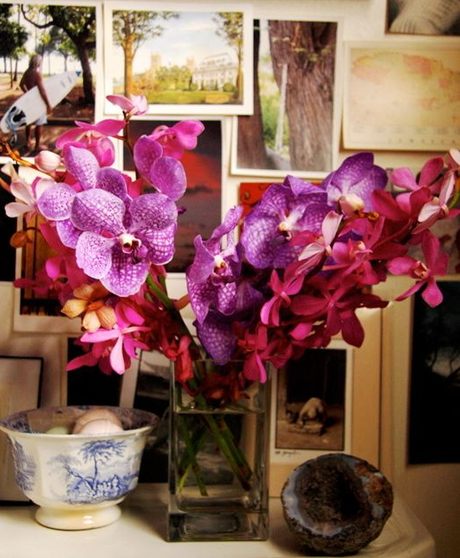 Photo via Resimbul.
Purple is making a splash in a big way. The color authority, Pantone, chose Radiant Orchid as the color of the year for 2014. Pantone says, "Radiant Orchid blooms with confidence and magical warmth that intrigues the eye and sparks the imagination. It is an expressive, creative and embracing purple – one that draws you in with its beguiling charm. A captivating harmony of fuchsia, purple and pink undertones, Radiant Orchid emanates great joy, love and health." The cheerful hue is a departure from the dark shades and neutrals of the past. Though it may appear soft and feminine, it can be used in a way that is bold and sophisticated. Here are some ideas for incorporating Radiant Orchid into your design: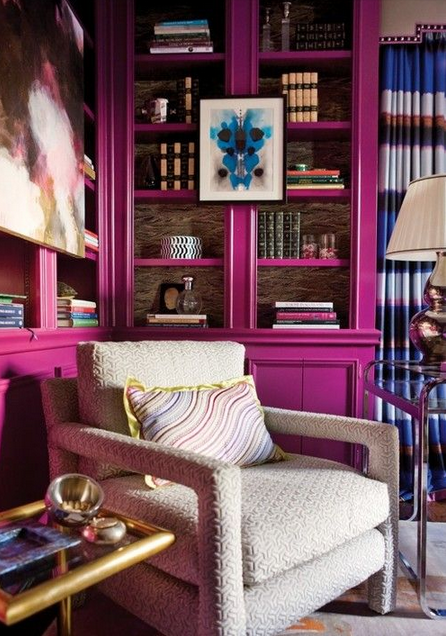 Photo via The Tao of Dana.
Gold accents add a chic element, while blue provides contrast.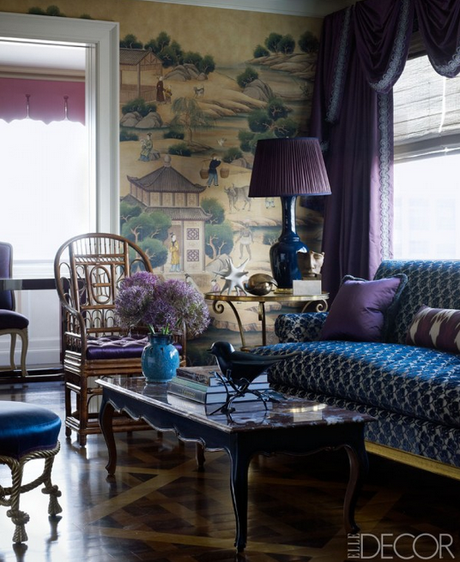 Photo via Tobi Fairley via Elle Decor.
Create your own interpretation of the purple trend by choosing a darker shade and grounding it with cobalts and teal. The living room is traditional with a twist.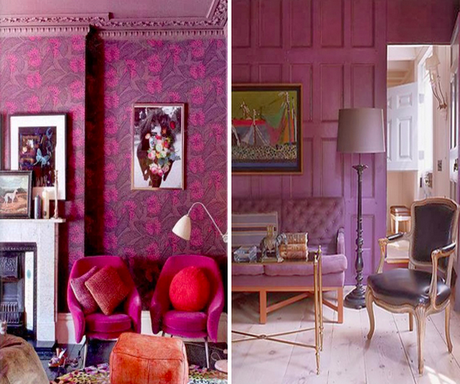 Photo via Interior Design 215.
Take a brave approach with layers of pink and purple and a painted ceiling (left) or fully commit to the color (right).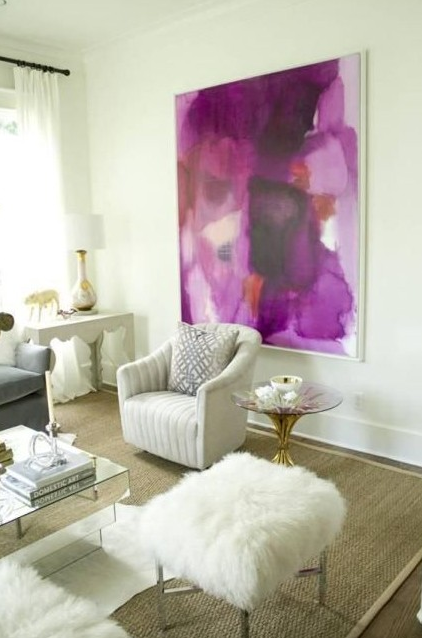 Photo via Interior Walls.
Not ready to go all out? Experiment with the color through artwork.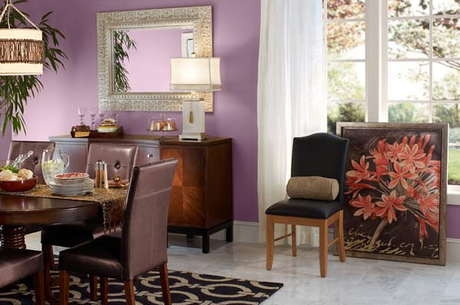 Photo via This Old House.
Soft lilac is edgy but elegant when tempered with blacks and browns.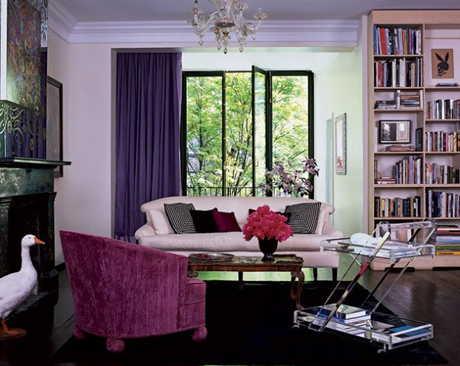 Photo via Elle Decor.
Cynthia Rowley's Manhattan monochromatic living room utilizes different saturations and tones of purple for depth and interest.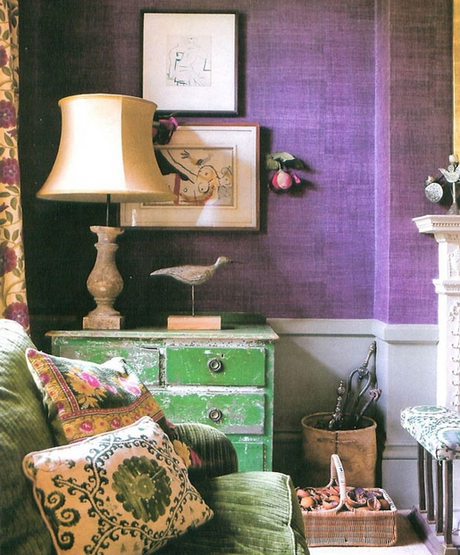 Photo via Carla Aston via Pantone.com.
Textured purple wallpaper brings together a bohemian vintage space.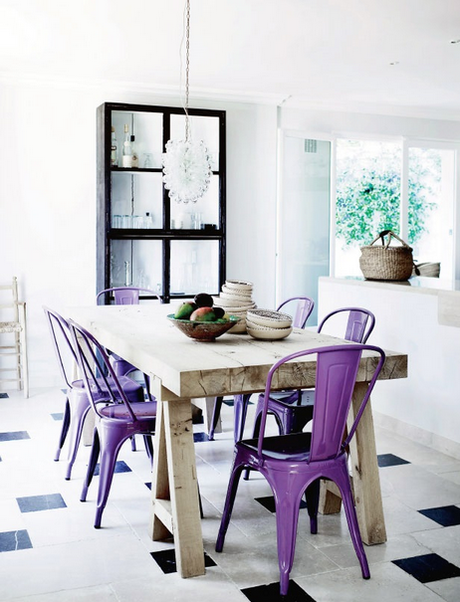 Photo via Greige Design.
The purple chairs pop against the rustic table.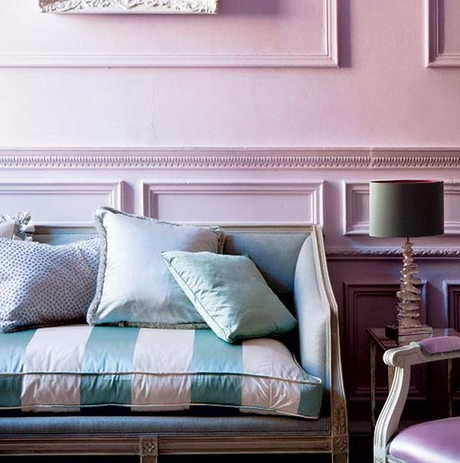 Photo via Cupcakes for Breakfast.
A lighter lilac take on Radiant Orchid. The mix of pastels appears dreamy.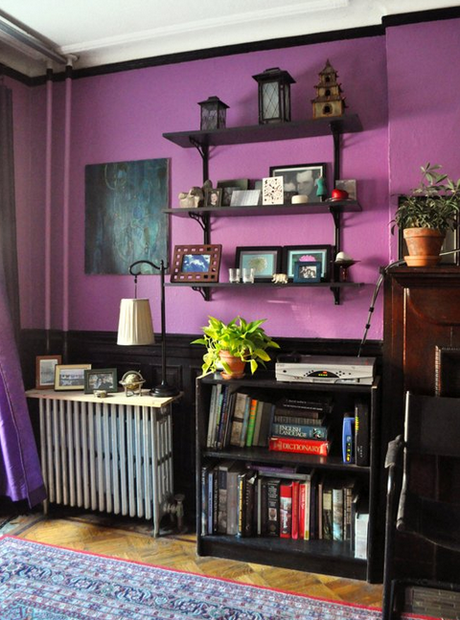 Photo via Apartment Therapy.
Offset orchid with black accents and eclectic details.
How would you use Radiant Orchid in your design? Which example is your favorite?
To liven up your space with color, contact Iris Interiors.