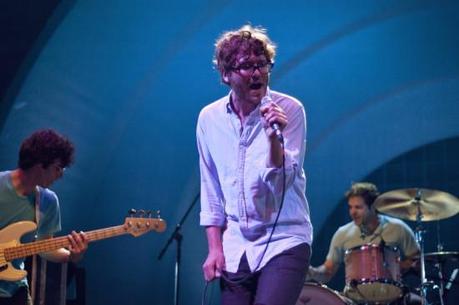 First of all, I have to hand it to Celebrate Brooklyn for putting on such amazing shows at the Prospect Park Bandshell. With artists like Andrew Bird, The Books, Sufjan Stevens, and Ra Ra Riot you can't go wrong, especially since most of them are free.
Last Friday, Buke and Gass, Delicate Steve, and the headliner, Ra Ra Riot took to the stage. Delicate Steve, an all instrumental act, were actually a great fit for direct support, bringing some relaxing, lighthearted jams before the main act.
I wasn't sure how Ra Ra Riot would come across live. They have a very distinct string sound and a frontman with a unique voice. When they began playing, though, I was very happy to hear the depth and layers of their recording process translated well for the show. Some of my favorite moments also occurred when the string accents became the primary focus of the song. Combined with a stellar vocal performance from Wes Miles, this was a truly incredible performance.
The set ended with a solid cover of "Call On Me" by Eric Prydz and Miles jumping off the stage, hopping fences and to giving high fives to all the fans. Needless to say, the security guards scrambled to make sure he didn't get hurt or kidnapped.

View Photo Album

View Photo Album