It is R's birthday today
(Happy Birthday!!)
and I had planned a luxurious getaway for the Easter weekend at the
Blythswood Square Hotel
for us to celebrate. I managed to keep it a secret from him right up until we pulled up outside the hotel in our taxi!! I'm amazed I didn't spill the beans as I was super excited about it all!
I absolutely love the Blythswood Square Hotel. It's a 5 star hotel and spa right in the city center of Glasgow, and it's location meant that we didn't need to waste any precious time traveling across the country for our weekend break. I've thoroughly enjoyed their
Square Eyes Film Club events
 and I've also attended a
Cupcake Masterclass
at the hotel. Bex over at The Olive Dragonfly also had her mini hen party here, so I knew that we were going to be in for a great weekend of pampering!
Our room was ready when we checked in at lunchtime on Easter Sunday, so we were able to suss out our digs and drop off our bags before hitting the spa!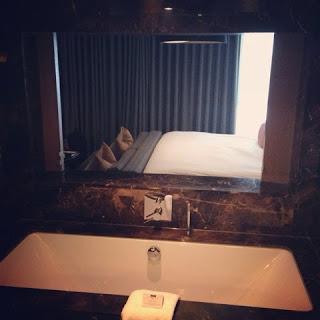 Our Bathroom to Bedroom hotel room - amazing!
I had booked the Blythswood Spa Escape & included in the price (£260 per room per night based on two adults) we had the following:
Luxury accommodation (and that it was!)
Full Scottish breakfast
55 minute spa treatment each on the day of arrival
Complimentary use of The Thermal Experience
R had a ishga Hot Stone Massage and I had chosen an Elemis Skin Specific Facial. It was extremely relaxing and I loved every minute! Whilst the face mask was on I was given a head, neck & shoulder massage. It was perfect! I do love a good facial :)
After the treatments we met up in the relaxation suite where I had a cup of green tea and chilled out for a bit. There were lots of inviting loungers to chose from with cosy blankets to keep warm. 
From here we headed back to the spa reception where we were shown to the locker rooms and once in our swimming gear we then made our way to The Thermal Experience. We spent two blissful hours in the various steam rooms & saunas... The Laconium, The Sauna, The Saunarium, The Crystal Steam Room, The Tepidarium, the Hydro Pool and the Vitality Pool.
Feeling thoroughly spoiled and relaxed we then headed back to our room where we had a few hours before dinner. I may have enjoyed a hot bath with a glass of fizz
(thanks Ali!)
before slipping into my little black dress!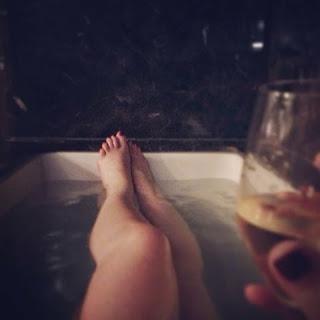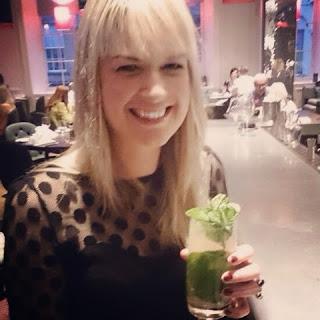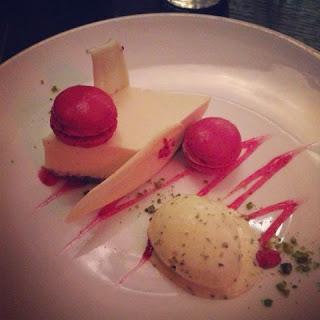 The food was amazing, with the dessert being my highlight. The macarons were to die for!
After a brilliant sleep, I started the day with another bath and then we headed back to the restaurant for breakfast. Full Scottish for R and Eggs Benedict for moi. I know I keep saying this, but it really was amazing! I wasn't quick enough off the mark to get any of the pastries, next time!
We checked out of our room at midday, but I had paid for us to return to The Thermal Experience again (£20 each) and so we spent another three hours journeying through the series of rooms again. And if it couldn't get any better, we were then booked for Afternoon Tea in The Salon. I had clocked an offer on Emerald Street for two-for-one tea so we had afternoon tea for two for £22.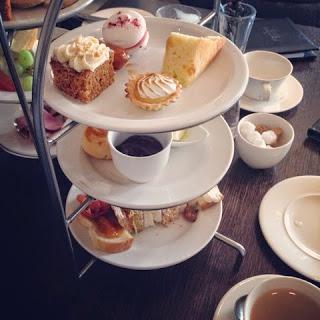 Duchess of Bedford Afternoon Tea... the sandwiches were gorgeous & loads of them too, followed by two perfect scones with lashings of cream and jam, and rounded off with carrot cake, lemon meringue pie, lemon drizzle cake, caramel eclair and a raspberry meringue
(according to the menu this was a macaron, but it was more like a meringue and very different to the macarons we had with dinner in the restaurant the day before which were delightful)
. All washed down with some earl gray tea.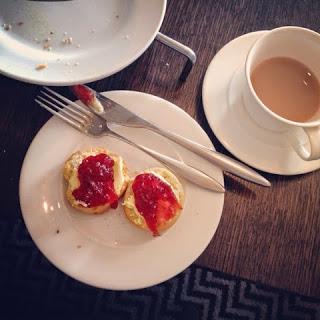 Mmmmmm!!!
It was the perfect end to an absolutely amazing weekend!!! 
WebRepcurrentVotenoRatingnoWeight