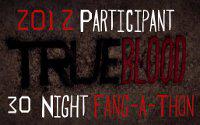 Today's (Day 6) fangalicious Fang-A-Thon 2012 post, has been brought to you by the Word of the Day – which will be featured as a Quopic of the Day! Long time visitors of ours might remember them, but we've kind of slacked off when it comes to posting them lately. I think it's the perfect time to bring them back again!
For those who don't know what a Quopic is…it basically is a combination of two words: quotes and pictures. We use these to remind ourselves why we love Eric and Sookie!
As I mentioned in the Fang-A-Thon post yesterday, this will be based off the books. So, basically this Fang-A-Thon post is inspired by the Word of the Day, featured as a Quopic of the Day, and based off the SVM. Are you confused yet? Don't worry…you'll see what I mean very soon!
Today's  Word of the Day has been brought to you all the way from France!
Word of the Day: coffre
Definition: trunk
Example: Cette voiture a vraiment un grand coffre.  Translation: This car has a really big trunk.
There's only one trunk scene I remember in the books. This is to remind us why Sookie will never end up with Bill at the end of the book series. Unfortunately, they didn't portray this scene exactly the same way on the show, but hopefully the picture I chose will send the same kind of message as the quote I've used.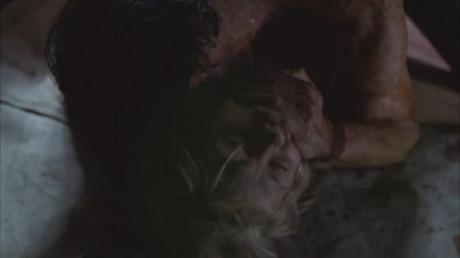 Of course, the famous trunk scene happened in book 3, "Club Dead".  Here is a quote from the famous scene below;
"Now another need was on him, one closely related to feeding. His hands pulled down my sweatpants, and after a lot of fumbling and rearranging and contorting, he entered me with no preparation at all. I screamed, and he clamped a hand over my mouth. I was crying, sobbing and my nose was all stopped up, and I needed to breathe through my mouth. All restraint left me and I began fighting like a wildcat. I bit and scratched and kicked, not caring about the air supply, not caring that I would enrage him. I just had to have air."
Wow…powerful stuff. You can really feel the pain and horror and eventually acceptance that Sookie felt. She is a very strong woman, who has learned to forgive – but will never forget. This was a turning point in her life in the book series. I think this moment made her step back and look at her relationship with Bill from another perspective.
This is why I really don't understand people who still love Bill? How can you, after knowing from Sookie's point of view, what he did to her in the trunk of the car? Thank God, Eric would never force himself on Sookie, no matter how full of bloodlust he might be. He's old enough to have some measure of restraint and self-control. Besides, I doubt he would need to force any woman on him. Even Sookie is smart enough to realize that all Eric has to do, is just snap his fingers and women would flock towards him.
What are your thoughts? Please feel free to share them below!