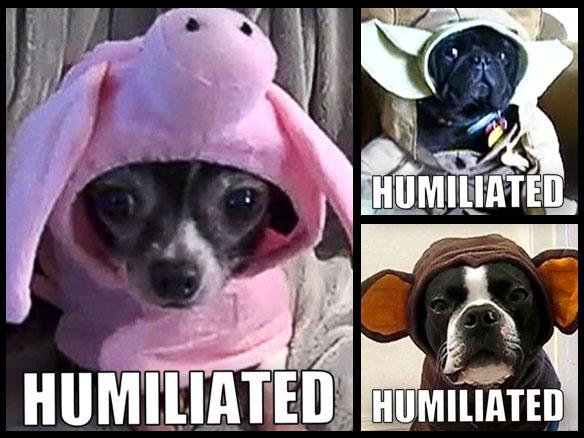 Humiliated DOGS wearing costumes that didn't go well with these pooches.


What do the following breeds of dogs have in common: the Chihuahua, Boston Terrier and Black Pug? If you're still shaking your head, we've got the answer. It's FUNNY FRIDAYS! Get ready for three of the most humiliated DOGS in costume by far!
PEBBLES Meet Pebbles, an adorable Chihuahua who's owner outfitted her with a pink piglet outfit. Based on her despondent expressions, we can probably say that she isn't too pleased with her new pig ears or her new pig tails! But do we see a teary-eyed pooch who's crying on the inside of humiliation?
VIDEO: Watch Pebbles endure the humiliating outfit of her piglet costume.
HOWIE Howie the Boston Terrier has on a costume with large, orange fluffy ears. Standing in dismay, Howie remains still until his owner is finished with this his most humiliating moment.
VIDEO: Watch Howie, the Boston Terrier make it through this K-9 dress up.
COFFEE BEAN
What can be more humiliating then being dressed as Yoda with green ears and outfitted in a Jedi coat? Coffee Bean, the adorable Black Pug sits with a stunned, catatonic K-9 look while his owner rolls the tape.
VIDEO: Coffee Bean, the Black Pug shows his Yoda Jedi Knight Pride. 
To see MORE DOGS IN COSTUME see our post on World's Strangest Halloween Costume for Dogs by clicking 

here

.