Tempt me at twilight / Historical Romance/ Adult
by Lisa Kleypas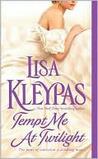 (The Hathaways #3)
Published: October 1st 2008
360 pages
This review doesn't contain spoilers!
This book impressed me. Poppy wasn't a character I payed much attention but she showed to be a lovely one! And can I just say how much Harry captivated me? I'm in love with him! I do think this story had a few problems the last book didn't, but maybe -just maybe- I had more fun with this one! I do have to say that didn't like the ending, I thought it was too harsh and violent for such a beautiful book, it wasn't one of the good kind of surprise. I'm not very excited about the next book, I don't like the characters nor the plot, but I must give it a try for I want to read the last book! Great series so far!
MUST READ: If you wanna read a very creative and surprising story!
TO BE READ: After reading the previous books! Do not read this series out of order!!
DON'T READ: Why wouldn't you read it?
Worth buying? Yes!
Cover Art: 5/5
Plot: 4/5
Setting: 5/5
Writing: 5/5
Dialogue: 5/5
Originality of Plot: 4/5
Characters Development: 3/5
Ending: 4/5
Pacing: 4/5
Likelihood to Recommend: 4/5
Analytical Ratings: 48/50

SEXUAL CONTENT – I see fireworks!