Seduce Me At Sunrise  / Historical Romance/ Adult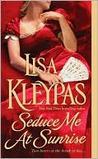 by Lisa Kleypas
(The Hathaways #2)
Published: October 1st 2008
360 pages
This review doesn't contain spoilers!
I thought this book had a fun, intriguing and dangerous approach to Wundering Heights. It's impossible not to compare these two plots when they're screaming and shouting at you! Lisa has done a great job with this title! She made me mad, made me laugh, and oh, I have to warn you – you'll love the beginning of this book! And I LOVE this cover! It's marvelous and has everything to do with the book.
MUST READ: EVER single homo sapiens sapiens.
TO BE READ: After reading or watching Wundering Heights
DON'T READ: Sorry, I can't hear you! Don't…read? Are you MAD?
Worth buying? Yes!
Cover Art: 5/5
Plot: 5/5
Setting: 5/5
Writing: 5/5
Dialogue: 4/5
Originality of Plot: 4/5
Characters Development: 5/5
Ending: 5/5
Pacing: 4/5
Likelihood to Recommend: 5/5
Analytical Ratings: 48/50

SEXUAL CONTENT – I see fireworks!