Pressed for time but need to make a healthy breakfast?
Looking for an easy but healthy recipe for your little one?
Is fast food taking a toll on your health? Try this fast and easy recipe then!
Today I will explain how to prepare crispy ragi dosa recipe for toddlers and kids in just half an hour. It's a quick and yummy recipe I prepare for our dinner. It is my go to recipe when I am really tired to whip up something elaborate.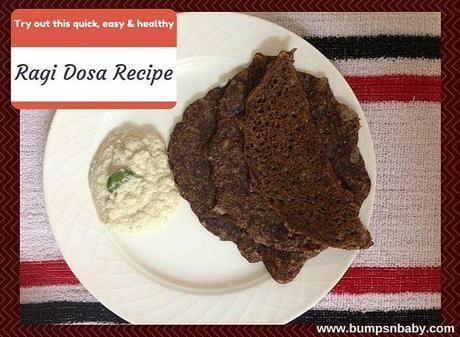 Ragi - Why is it good for you and your toddler?
Ragi / nachni/ finger millet is one of the best nutrient loaded cereals with a good amount of calcium, iron, protein, fibre etc.
It's especially good for kids and lactating mothers because of its high calcium content. All you moms and moms to be, try out some yummy ragi koozh or ragi ambli, your body will thank you for it.
I have already mentioned its health benefits in my previous post on homemade sprouted ragi flour.
What makes this ragi dosa recipe different?
Normally we all make dosa using fermented batter but this dosa is prepared without the fermenting process. So it is easy and can be prepared whenever you want!
Ragi dosa can be served as breakfast or dinner for toddlers and kids with coconut chutney or any side dish of your choice. If you omit the milk, green chillies and prepare this ragi dosa with water as the base, this can be given to babies of 8 months and above.
Also try out these 11 easy recipes for busy moms and if it is easy rice recipes that you are looking for we have them too.
For other ragi recipes for kids, checkout ragi almond cookies, ragi idli and stuffed ragi paratha.
Step by step instant ragi dosa recipe for toddlers and kids:
Dry roast the sprouted ragi flour for few seconds till a nice aroma wafts out. Transfer it to a vessel big enough to mix the batter.To this add desiccated coconut and required salt.
Sauté finely chopped onion, ginger and green chilly in a teaspoon of oil till translucent. Add this to the ragi mixture. Now add curd and milk to the mixture and mix everything well.
Add water accordingly to make the batter thin than the regular dosa batter and without any lumps. Check for salt and adjust accordingly.Cover it and let it stay for 30 minutes.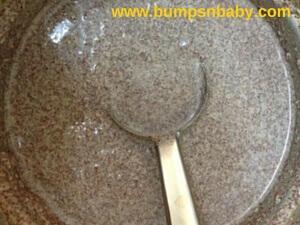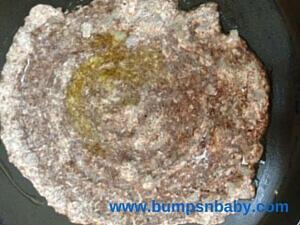 Make crispy dosas with this batter and serve with coconut chutney or a chutney of your choice. For yummy and easy chutney recipes, you can refer to our 5 chutney recipes for toddlers and kids.

You can even finish your meal with some yummy ragi cake. This ragi dosa recipe may be easy but doesn't compromise on the nutrition aspect, making this a favorite of mine. After you try this out, I am sure it will become your favourite too!
Let me know if you have any easy but healthy recipes that you absolutely swear by.