0 Flares
0 Flares
×
New to little Indiana? Subscribe for free to my RSS feed. Thanks for stopping by!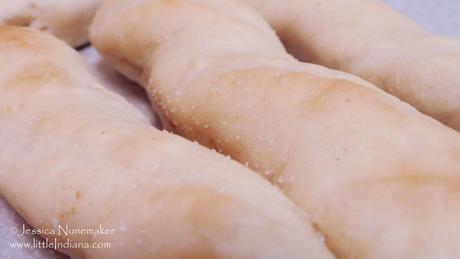 Soft Breadsticks Recipe
Soft and fast, this Quick Breadsticks Recipe is an absolute staple in our home!
Kid #1 has been helping me make these breadsticks since he was two years old. Now, Kid #2 is able to join in the fun.
I love that they are homemade. Add in different herbs to change the breadsticks any way you see fit! From Food.com.
Quick Breadsticks Recipe
Print Quick Breadsticks Recipe: Little Rising Required
Rating: 51
Prep Time: 20 minutes
Cook Time: 15 minutes
Total Time: 35 minutes
From Food.com.
I've been making this recipe for many years now. It's so fast and easy!
Ingredients
1 Cup Warm Water
2 1/2 teaspoons Yeast
3 Tablespoons Brown Sugar
1 teaspoon Salt
1/4 Cup Oil
3 Cups Bread Flour
Topping
Melted Butter
Garlic Salt and Parmesan Cheese
Instructions
Combine Yeast in Warm Water. Let rest for five minutes.
Add Brown Sugar, Oil, and Flour.
Knead with dough hook until a soft ball forms.
Roll out into a 10 x 12 rectangle.
Using a pizza cutter, cut into strips around 3/4" wide. Twist and place on a greased cookie sheet or parchment paper.
Let rise for a minimum of 20 minutes.
Bake at 375* for 10-15 minutes.
Brush with butter and sprinkle with garlic salt and Parmesan cheese.
Schema/Recipe SEO Data Markup by ZipList Recipe Plugin2.0http://littleindiana.com/2013/03/quick-breadsticks-recipe-little-rising-required/Photos are the Property of little Indiana. Do Not Use Without Permission.
pictures in Indiana
little Indiana Tumblr blog
Just don't forget to tell 'em that  little Indiana sent you!
Don't miss a moment. Subscribe to little Indiana and receive instant updates to stay on top of everything "little."
little Indiana: Where to Stay, Play, and Eat in Small Towns in Indiana. Discovering Indiana's best small towns! Now get little Indiana on your Kindle.
Targeted. Relevant. Affordable! little Indiana advertising.