Something I've tried to do this year is to get fitter! The gym is not really something that interests me and I prefer to exercise and work out in the comfort of my own home (I'm sure many of you are with me on this one). Today I'm sharing items and tips that have helped me kickstart getting fitter and getting my body more toned!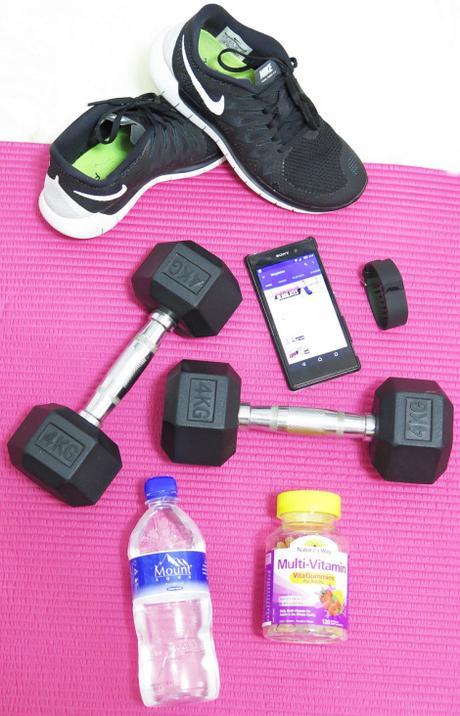 SHOES: A comfy and supportive pair of exercise shoes are a must and they really help motivate you to get up and move around, even if it's just a walk around the local park or a few exercises at home. I absolutely love my Nike Free Runs 5.0 that I purchased last year. I'm not entirely sure if they're made for a specific purpose (i.e Running, Cycling, etc) but I find them a great all rounder and they are incredibly light and comfortable to wear.
APPS: I've found some really great, free apps to help with the workout at home! I have an android phone so I'm not sure if they will match up with iOS but 30 Day Fit sets out a exercise routine in '30 day challenges' with the workouts differing in length each day. They have 4 set challenges – ab exercises, bodyweight exercises, push ups and squats to help you workout, depending on what part of the body you want to target. The 7 Minute Workout and 20 Min Beginners Workout by Power 20 are great apps as an avatar guides you through the exercises and the screen also displays a timer and what the next set will be so you can prepare yourself during the few seconds they give you as a breather between each exercise.
VIDEOS: There are some fabulous exercise/workout/toning videos on YouTube and they range from long workouts to targeted, 5 min workouts. My favorite workouts are from Blogilates as Cassey's enthusiasm is infectious and her 5 minute and 6 minute series' really gives you a great workout that you can feel. They are quick to do and you can easily do them at home, comfortably. The videos target everything from arms to abs, to legs and butts! XHIT Daily is another channel that has great a huge range of different workouts and exercises that are easy to follow and complete at home.
FITBIT: A FitBit is so worth the investment! I have the Charge HR which monitors my heartrate as well as being able to track my steps, my workouts, water intake and more. It also has an alarm, caller id and watch functions which makes it much more than a exercise band. I love setting myself targets as it really helps motivate me to get moving and working out so that I can reach those milestones I've set myself.
WEIGHTS: These weights are just from a fitness equipment store and they're fabulous to have as some workouts do require weights. They really add to the exercising and help you workout the muscles in your arms, strengthening and toning them, making it easier for you to do exercises like the plank which require strong arms.
FITNESS MAT: My pink fitness mat was incredibly affordable from Target and I think it's a must have if you want to start getting fitter at home as doing the plank and sit ups, etc are just too uncomfortable to do on a bare floor. Not only does the mat make it more comfortable during the exercises but it also allows you to do a winder range of exercises as well!
MULTI VITAMINS: I've been taking these Nature's Way Multi Vitamin Gummies for many months now (I can't do tablets or capsules!) and I do feel that they're a great boost for my health as they make up for the vitamins and minerals I might miss in my diet. The gummies include B vitamins for energy as well as others to help strengthen muscles and bones which is much needed if you are exercising.
WATER: I'll be the first to admit that I definitely do not drink enough water. I've always struggled with it but if you are exercising you do really need tp up your intake of water. Since I've begun drinking more water, I've found it's left me less hungry and has made working out much easier!
Do you exercise at home or at the gym? What are some of your favorite workouts?


| Bloglovin' | Facebook | Twitter | Instagram |