When we do our eye makeup, our aim is to enhance our eyes and make them look more beautiful. If we have big eyes, we try to make our eyes look brighter and bigger, making them look more awake. For big eyes, the aim of the makeup is not to exaggerate their size, but to highlight their natural beauty.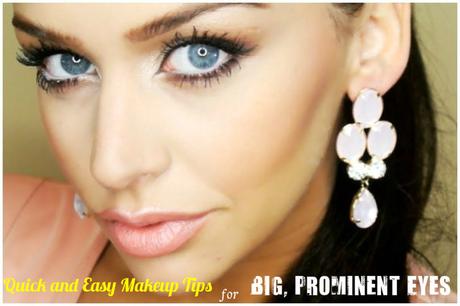 But before you start applying eye makeup for big eyes, it is important that you know about your eye shape and which makeup works best for your eye shape. Once you know about the shape of your eyes, you can enhance, transform and even define the shape of your eyes in the right way.
One of the advantages with big eyes is that it is easier to do makeup on them and you have a wide choice of colours. There is more surface area on the eyelids and this means that you can mix and match 2 or 3 colours at the same time. So, here are some makeup tips for flattering your big eyes.
6 Best Makeup Tips for Big Eyes:
Blending:
Blending is very important in your eye makeup. Blend in your concealer and keep the dark circles away. Blending your eye shadow well helps in making sure that your eyes shine well, and blending your highlighting helps in enhancing your eyes.
Dark eye shadow:
The basic rule in eye makeup is that the darker the eye shadow you apply, the better you eyes look. This is because dark color helps in reducing space and size, while pale and light colours help in emphasizing and sharpening your features. So, when you apply makeup on big eyes, try to avoid pale and nude colours. Instead, you can opt for darker shades. This will give a shadow effect to your eyes. You can brush up some complementary darker colours into your eyelids. This will contour and dramatise your eyes.
You can make your dark eye makeup look wonderful by using the darkest of shades for lining the rims of your eyes. When you apply eyeliner your upper lash, try to keep the lining moderately thick to medium. A thin lining on the lash will make your eyes look more natural while a thick lining will make your eyes look more ravishing. If you wish to make your big eyes stand out, then you should highlight your lower lash line also.
False lashes:
You can experiment with false eyelashes to enhance your eyes and give a dramatic look to your eyes. However, before you apply the false lashes, it is important that you curl your original eyelashes as well as the fake ones.
An eyelash curler is an essential tool and all women should have it in theory makeup kit, especially if you want to make your eye look bigger and more captivating. By using the curler you will be able to make your lash separate and create a perfect fold to the ends of your lashes. This in turn helps in giving a fuller effect to your eyes. You can use Shiseido Eyelash Curler for curling the lashes perfectly. This will give a perfect 'U' shape to your lashes.
Once you have curled your lashes, you can stick them on your eyes. Next you have to apply the mascara. You may use Maybelline Great lash Mascara on your lashes. This will make your eyes look bigger and thicker in a short time. To get a doe shaped look, try to apply 3 to 4 coats of mascara on the outer corners of your lashes as well as the bottom lashes. If you do not want to make your eyes look bigger and more expressive than they already are, then you should not apply the mascara on your lower lashes.
Keep your brows well groomed:
When you have big eyes, the focus should be on your eyes. So, you should take care to keep your brows manicured and in good shape. If your brows are bushy and unruly, no matter how fabulous your eye makeup is, you will never look gorgeous.
Smoky eyes:
Most women have the habit of applying only black eyeliner and black eye shadow. They never try any other colours. If you also follow this routine, try something new. With big eyes, you need not worry about including new shades or techniques in your eye makeup. In addition, colours are more interesting and can flatter your eyes in a better way.
Try to make your eyes look dramatic by applying different shades like greys or deep chestnut tones. These shades suit big eyes perfectly. Apply them to the top of your eyelid and back into the hollow of the eye. Once you have applied the shades, blend the colours with the help of a smudge brush. Try to blend them outward from your lash line, so as to create a soft fade.
You may also go for shimmery eye shadows. These will look great on big eyes and help in giving you a glamorous look instantly. Just add a little shimmer, a little glitter, and your eyes will stand out. You may do a line of matte color along your lash line and then add some shimmer to your lid and under your lower lashes. You can apply any shade that matches your dress or lips, and you will look gorgeous.
White eye shadow:
One interesting way to highlight your big eyes is to apply some white eye shadow, just use a little of this eye shadow in the corners of your eyes. This will highlight your eyes and bring out the color.
You are lucky if you have big eyes. Now that you know how to do makeup for your big eyes, follow the tips given above and see how beautiful your eyes will look.