Take a few seconds to envision your version of paradise…  Does it include smooth, warm white sand dusting gently over your feet, continuously drifting off to the mosaic of aqua and deep blues of the ocean, the distant sound of seagulls singing in the distance as they slowly sweep over the vast open sea, and the hushing sounds of waves brushing delicately onto the shore?  Maybe not, but I bet it's a great alternative to your envisioned paradise.  Now, imagine this paradise is located in Thailand.  The vast, endless vision of the sea is now sporadically interrupted by jutting deep green, foliage-covered miniature isles and earthy brown rock formations, which almost seem to be giving you a thumbs-up to approve of your travel destination choice.  Good job, you.  Now, sit back, relax and let us give you some information that will hopefully be of help to you in our guide to Koh Phi Phi Don, the largest island among the Phi Phi Islands in the Krabi province.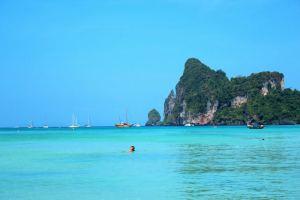 Koh Phi Phi
- The Airport:  The closest international airport to Koh Phi Phi is Phuket International Airport (HKT).  Our first word of advice is to exchange your money before you get here and probably before you arrive in Thailand in general.  It was the first time we experienced haggling while exchanging currencies in an airport.  Their first attempt with us was really low, so we decided to hop from stall to stall outside of immigration and found a stall that agreed to a rate in the high 90 percentile.
From HKT you can find many buses that can take you either straight to the ferry dock to head to Koh Phi Phi, or to other hot spots such as Patong Beach.  This is where we stayed for a night before heading to Koh Phi Phi.  The airport bus into Patong Beach cost about 90 baht (US$3) and took about 30-45 minutes.  There are also taxis available that cost about 500-600 baht (US$15-20).
- The Ferry:  Koh Phi Phi is only accessible by ferry.  From Patong Beach, we hopped on a bus (arranged by our lovely hostel employee) and headed straight to the dock in Phuket Town, which took about an hour.
The ferry from Phuket to Phi Phi takes roughly 90 minutes.  If you have motion sickness, our advice is to grab a seat in the back of the boat.  We made the mistake of heading to the front of the boat to keep a careful eye on our belongings, which resulted in us closing our eyes to the beautiful scenery we were approaching and trying our hardest not to projectile vomit across the mountain of luggage sitting ahead of us.  On the way back to Phuket, we grabbed a seat closer to the back and had a much less nauseous experience.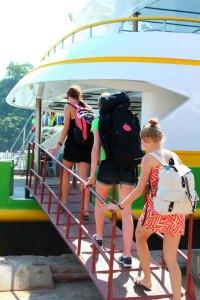 Ferry to Koh Phi Phi
- The Beaches:  The ferry brings you to a dock on Phi Phi which is what we'll call the 'front' beach.  There are two main beaches on the island that we were able to explore, the other being the 'back' beach.  From the dock, you can continue on and weave in and out of the maze of small island streets lined with exotic jewelry, Thai coffee, coconuts, bars, beachwear and more, and quickly stumble onto the 'back' beach.  This beach is larger, cleaner, and filled with more entertainment.  It provides magnificent views of the 'thumbs up' jutting formations beautifully scattered across the broad stretch of sparkling blue sea.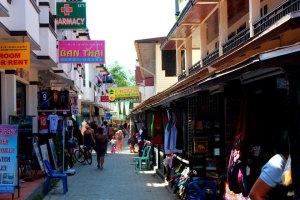 Koh Phi Phi streets
Lined up on this beach are a handful of thin, long-tailed Thai fishing boats that resemble and act as Venetian gondolas with large outboard motors.  Locals sit perched along the beach informing leisurely tourists of their 'bargain' prices for a spin through the crystal clear waters.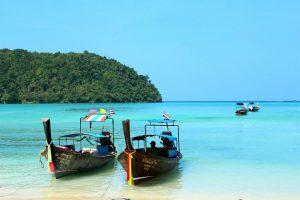 The 'back' beach
- The Hostels: We stayed at a hostel called Flower Bungalow.  Our recommendation: DON'T stay in the 20 person dorm room.  We made the mistake of choosing the cheapest option we could find (280 baht for two nights, about US$9 total), which resulted in listening to people having sex in the middle of the night, our showers accompanied by ants and mold, and three out of four of us leaving with mysterious bug bites.  We lived and we learned to never choose the cheapest option!  The next cheapest is usually worthy of our selection!  However, the hostel does include private bungalows which may indeed be more enjoyable than the large, crowded dorm room we endured for two nights.  There are much better options on the island for not too much more, so please don't make our mistake!
Also, bring your own lock.
-  The Food:  One benefit of our hostel was that we could stumble to the nearest Thai pancake stand in about 20 seconds.  We ate these delicious, wonderful, flaky, melt-in-your-mouth delights every single morning we were in Thailand.  For all seven days of the entire trip, we stood with our eyes glued to the entire process.  The batter was brushed with butter, thrown onto a hot griddle, fried until golden, and topped with the selection of your choice (the best is Nutella and banana) and we'd walk away bright-eyed and mouths drooling with our warm, soft, sweet pastry in hand.
Pad Thai was, of course, readily available for literally 24 hours a day.  There were stands cooking up batches when we were strolling to the beach each morning, and still open at 3am as we stumbled back to our hostel.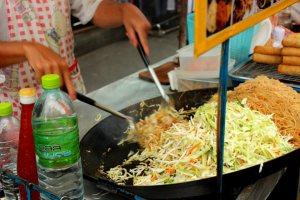 Pad Thai 24/7
Thai coffee is incredibly enjoyable for two reasons: a lot of sugar and evaporated milk- these can make anything taste amazing.  There are also coconut stands everywhere, with the coconut tops freshly cut open as you order to quench your thirst with coconut juice (nature's Gatorade!).
- The Night Life:  The first night we were on the island, we went to this beautiful, open-air bar with canopies of white cloth draped around wooden posts to form parts of a roof and walls.  Here, we sat on lounge chairs, listened to good music, and watched our server run back and forth between serving and taking part in a fire dancing performance.  It was remarkable.
Though the atmosphere was incredible, we decided not to stay for the extent of the night due to the quickly rising bill.  We instead headed down the beach, toward the area where the 'gondolas' are docked, following the sound of thumping dance music.  As we approached, we noticed a make-shift stage that was brought out onto the beach. It was barely visible under the feet of people happily dancing with cocktail buckets in hand and colorful, flashing lights moving across their bodies.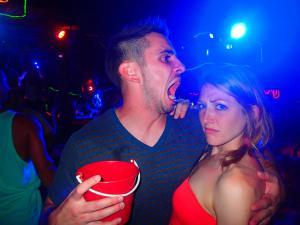 Dance party
- Bob's Sailing Booze Cruise: The second night, we were occupied with what would become the most memorable part of our entire Thailand trip:  Bob's Sailing Booze Cruise.  Prior to our trip, we had no knowledge of this cruise.  We happened to be walking past their hut when one of the workers approached us and informed us of the half-day trip.  He explained to us that it includes a trip to Monkey Beach to feed monkeys, Maya Bay (where The Beach was filmed) to go snorkeling, cliff-diving, and hangout on the beautiful beach, watch the sunset inside Wang Long Cove and see the kissing faces, and more- including lunch and unlimited beer.  It costs 3,000 baht (US$100), which, being poor travelers, we were a little reluctant about, but realized afterward it was worth every penny for the memories we gained.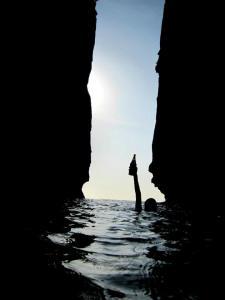 - Bamboo Tattoos:  If you are looking to add to your tattoo collection or indulge in your very first, get yourself a bamboo tattoo.  Read why here.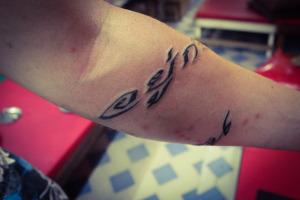 Zach's bamboo tattoo.
- Massages:  There's a style of massages named Thai for a reason.  We only had time for the 3o minute session, which cost 200 baht (US$6) and cracked my back like it's never been cracked and probably will never be cracked again.  Take our word for it, they're fantastic- for the wallet and your back.  And, no, it wasn't painful.
Koh Phi Phi is definitely a place for "tourists" and not what we, or anyone for that matter, would call an "authentic Thai experience."  But, it is still an amazing place to relax, have some fun, and meet some very cool people.  If you have done it, you know.  If you haven't, go find out so we can talk!
_____________________________________________________
As usual, please tell us what you think below!