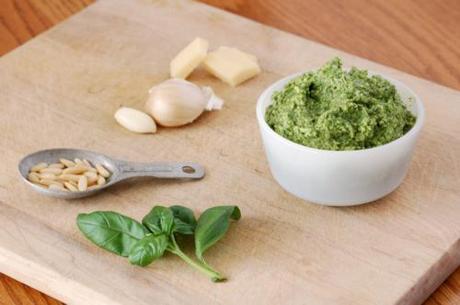 I found a heck of a steal at the grocery store the other day. One very LARGE bunch of fresh basil for about $2. This helped make up for the fact pine nuts were up to $8.50 for a cup. Good thing this pesto is worth it!
Ingredients
6-8 cups of fresh basil leaves loosely packed
1/2 cup olive oil
Heaping 3/4 cup of pine nuts
2 cloves of garlic coarsely chopped
3/4 cup grated Parmesan cheese
Directions
In a food processor, alternate adding ingredients until blended smooth. Add more olive oil if the pesto isn't the correct consistency.
Use the pesto with 24 hrs or freeze scoops in plastic wrap lined muffin cups for later use. 
Now Featured on Food Gawker- Quick n' Easy Basil Pesto