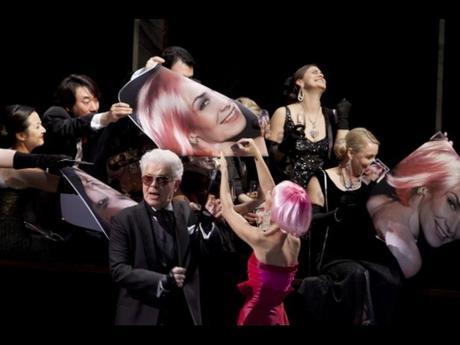 The dark side of diva worship: Mikneviciute and ensemble, Act I (Photo © Martina Pipprich)
On Tuesday, I got to see the second of
four performances
of
La Traviata
 in Mainz's new production by Vera Nemirova, whose
Tannhäuser
I found so impressive. Both the production and performances (as well as the Programmheft) bore witness to the kind of thoughtful engagement which Verdi's opera so richly deserves and too seldom receives. In Nemirova's staging, Violetta is an opera singer. And choosing this path to deal with the themes of how she is objectified, and how both celebrity and sex are commodified by the society around her--around us--proved enormously effective. Her body is fetishized; her behavior is policed. This is especially striking in the finale of Act II, where all sing of how great her sacrifice is; of how great she is; and Violetta herself is left entirely alone while they do so. In this environment, symbols are fluid and sex is a game. Even life is treated as a game, as Flora's guests wait for the next adrenaline rush, or the next scandal. Annina, who truly loves Violetta, dreams of the impossible fiction in which the course of true love runs from romantic encounter to ecstatic reconciliation. But Violetta is more complicated than this… and Nemirova not only implies, but creates audience complicity in making assumptions about her. I, at least, had my assumptions disproved twice: the weary but resolved woman who comes on stage during the overture, to sit at the opera star's dressing table and put on her wig, is Annina; the woman who enters Flora's party on Gaston's arm, defiant and brittle in her flirtatiousness, clad as a strip dancer, is not Violetta either (she enters later, bundled in furs, equally brittle.) I felt that the opening of Act II was not as strongly staged as the rest; but the dramatic momentum of the opera was maintained well through the chilling finale. As Violetta dies, delirious and abandoned, Verdi's aching orchestral elegy was greeted with stricken silence.
Florian Czismadia led the orchestra in an account which was thoughtful, but suffered from pushed tempi. A little more leisure would have, I suspect, yielded more orchestral precision. Singers also seemed to struggle with the pace, especially regrettable in choral scenes which require percussive use of text. Instrumental solos were creditably handled, and the prelude to Act III was very sensitively performed, though the strings drifted slightly flat. If more varied tempi might have helped the orchestral nuance, matters were generally coherent, and Czismadia respected the silences of the score, which is no small thing. Smaller roles were all well-characterized, but the Dr. Grenvil of Hans-Otto Weiß was a standout. In this production, we see him throughout as the "true friend" whom Violetta greets in the third act, monitoring Violetta's symptoms, exhorting Annina to look after her, tenderly solicitous in the catastrophic Act II finale. Grenvil's vocal contributions were also sensitively handled by Weiß. Anke Steffens, as the faithful Annina, gave a dramatic performance strong enough that her brief sung exchanges and interjections were anything but anonymous. Her attempts to ease the last hours of the woman she loves were very moving; while Alfredo and Germont père utter pious penitence, it is Annina who deeply grieves, alone.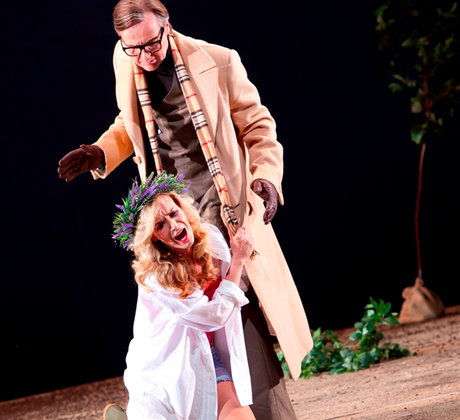 L'uomo implacabil: Kilpeläinen & Mikneviciute, Act II
Photo © Martina Pipprich
As Papa Germont, here thoroughly dislikable, Heikki Kilpeläinen  sang with consistently full sound and good phrasing. Kilpeläinen not only made Germont's habit of thinking in rigid categories very credible, but brought out the sentimentality of the character in a way I haven't seen before on stage. "Di Provenza il mar" is not a direct emotional plea; it's the creation of an imagined idyll in which Alfredo must take on the role of the devoted son as he himself will take the role of benevolent and generous patriarch. I found the staging of this--and Alfredo's rebellion against it--extremely effective, and Kilpeläinen handled it very well. Thorsten Büttner sang a very ardent Alfredo, displaying a bright and pleasing, if not very distinctive tenor. He also sketched credibly a dramatic arc in which Alfredo begins by seeing Violetta as a real human being, and insists on being seen as such; the Act I finale was one of the most erotic I've seen. Alfredo weakens fatally when their relationship threatens his unexamined assumptions (curse you, social constructions of masculine honor!) Büttner struggled vocally in Act II, especially in the difficult "O mio rimorso," but recovered well for the finale of that act, and Act III in which we see him, at a loss, at Violetta's grave, as she imagines the perfect, impossible reunion and future happiness.
Vida Mikneviciute
 sang a fierce Violetta, dedicated to the freedom of making her own choices. As she gradually realizes how limited these choices are by the demands of a hypocritical society, she shows a simmering anger which I found refreshing in this so famously suffering heroine. Mikneviciute sounded a bit strained at the very top of her range but displayed great dynamic range, and made bold vocal choices which I liked. She made the recklessness of the Act I finale a palpable thing. Solid piano singing was effectively used to communicate both heartbreak and bitterness in "Dite alla giovine," and I really appreciated that Mikneviciute took her time with "Ed or si scrivi a lui." Act III offers no redemption; Violetta longs for her lover's tenderness, but knows herself abandoned, and her vision of Alfredo's future in "Se una pudica vergine" is one of a vicious cycle repeated. The life she craves is one that has always been denied her.