Have you ever heard of a Quest Bar? Here is my review! These little bars are pretty big in the US and are starting to make an impact here in the UK. Low carb approximately 5g Net in most of the bars with 20g of proteins – what more could you ask for in a quick snack when on the go! There are so many flavours from chocolate, peanut butter, fruit and even coconut!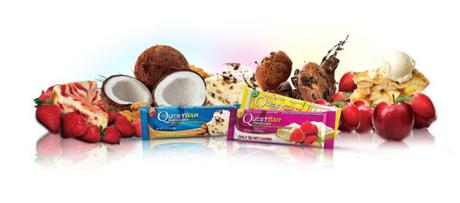 They are a dense slight chewy bar which is what I like most! With only being 160-210 calories great afternoon snack or post workout! So here is an example of the nutritional information: Fat 5g, Total Carbs 21g, Dietary Fiber 17g, Sugar 2g and 20g Protein.
Here is an example of the ingredients – 'Protein Blend (Whey Protein Isolate, Milk Protein Isolate), Isomalto-Oligosaccharides* (Prebiotic Fiber), Peanuts, Water, Erythritol, Cocoa. Contains less than 2% of the following: Sea Salt, Stevia, Lo Han Guo, Natural Flavors' as you can see no E numbers or emulsifiers! Pick up a protein bar are your local shop and check out the ingredients list – you'll be shocked on how many items are on there!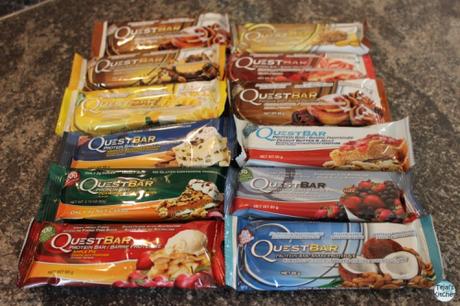 Quest Bars are sweetened with Stevia and Sweetened with Erythritol, which are slightly better than the normal sweetners like sucralose and aspartamane, using other natural products and adding additional fiber to the health bar it's almost as natural as you can get for a protein bar.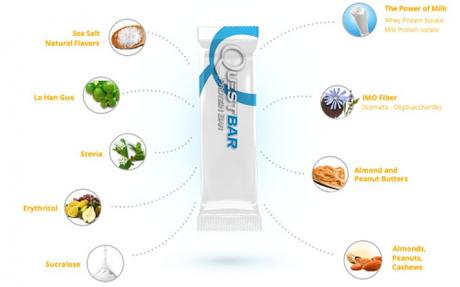 There are so many different flavours to choose from such as – Vanilla Almond Crunch, Peanut Butter Supreme, Peanut Butter and Jelly, Mixed Berry Bliss, Chocolate Brownie, Apple Pie, Cinnamon Roll, Chocolate Peanut Butter, Coconut Cashew, Banana Nut Muffin, Lemon Cream Pie and Strawberry Cheesecake with many more that I didn't order!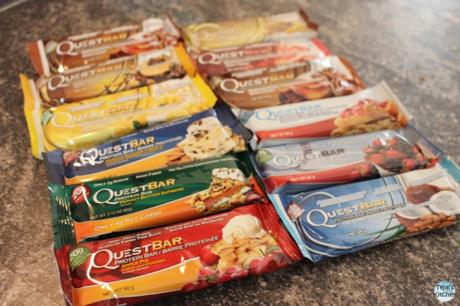 Overall I would give these bars a solid 9/10 – as that is the best score I think I would give a Protein bar, as they will always feel like they are missing something – but I think it's the way protein tastes! Quest bars are a reasonable price compared to competitors, but you may need to order online.
Disclaimer: 2 pictures were used from Quest Website as well as some of the nutritional facts –  http://www.questnutrition.com