Honestly, I don't know what I love more about this queso cotija buttermilk corn slaw, the dressing or the fiesta of cabbage, carrots and corn that make up the slaw. Notice that I don't call it 'cole slaw'. No, that's because it's got one of my favorite veggies in it, corn! So, it's a corn slaw. If you don't know anything about cotija cheese, it's a cow's milk and somewhat seasonal being most available July through October. Sometimes referred to as the Hispanic Parmesan, it's salty, crumbly and is perfect for salads, soups and more.
Now for your food history lesson. I always love to investigate the origins of dishes, and slaw is now on my radar screen. Did you know that cole slaw dates back to the 18th century when the Dutch called it "koolsla' which means coleslaw.
Here's a snippet of the history from Wiki: The 1770 recipe book The Sensible Cook: Dutch Foodways in the Old and New World contains a recipe attributed to the author's Dutch landlady, who mixed thin strips of cabbage with melted butter, vinegar, and oil. The recipe for coleslaw as it is most commonly prepared is fairly young, as mayonnaise was invented during the mid-18th century. According to The Joy of Cooking (1997), raw cabbage is the only entirely consistent ingredient in coleslaw; the type of cabbage, dressing, and added ingredients vary widely. Vinaigrette, mayonnaise, and sour cream based dressings are all listed; bacon, carrots, bell peppers, pineapple, pickles, onions, and herbs are specifically mentioned as possible added ingredients.[13]
As you can imagine, many countries have their own variations of coleslaw. Germans use oil and vinegar and sometimes apples and onions with their cabbage. Man, that sounds great to me! Italians want cooked ham and julienne peppers in their coleslaw. The UK prefers carrots, sometimes onions, some mayo and they may throw in dried fruit and nuts. I'm diggin' that! Swedes add carrots and leeks and use the vinegar oil dressing.
Now my variation of cole slaw is more Mexican inspired. The Hispanic parmesan and addition of a hint of heat give this cool slaw a really exciting touch. You've got the crunch, the creamy, the heat and corn! I mean does it get any better! Hope you try this for your next BBQ, picnic, grilling adventure. I'm definitely going to serve this with a big pot of homecooked pinto beans (or any other kind of bean) and a cast iron skillet of crispy thin buttermilk cornbread. Now, that's good eatin'! xoxo ~ally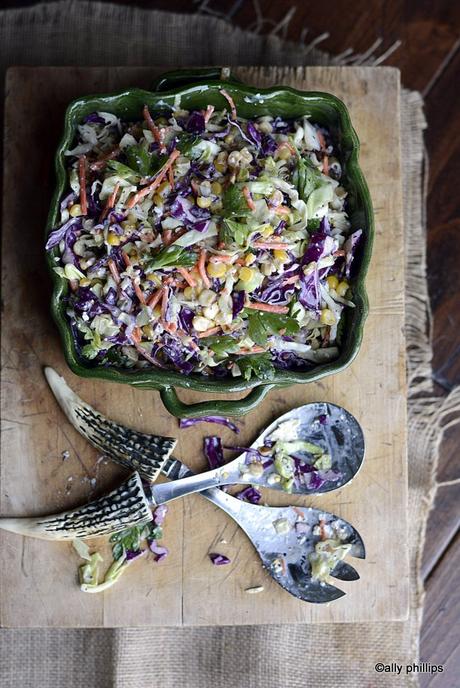 Ingredients
DRESSING
¾ cup buttermilk
½ cup queso campensino cotija (Hispanic parmesan)
3 Tbl. mayonnaise, low fat
2 Tbl. olive oil
1 Tbl. lime juice
½ tsp. sea salt
½ tsp. coarse ground pepper
½ tsp. red chili flakes
SLAW
2 Tbl. butter, salted
4 cups corn, previously frozen and thawed
4 cups cabbage, shredded or sliced very thinly
1 cup carrots, shredded
1 ½ tsp. sea salt
1 ½ tsp. coarse ground pepper
1/4 cup whole flat parsley leaves
Instructions
Notes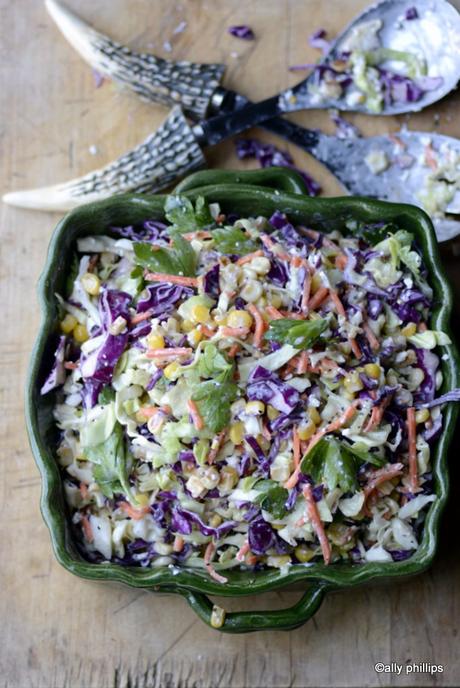 Comments