This is the fourth book in the Throne of Glass series that I compulsively binge-read all this month.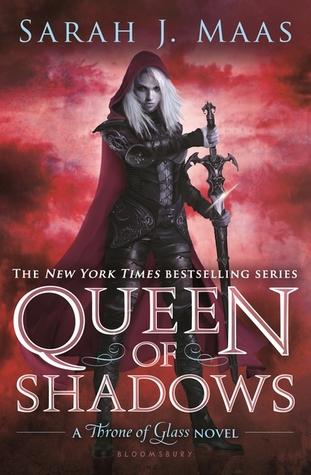 This book starts off where the third book left off. Celaena returns to Rifthold to wreak vengeance on Arobynn and the King of Adarlan who destroyed her childhood.
The queen has returned.

Everyone Celaena Sardothien loves has been taken from her. But she's at last returned to the empire-for vengeance, to rescue her once-glorious kingdom, and to confront the shadows of her past...

She has embraced her identity as Aelin Galathynius, Queen of Terrasen. But before she can reclaim her throne, she must fight.

She will fight for her cousin, a warrior prepared to die for her. She will fight for her friend, a young man trapped in an unspeakable prison. And she will fight for her people, enslaved to a brutal king and awaiting their lost queen's triumphant return.

~Synopsis from goodreads
Writing this review without any kind of spoilers whatsoever is going to be a tough task. I will try to keep the spoilers to a minimum though.
What I can tell you though is that this series so far is a milder version of A Song of Ice and Fire by George R.R.Martin. It's got the twists and turns, the larger than life characters, very similar kind of character arcs, and so on. It's no surprise then that I am loving this series as well.
That said, this is the book in the series where I read slowly enough to note some flaws.
Poor dialogues? I guess it was the slow start, the too many dialogues but I realized just now, in the fourth book of the series that Maas doesn't do dialogue particularly well. Action, yes, but not dialogue, particularly emotional dialogue.
Whereas a GRRM book's dialogues would have me chuckling along, or teary eyed while reading, here I was speed-reading the arguments between Chaol and Aelin, the friendly chats between Aelin and Lysandra, basically, I speed-read through the first half of the book breathlessly anticipating the action in the second-half.
But the action there totally makes up for the slow beginning, and the inconsistent dialogues and characterization.
Inconsistent characterization? Well, that's another flaw that I am beginning to see in the series. Especially with Aelin. What I really loved about her in the first 2-3 books was that she was vulnerable, tough but vulnerable, and she had her weaknesses. Also, there was the whole underdog factor of her being a nobody battling against the king. Now that is all changed. She's Queen Aelin, and suddenly she is no longer a loner. There's a whole bunch of people willing to fight for her and with her, and she and her friends are now all these super-powerful beings with superpowers. This change is fine, and I don't mind it but it should have been done a little less bluntly. The first time she and Chaol meet, I expected her to show some feelings, but she came across really cold and tough, and it seemed like the old Celaena is just gone and buried. And it just doesn't seem right. I miss the older, softer Celaena.
The new Aelin just seems odious, boastful, and not very scrupulous:
She was fire, and light, and ash, and embers. She was Aelin Fireheart, and she bowed for no one and nothing, save the crown that was hers by blood and survival and triumph.
I know Maas was going for the Daenerys Targaryen effect with her characterization of Aelin, but it doesn't really work, in my opinion. All said and done, Aelin is no Daenerys, doesn't even come close.
But when the action starts, oh boy! I loved all the drama then. Here is a taste of one of the action sequences:
Behind them, across the hall, the dancers shattered their roses on the floor, and Aedion grinned at his queen as the entire world went to hell.
Those sequences when she comes to save Aedion, the awesome fight between her and Manon, and the final confrontation between Aelin and Dorian, and Aelin and the king. They were simply mind-blowing!
Maas fares a lot better writing her second protagonist - Manon. She first appeared in Heir of Fire and I thought she was pretty boring in that book. All that changed in this book and how. Manon turned out to be the best character, and all those sections from her point of view were the strongest portions of the book. I am so looking forward to reading more Manon in the upcoming books.
Annoying men? Another irritating thing is how the men in the book suddenly deteriorate into complete idiots. Chaol spends most of his time fighting Aelin, Aedion and Rowan who are supposedly tough guys, turn into Aelin yes-men jealously competitive with each other. Also, the romance between Rowan and Aelin? Urgh!
After Heir of Fire, I pretty much expected Rowan and Aelin to take their relationship a notch further and morph into lovers. But the way that happens is just not that great. As a comparison, I think of Chaol and Celaena's relationship in Crown of Midnight and the way it was written - so believable and touching. Rowan and Aelin's relationship is so cold in comparison. They really felt like siblings or an old married couple sleeping together. I mean, where was the chemistry?
Dorian is the only male in the book who comes out of the story with his dignity intact. Sure, he is possessed by a demon for the most of the book, but at least he doesn't become another Aelin fanboy in the end. In fact, his story in the book ends with a very interesting (and surely romantic?) twist, and I can't wait to read the next book and find out if what I am wondering will come to pass.
Why the Ice and Fire similarities? This series resemblance to A Song of Ice and Fire doesn't stop with Aelin's characterization. Dorian's magic is ice in nature, Aelin's is fire, Aedion is often referred to as the wolf of the north, and other tiny little things like that, these similarities brought down the tone of the book, and prevent this series from being a long-running classic.
But these are all just nitpicks. When a Fantasy story is this good, this addictive, this entertaining, I can ignore these issues. In another less entertaining book, I might be a lot more critical.
Huge thanks to Bloomsbury Publishing for sending me this review copy and hooking me on to a new Fantasy series.

You can also purchase a copy of this book from Amazon