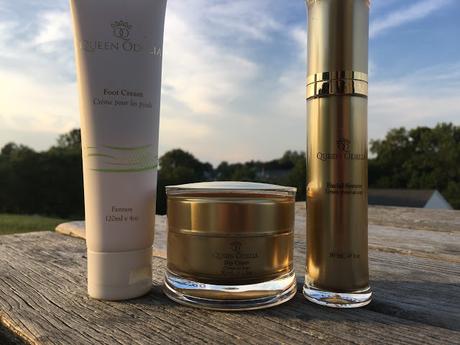 Queen Odelia Foot Cream, Face Moisturizer and Face Serum
About the Product
Foot Cream:
EASY AND QUICK ABSORPTION- This Moisturizing Foot Cream quickly penetrates and provides you Soft and Smooth Feet with no oily traces.

EXACT RIGHT SIZE FOR YOU- This Foot Cream for cracked heels contains 120 ml (4 oz) of smooth cream so that you can stash it inside your bag and have it on you at all times.

ANTI SKIN-AGING EFFECT- This Foot Cream protects your feet from exposure to damaging chemicals and from extreme temperature changes that come with the winter
The Queen Odelia skin care Moisturizer and Serum (pic below) line is beautifully packaged. The day cream and serum both come in large gold jars while the serum is in a long gold tube. The all have gold screw on tops. The design is clean and the color makes them easy to find among all of my other skin care products on your beauty counter.
During the day I wash my skin and then apply the facial serum before the day cream. The serum is fairly light and easy to spread. It absorbs into the skin quickly so that there's no waiting time before I can  begin to apply the cream over it. The moisturizer, on the hand, is fairly thick but also absorbs quickly and is easy to spread.
It has given my skin a beautiful, healthy glow which makes it look younger. It also feels very smooth which is impressive.
Queen Odelia Day Cream – For a protective layer and smoother skin. The benefits of theproduct include 
'Daily application of Queen Odelia' day cream will protect your skin and give it a lift. Additionally, the natural moisturizers in the cream will give your skin a soft glow that will make you feel fierce and empowered.

   Queen Odelia Facial Serum – Corrects visible signs of aging. The benefit is that 'The serum feels luxurious, glides over the skin, and smells amazing. It will invigorate your skin, and your skin will appear noticeably smoother even after the first time you apply it.'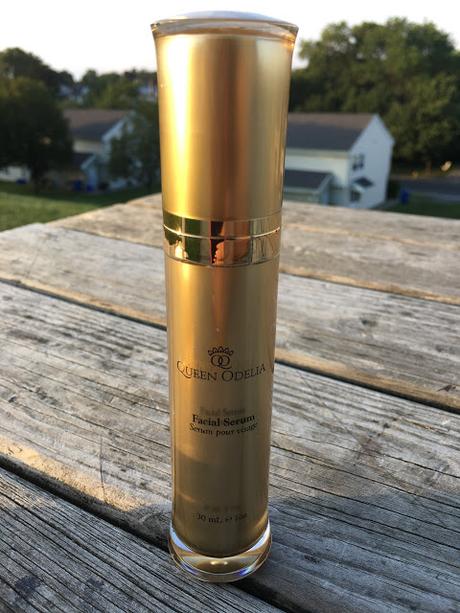 Please connect with them on social media. Here are the links below:
https://www.facebook.com/queenodelia
https://www.instagram.com/queenodeliaofficial/