After 5+ years of the POS in the White House, the U.S. economy not only has NOT recovered from the Great Recession, indicators point to serious problems:
Obama single-handedly has accumulated more debt than all previous presidents combined.
More people than ever before are on food stamps and Social Security Disability as a proxy welfare.
A college education is no longer an assurance of high-wage jobs: Nearly half of U.S. college graduates can find only low-wage jobs. Even worse, more and more minimum-wage jobs are held by the college-educated and over 25.
Those weekly unemployment figures are a sham. The real indicator of unemployment is labor participation rate. And the plain fact is that today, a record number of Americans (92 million!) are not in the labor force.
Despite all that, FLPOS Mooch is taking yet another taxpayer-funded vacation, this time to China. And she's not going alone.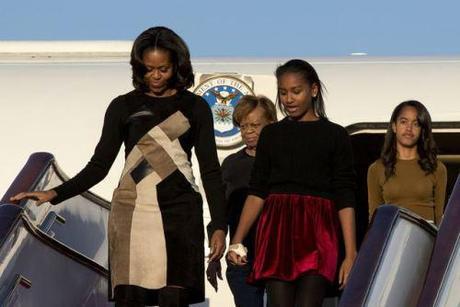 The picture above is deceptive, showing the she-male arriving in China with her two daughters and her voodoo devil-worshiping mom, 75-year-old Marian Robinson.
The First Lady POS is traveling with an entourage of 70 people.
All paid for by taxpayers, aka chumps.
Cheryl K. Chumley reports for The Washington Times that yesterday, March 21, 2014, Michelle Obama, her two daughters, Malia and Sasha, and her mother touched down Thursday in China "for what's being touted as a weeklong feel-good tourist event, amid increasing murmurs back home

 about U.S. taxpayers having to foot the bill."
Michelle is supposed to use her visit for soft diplomacy only, and shy from the more controversial topics that plague U.S.-China relations, namely human rights and economics. No reporters accompanied the family on the trip.
"The nature of her visit is really quite different," deputy national security adviser Ben Rhodes told reporters ahead of the trip. "What the first lady really brings is the power of her own story, the power of American values."
Blah. Blah. Blah.
The White House also announced that Michelle wouldn't field any questions from journalists she encountered in Beijing, which rankled some members of the press and the private sector, given her trip — complete with an entourage of about 70 — was still being paid for with tax dollars.
Mooch is due to meet with her Chinese counterpart, first lady Peng Liyuan, on Friday. Her travel mates will also head with her to the western historic city of Xi'an and the southern community of Chengdu, the latter of which is home to the nation's famed panda bear reserves.
~Eowyn