Sunday 22nd November 2015
This weekend has not been the best for walking weather, although I did manage to brave the elements with a friend for a short walk yesterday. By contrast, last weekend was one of the driest we've had here for several weeks. But for the biting winter wind, it would've been perfect for a late-autumn/early winter's walk.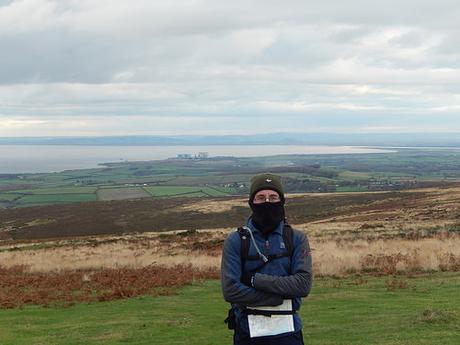 Wrapping up warm, I decided to head down to the Quantocks – a few weeks earlier than intended – and this is what I had to find.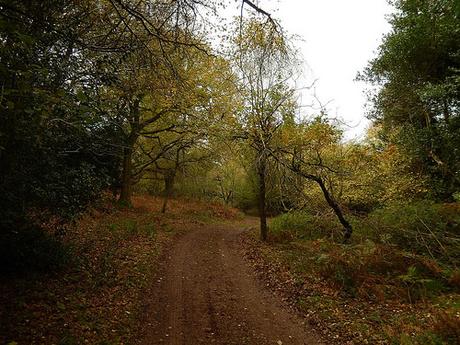 Like many of my walks around the northern half of these hills, this one began in the village of Holford, only a forty-five minute drive from home. Leaving the Holford Green car park, I made my way up towards Woodlands Hill – again, all of my walks here seem to begin in this fashion.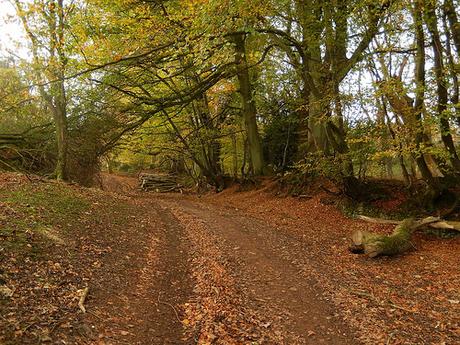 Everything was slightly more autumnal than I'd expected, with a wind that carried with it the distinct sensation of winter.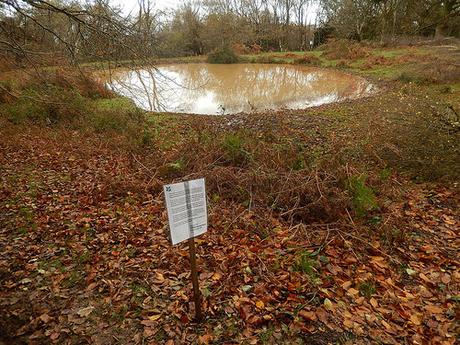 Halfway up the hill, I noticed a number of trees had been removed and then read that this work has been carried out by the National Trust, in order to preserve the habitat of this pond, which was otherwise being gradually depleted by the thirsty roots.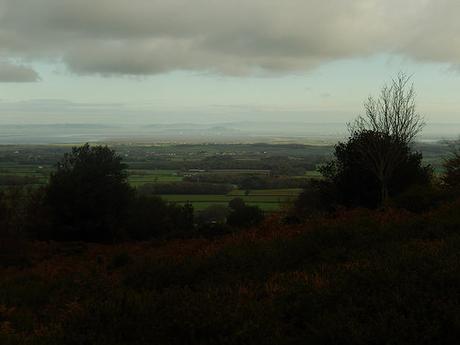 Reaching the summit, I could look north towards my homeland of North Somerset, with Brent Knoll slightly closer to the camera. An eerie mist had devoured this half of the county – oddly enough, it wasn't present on the drive down, earlier in the morning.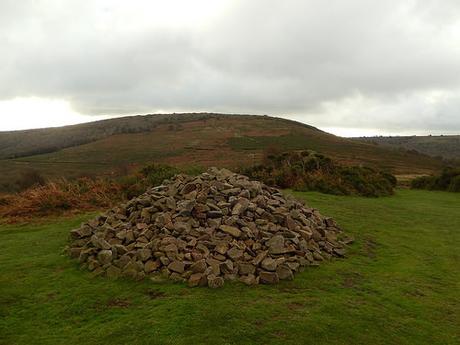 Every time I come hear, I also take a photo of this significant cairn with the hillfort (Danesborough/Dowsborough) just beyond. I thought about climbing the next hill but was put off by a small team of mountain bikers accelerating dowhill at full speed.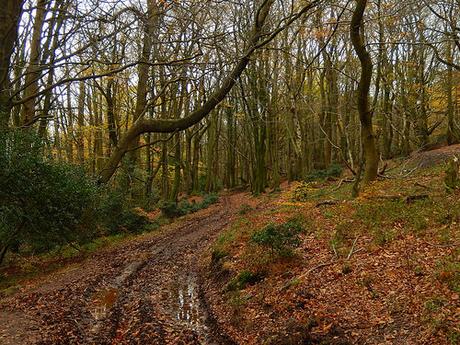 Dropping down the southern side of Woodlands Hill, I then turned east along an increasingly muddy but level path and on to a spot known as Walford's Gibbet, meeting with the road.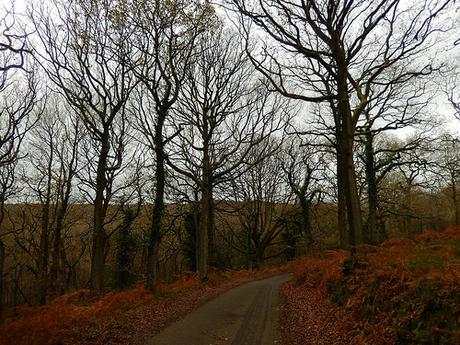 I followed the road for a little while, uncertain of which alternate paths may and may not be passable with so much mud and water around. These roads aren't all that busy, traffic-wise and the trees on either side make for pleasant viewing.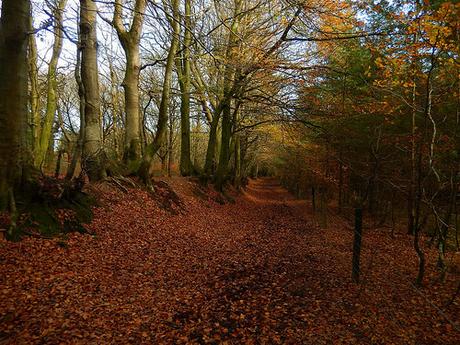 Walking as far as Dead Woman's Ditch, I continued my walk down in to woodland, eventually coming out the other side to arrive in Great Wood and not far from the picnic areas and public loos.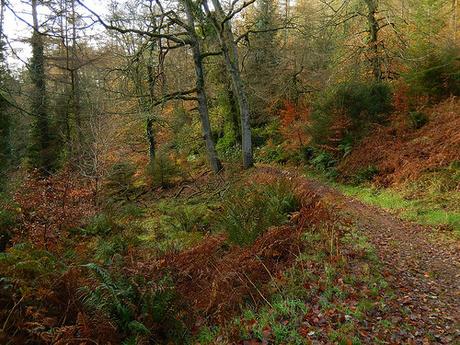 Along the way, I was quite shocked to find this sign – from the Forestry Commission, as well: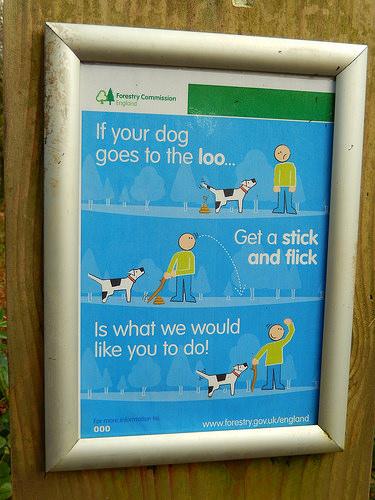 Just… Why?
Have some people become so irresponsible with their dog's mess that we no longer trust them to scoop it up and bag it?!
I'm aware that Somerset County Council doesn't have much money and I've never truly noticed any dog waste bins in any part of the Quantocks. But this hardly seems like a sustainable solution to the problem… At this time of year, people are more likely to stray from the beaten paths in order to avoid the puddles and bogs that plague our countryside at this time of year. We're still likely to be treading in it, possibly even falling in it and ultimately, bringing it home.
If it's seen by some to be okay to do it here then, will less-considerate people start taking this approach elsewhere?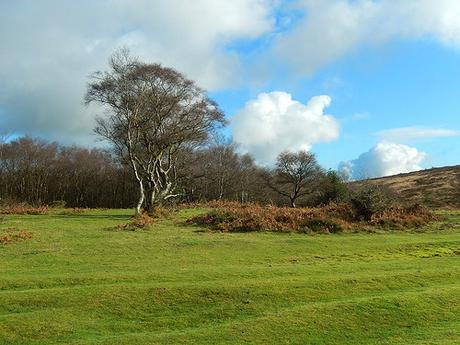 Anyway, I soon found my way up to Triscombe Stone from an incredibly steep climb up from Quantock Combe (two new paths, for me).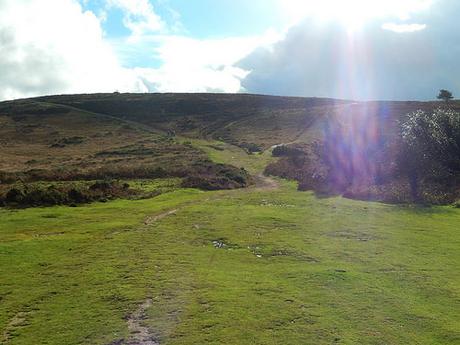 Before heading up to Wills Neck, which I wouldn't always do when beginning a walk from Holford, I stopped at a bench for a few minutes to restore some of my spent energy with snacks and warm tea.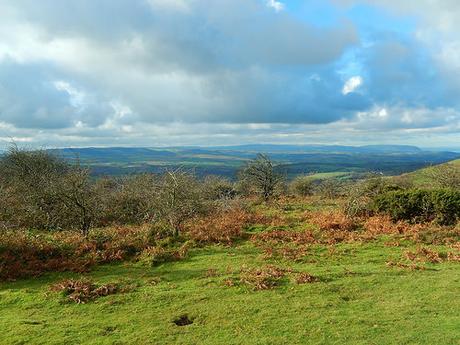 Wills Neck is the highest point on the Quantocks. It's a good spot for views to the south and even west, to the Brendon Hills and Exmoor.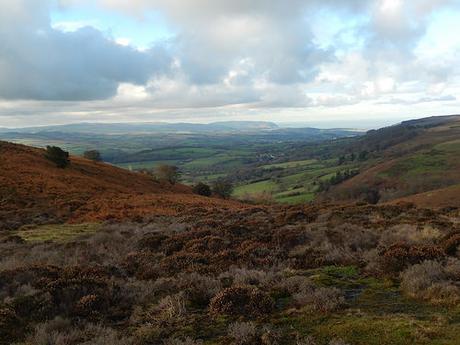 After a few minutes, I retraced my steps down to Triscombe Stone, where I made a complete stop for lunch at what has become my favorite bench with further views to the west.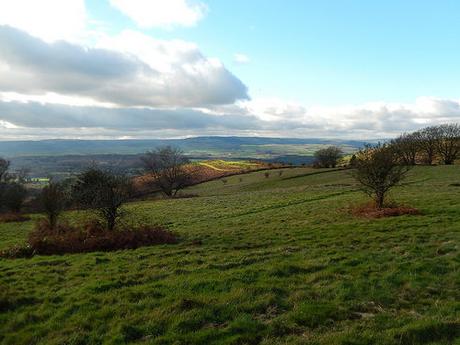 Walking along the hill tops, I kept in tow with the ancient drove (frequently used by cyclists) that eventually leads you to Quantock Common.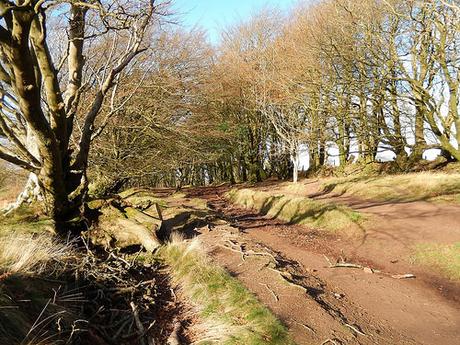 That path became severely boggy towards the far end and again, I was astounded by the number of people content with walking on that side of the fence, partially deprived of the landscape views on my side.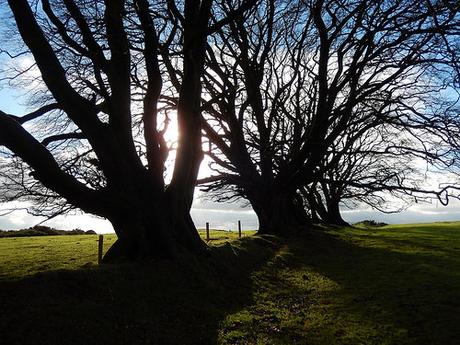 A short way before the end, I spotted a herd of Highland Cattle: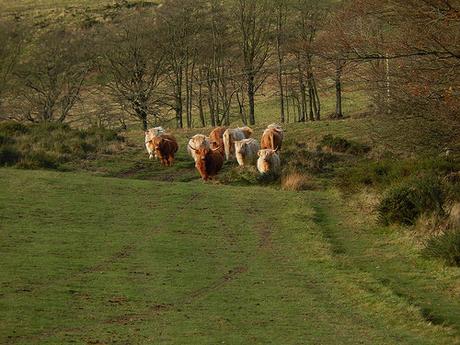 It's hard for me to not take a bundle of photos when confronted with this often docile mammals so, here you go: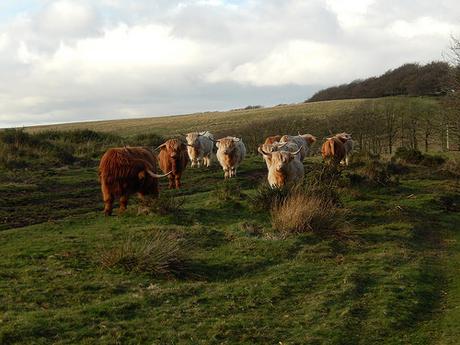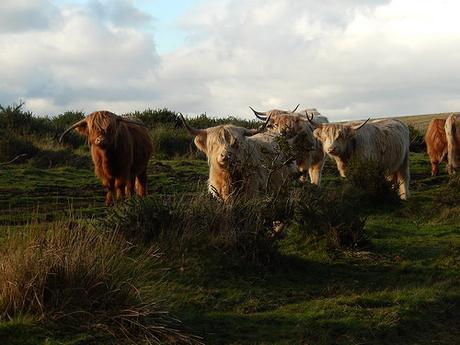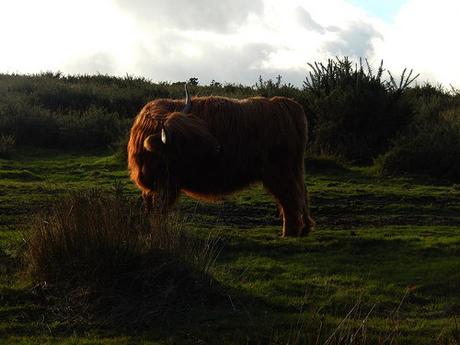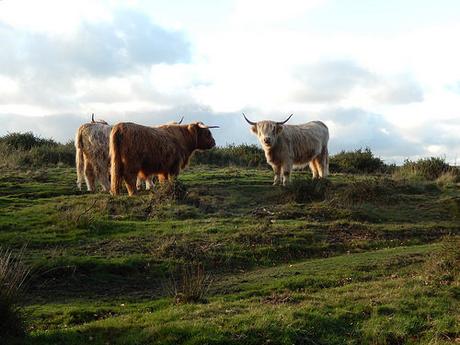 Then, I met a few horses on the other side of the pond: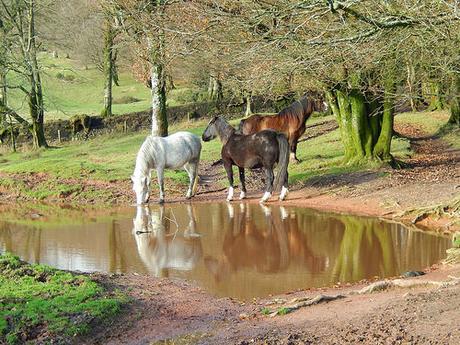 Crossing the road and then the common, I was heading out on to my favorite part of the Quantocks, in an open wilderness where, the further you walk, you are surrounded by nothing but hills, heather and gorse: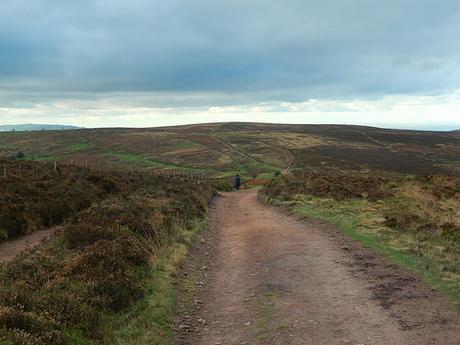 A place from which you know you cannot physically get much higher.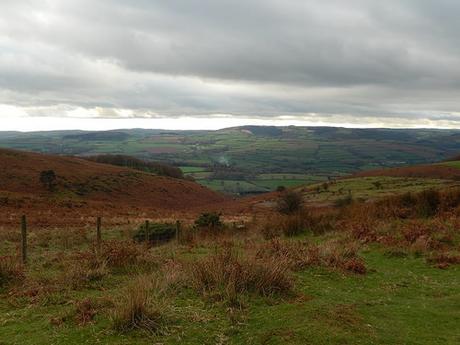 I have a similar appreciation for Black Down on the Mendips, where I walked the week before. By comparison, the Quantocks seem to contain a greater mass of this particular landscape. At the very least, it's all condensed in to one area.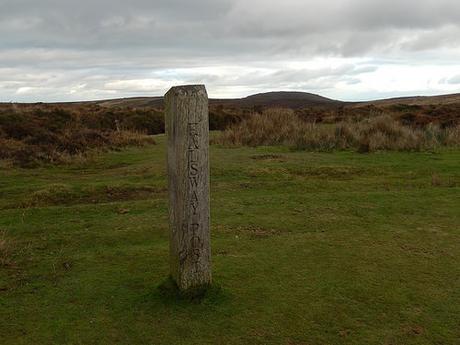 Following a familiar route in pursuit of the next trig point, I passed Halsway Post.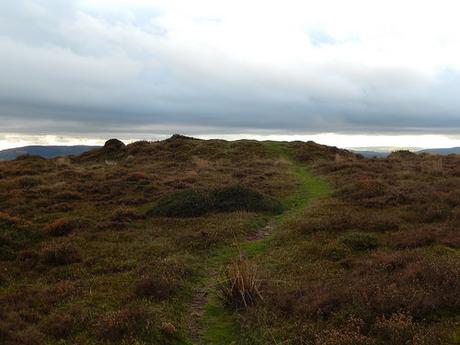 Before reaching Bicknoller Post, I made a slight diversion west to Thorncombe Barrow, which I had never previously taken much notice of on the OS map.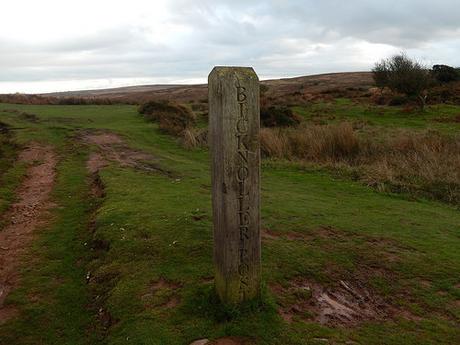 Soon enough, I reached the summit of Beacon Hill.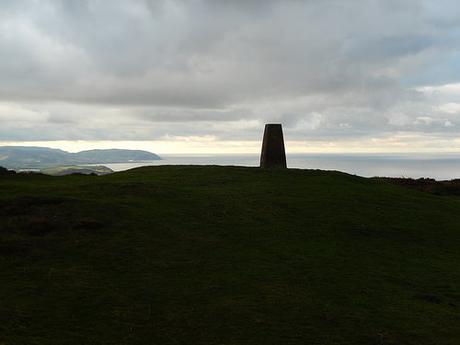 While not quite the highest point on the hills, it does offer commanding out to sea.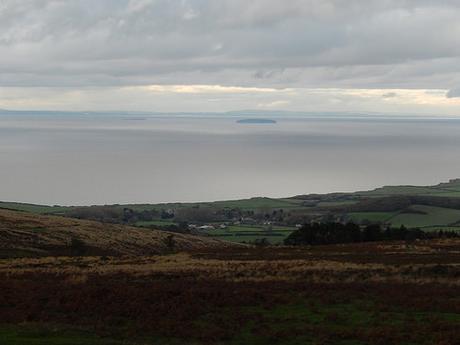 With a good zoom lens and/or binoculars, you can make out the Second Severn Crossing.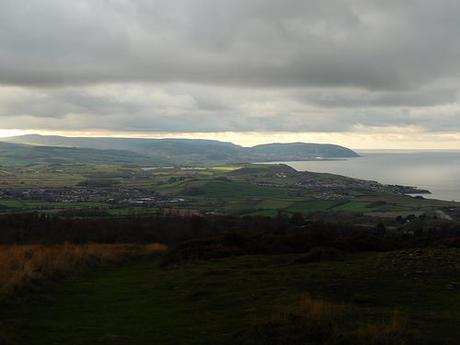 To the west, you can see Minehead, reaching out to sea.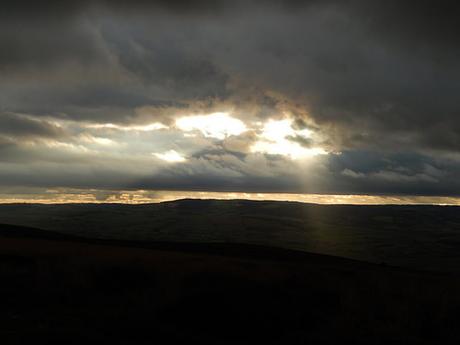 I always enjoy stopping here for a while. Although, now some time past 15.00, that wind was really beginning to bite and I couldn't quite rest for as long as I might have wanted to.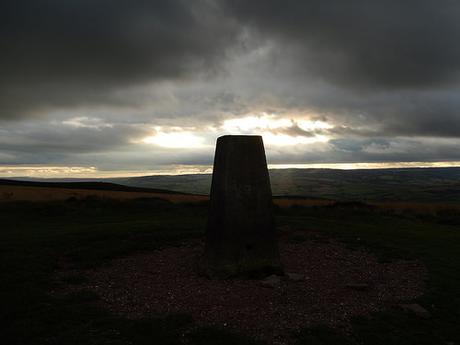 Moving east across the heights of the hills, I was confident I would arrive back at my car long before it got too dark. Another month from now and maybe I would've been pushing my luck a little.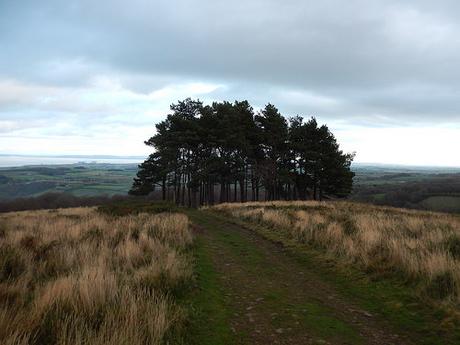 I was pleased to find the same cluster of trees I discovered on my very first walk here, in April 2014 – I'd tried and hoped once previously but hadn't been able to find them.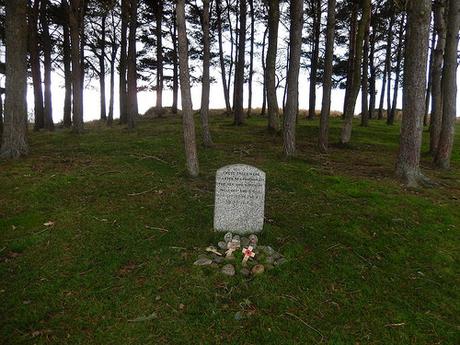 These trees were planted in memory of the locals, from Kilve and Holford, who lost their lives during the war.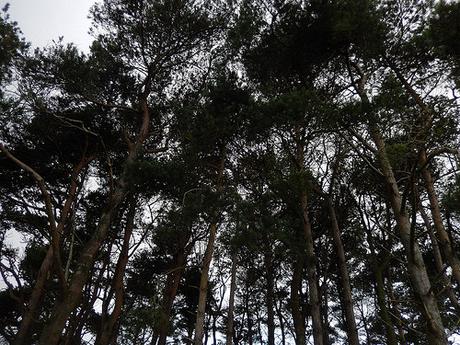 Heading down the hill on my return to the car park and I found this one tree that was almost coming alive to climb over the wire fence: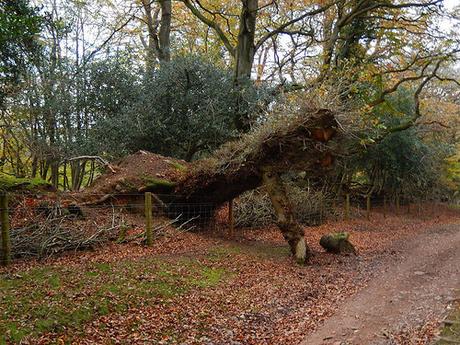 Reaching the road, I turned back briefly to spot a previously-unseen sign, commemorating this structure as a one-time dog kennel: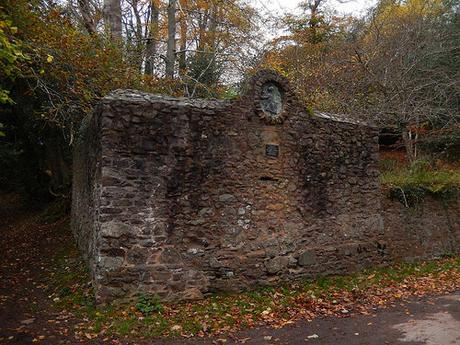 I returned to my car sometime before 16.00, feeling good that I had managed to achieve a substantial walk in an area I am fond of, in spite of the weather in a season that may encourage to many people to hide and stay indoors.
Rain doesn't have to stop you fro walking – it might only shorten the length of your walk.
Thanks for reading.