Picking up from where we left off at the top of Wills Neck in Part 1, this walk continues in an east/north-easterly direction across the Quantock Hills in search of Broomfield.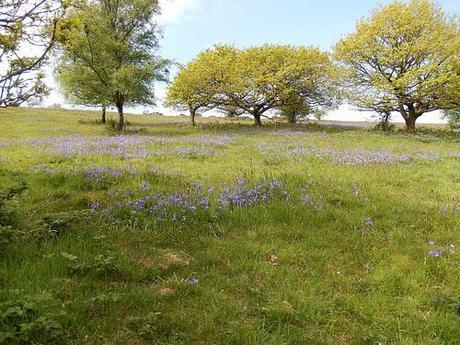 Bluebells of Lydeard Hill.
I should point out that from here on, I chose to ignore the Quantock Greenway for many miles as it overlapped with a portion of the route from the Northern stretch. So, I set myself the challenge of navigating my own return route using little more than an OS map, a compass and my own two eyes… This is what adventuring in the great outdoors is all about, right?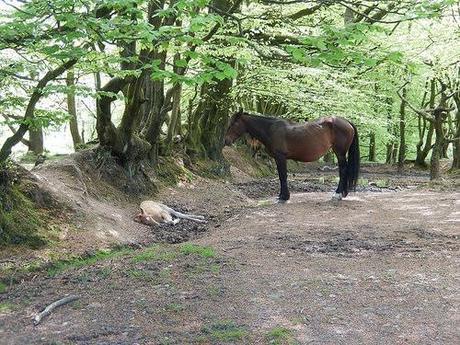 It was so hot, this little one decided to take a nap under shade of the trees.
Heading almost south-east from the trig point and high above the village of West Bagborough, I followed the MacMillan Way en route to Lydeard Hill, which seemed to be abundant with wild horses (reminiscent of my sole visit to Exmoor a year earlier).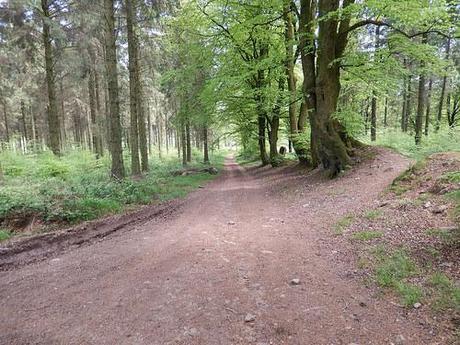 As I reached the car park, I turned northwards and walked a succession of mostly sheltered paths and lanes until I arrived in Aisholt.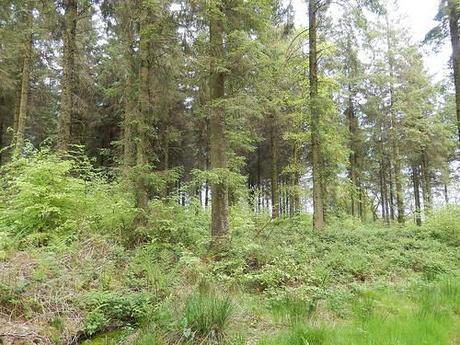 Had I instead continued on in the same direction, I could've made my way to the top of Cothelstone Hill. But, I was part-wary of climbing too many hills on an 18 mile+ walk and I feared that diversion might lead me too far astray from my intention of reconnecting with the Greenway in Spaxton, beyond the familiar footpaths of my  previous walk.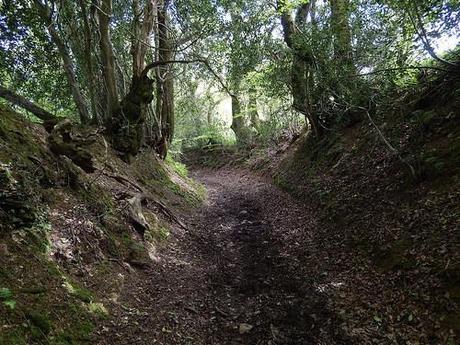 I crossed a beautifully clean meadow that would eventually lead me past Hawkridge Reservoir. Unless I mis-read my OS map, it appeared as though an additional field boundary has been added to the first field, which confused me a bit and sent me momentarily wandering off-track in search of a stile or gate that couldn't be found… I'm still not sure whether the sheep were trying to help or just laughing at me!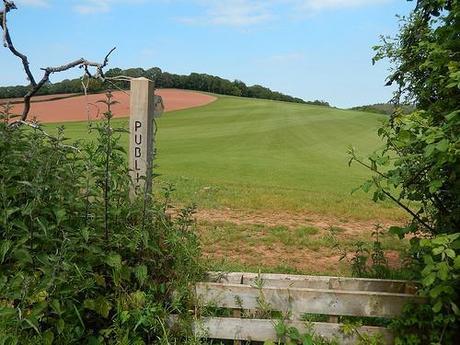 But I soon found my way through Aisholt Wood, with a view of the reservoir emerging through the trees.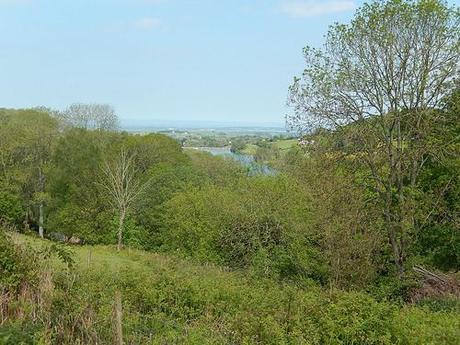 Distant view of Hawkridge Reservoir.
But as friendly as these horses were, I soon discovered that the path ahead was a little less welcoming…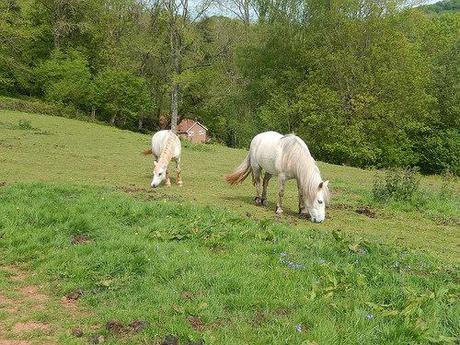 As overgrown as the route may appear, I made it through with the minimal of scathing.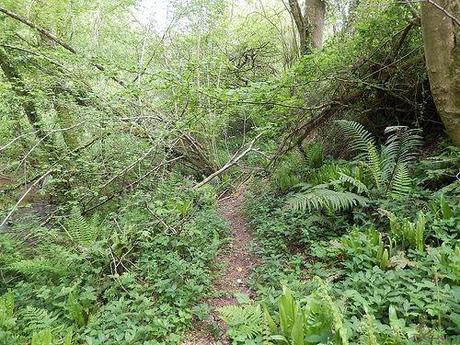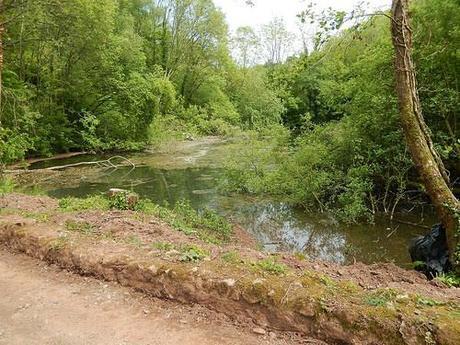 Just down from the reservoir and somewhat lacking in visual appeal.
After crossing a road, my path then continued along the brown of a hill with the reservoir down to my right: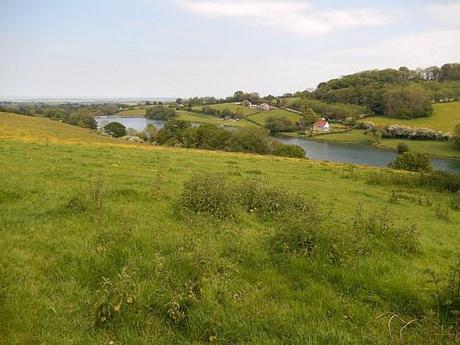 Passing through a distinctly wide-open field gate, I spotted a herd of "horned cows" seeking shade with the hedge to my left… I panicked, almost turning back. Without a clear view, I was convinced they were bulls. One had already spotted me. I was scared. I wasn't sure of what to do…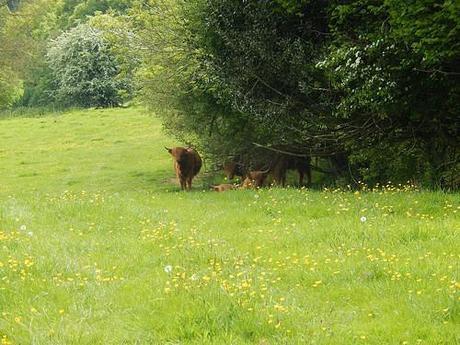 Looking back after uncovering my eyes and realising.
That photo was taken from the other side. As you can probably see; they're Highland Cattle. I'd not encountered them on a walk before [technically, I guess I still haven't...] but I believe they're regarded as being quite docile. Certainly, less rampant than a bulking bullock.
In order to press on boldly, I kept to a low-lying route (trespassing) along the hillside where I was quietly confident the cows could not see me, but for the sound of my legs wading through long grass. They probably would've been fine anyway, had I given them just a few metres of breathing space.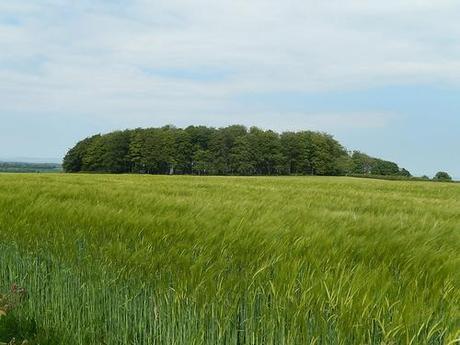 Further ahead, I reached I road that I would follow to a crossroads beside a house known as The Gables. This is where I was to rejoin and complete the Quantock Greenway and so, as my heart slowly returned to a steady beating pace, I stopped to refuel and to determine the rest of the walk on my OS map.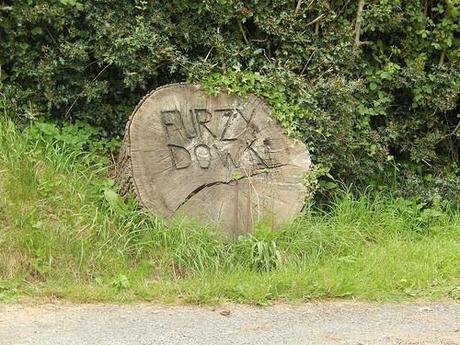 As directed, I followed minor roads on my way in to the next village of Pightley.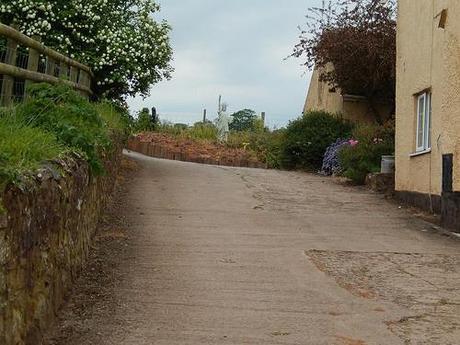 This was outside of Liberty House, as I recall!
Here, I was wanting a route to take me south-west to Enmore.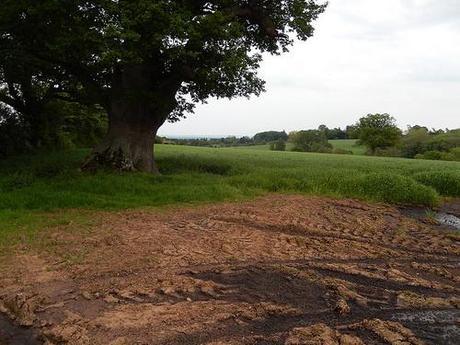 I walked on search of Barford Park; beside which I would find the next footpath to follow. But in my way was an errantly parked white van; man on his phone as well. If not for that, I might have spotted the large sign and therefore saved myself walking on for an extra 5 minutes!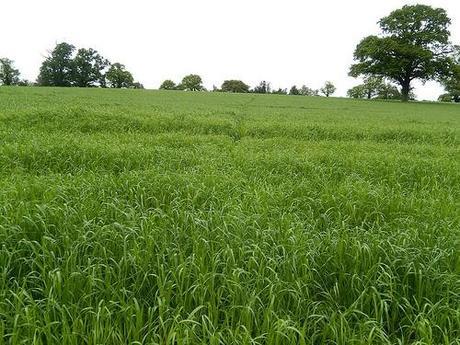 Looking back along the route I tried to recreate.
From the right position, I could see that the route ahead was substantially overgrown – to their credit, the author warns of this potential instance within their writing. It was only long grass and nothing more aggressive so, with a compass as my guide, I set about re-establishing the public right of my with my pair of size 10s!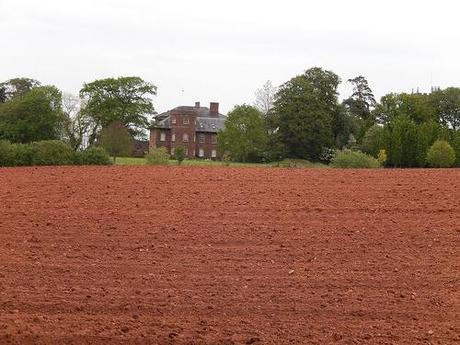 According to Google, the building you see ahead is Enmore Castle.
But even in the next field, where a herd of cows were on-hand to keep the greens below knee-height, there were not distinct markings towards the right of way. I jumped one gate in the hope that the red building above might have been the school I was searching for…
Well, I was off-target but I still had to cross this freshly-ploughed field. It was painful to the point that I aggravated the underside of my right foot. To this day, 2 months on; it still hurts. Every walk I've done; each day sent idly upon two feet at work… This pain isn't heeling and I'm due to see a doctor soon (rest is not an option).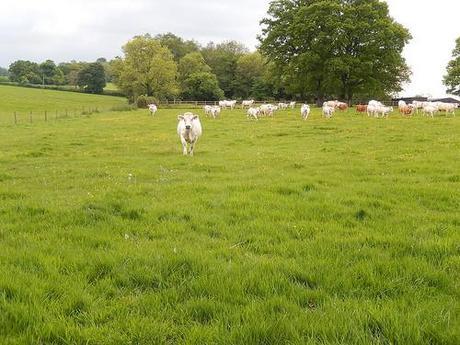 So, I somehow missed a sighting of the lake that appears so oblivious on an OS map and also the remains (?) of Enmore Castle [or sp I thought, at the time].
As I reached the road, the rest of the walk became a struggle. This pain in my foot would not recede and only a fortnight ahead from the Mendip marathon, I became very reliant on (and grateful for) my walking stick. I knew that Broomfield was only 2 miles to the south, if even that distance and that thought kept me going. In reality, it took me a lot longer than an expected 30 minutes to return to Fyne Court.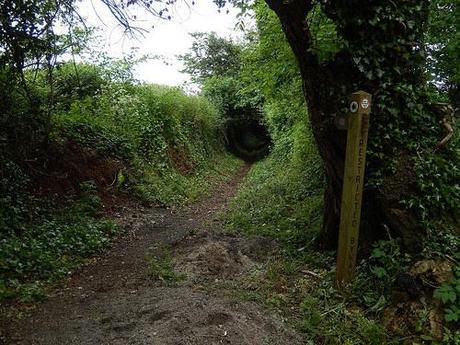 Leaving the tarmac once more, a sense of relief filled me with thoughts of soft footsteps along an earthly bridleway. In reality though and, true to the forewarnings within the text; it was by far the muddiest stretch of the entire walk (perhaps even the Quantocks themselves…).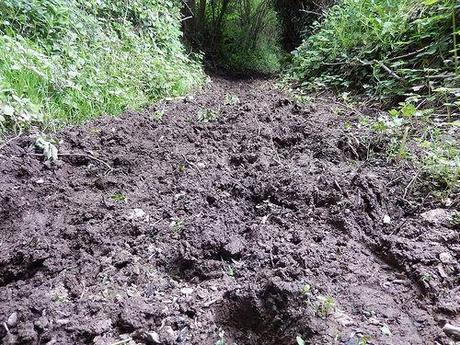 Ahead, the path became challenging with hedges leaning in from both sides. Although I did spot an attractive yurt-themed camping site adjacent to my walk.
I was feeling quite disoriented as I emerged beside a tractor where some Welsh guys asked if I was lost. In fact, I was thrown back as I looked ahead to the uphill track I was expected to follow for the next mile.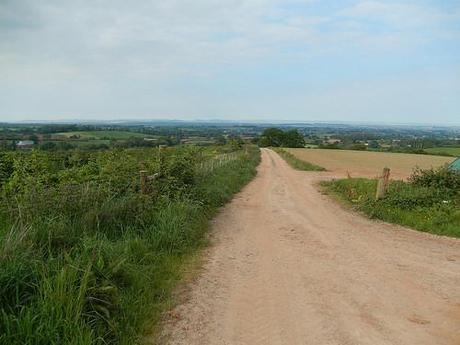 On the faint horizon; the Mendip Hills, Somerset.
Part-way up, in some pain and needing a quick breather; I could look back and all the way across to the Mendip Hills on the horizon. The full 30 miles of my walk that was to come. It looked menacing even from such a distance.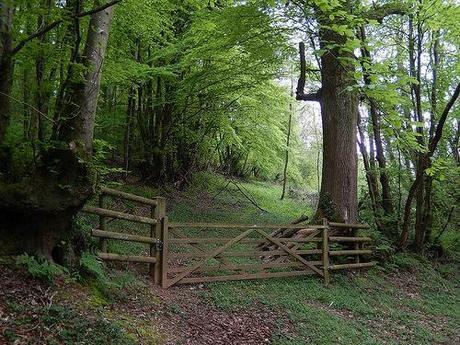 After a long road walk descending down a hill (which isn't any easier with a pain underfoot), I arrived back in Broomfield via a woodland path.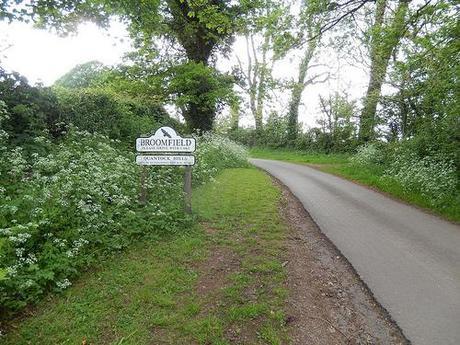 By this time, it was around 7pm. As I departed from the car at around 10 hours earlier, I'd completely forgotten to check for the car park's closing times… I limped through the village with trepidation; fearing as though I'd have to scramble over a locked gate in order to spend a night on the front seat. All sorts of worst-case were running through my head on that final approach…
'How far would it be to the nearest pub? I doubt there's going to be a fish 'n' chip shop nearby. Whatever may be available, can I really walk that far? If I knock on someone's door, would they allow me to refill my water bottle? Could I get to a train station before night falls?'….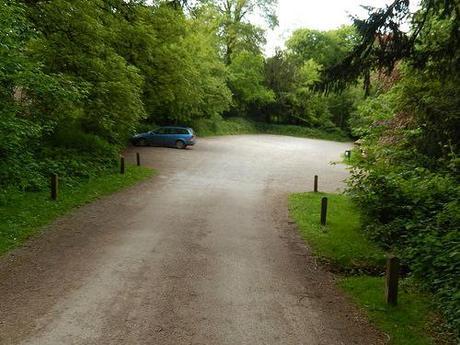 21 miles later and my car had remained faithful in awaiting my return.
Even though my car was the last one to remain, I felt a great sense of relief as I approached the wide open iron gates. There was still time to explore Fyne Court, in spite of a persistent absence for the car park's closing time. I'll tell you all about my experience there in another post! ;-)
Thanks for reading!