From where I left you in Part 1, at the summit Wills Neck down on the highest point of the Quantock Hills; I was still less than a mile away from the halfway point on this (intended) 16-mile walk, meaning that in spite of all the inclines to get this far, I was forcing myself to go a little bit further before resting for lunch.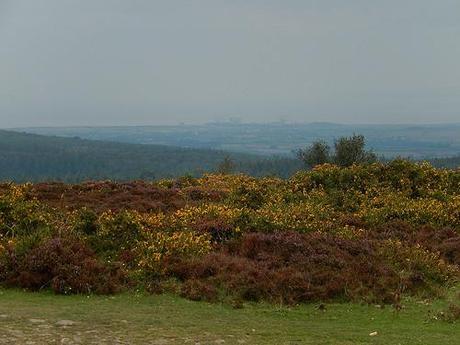 Lydeard Hill was next on my hitlist. From my walk through here back in May, I remembered it being quite a beautiful place, with free-roaming horses and a popular picnic site for many, thanks to the convenient car park.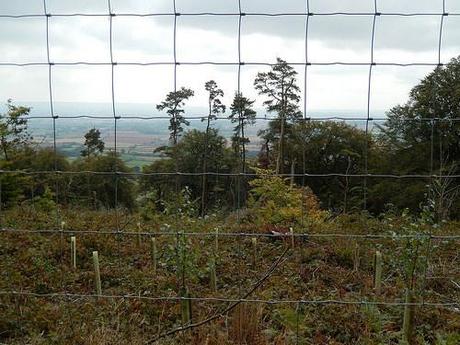 Bagborough Plantation – Somerset.
But this day was much cloudier. A constant breeze almost bought a chill to the air. It was quiet and I found it hard to settle until I took shelter a little further ahead and part-way along a secluded woodland path that would lead in to Aisholt.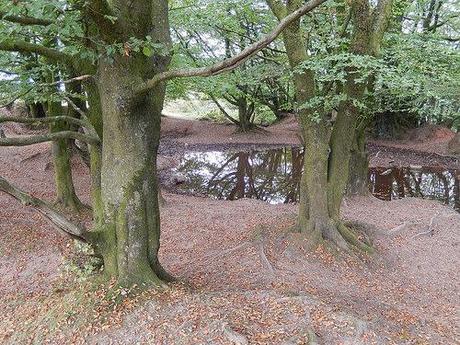 From here, I'd intended to continue north and on to a familiar path that would see me pass the northern side of Hawkridge Reservoir. It started with a familiar trek across the perfectly-sewn field you see below.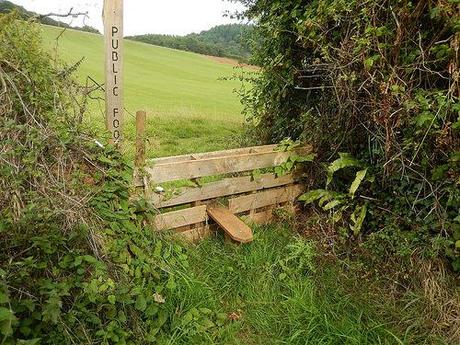 New life for an old pallet!
But as I crossed the next field and began to ascend, I realised that the state of affairs had not improved throughout the past 3-4 months… I knew I was taking a risk in continuing this way but the overgrowth consumed this stream-side path to the point that I sorely [no pun intended] lived to regret wearing shorts for the day.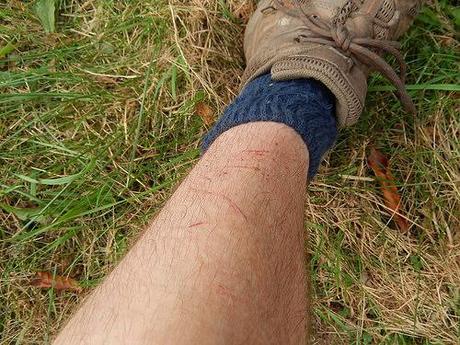 One angle of only one leg….
As if my ankles weren't battered and war-torn enough; as I marched on towards the road, I was pursued by a pair of disobedient fang-bearing dogs!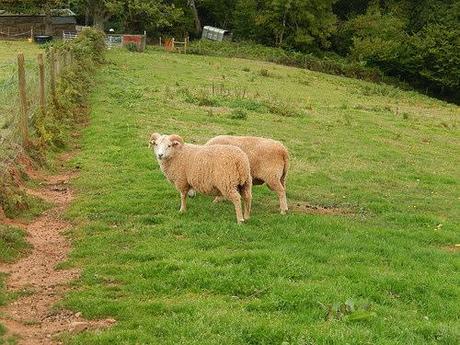 I followed the road up towards Plainsfield before turning right across a path that was different to the one I'd walked previously. In actual fact, I was hoping to avoid the intimidating Highland cattle I'd seen grazing through her back in May… They're weren't to be seen on this occasion.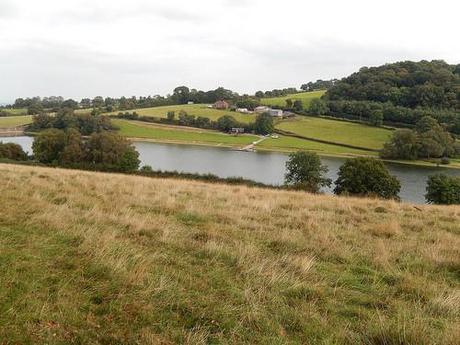 Hawkridge Reservoir – Somerset.
I was heading to where I wanted to be and the route ahead looked safe and carefree. Over another stile and around the bend, my feet met instantly with the discomfort of a freshly-ploughed field, which is something I'd try to avoid when leading a group. It was on such terrain as when my right foot became sore last time I was nearby and it's a pain that's barely let up in the months since.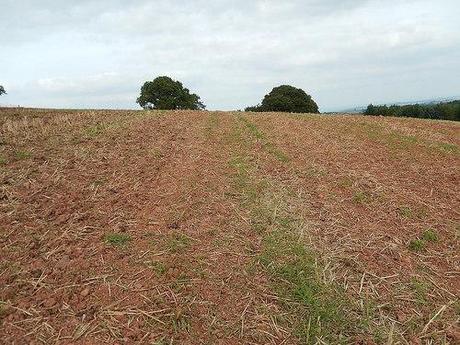 Ahead, the footpath was quite clearly waymarked, even though it didn't quite appear to tally up with my own interpretation of the map in my hand… But then, it all looked very new and perhaps redirected to navigate a new line of stock fencing. I somehow made a wrong turn at the bottom of the road and despite not asking a pair of passers-by for anything more than a 'Hello', I eventually worked out where I was and where I needed to go next.
My route from this point was going to consist of a fair proportion of road walking but I'd earmarked a couple of combe-like footpaths near Pightley that would send me on my gradual return to Broomfield.
I passed a couple of available footpaths before I reached my desired route that began across the lane from Pightley Farm. I climbed over the gate and beyond a pair of caravans to reach an electric fence (with no apparent right-of-way access) and beyond that, an enormous herd of cows; each growing more increasingly aware of and curious towards my presence! It was intimidation beyond relief and the field would've been a long one to risk, had I survived potential burning from the path-splitting live wires…
Returning to my map, I backtracked to the lane and headed down to my second option (just past Pightley House), which looked as though it would on to a long southbound bridleway parallel to my intended route…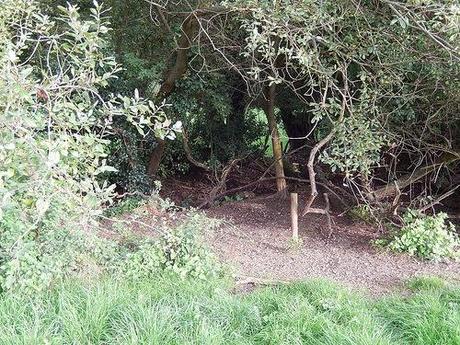 I crossed the first field, following the waymark and that was fine. In the next, a fenced off section tried to deter me as I looked for an opening in the hedge down to my left… Nothing but for all you can see above! On the other side of the stream was a continuous stock fence. Beyond that, I could see the access gate but still, there was no clear way for me to reach it. I had to turn back again.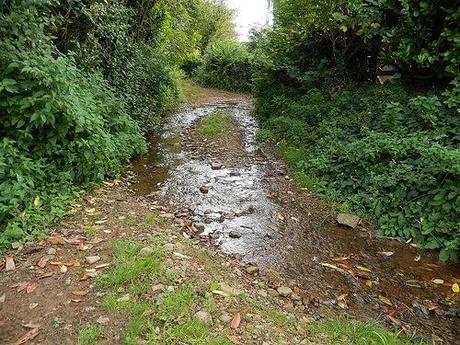 Back from the lane, I joined this path from the very start and marched on until reached its very end. It was no enjoyable. With a constant incline, may rocks under foot and water-borne trench eroded down the center further up, I was hoping I would emerge right beside my car as this walk was quickly losing its appeal.
But, had I not pre-walked this, I'd have had to share each of these difficulties with a group of innocent followers!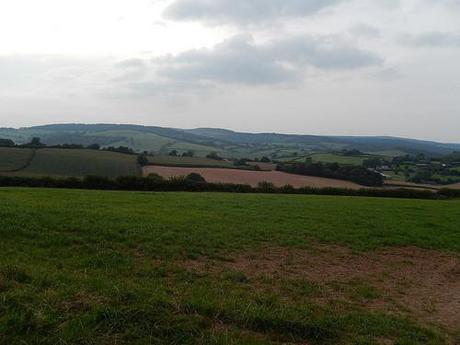 At the roadside, I took a breather while I plotted a tarmac-laden route that would take me up and on to Broomfield Hill. I wasn't prepared to dice with unknown footpaths any longer.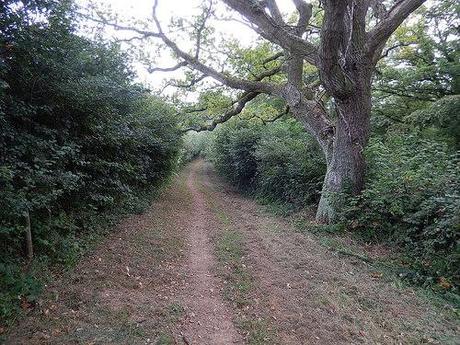 It was another tiring, if mild, ascent by this stage. I was quite delighted to reach an uncharted bridleway that follows the northern edge of Broomfield Hill. All the gates; everything about it looked new; the ground was very well cared for and I was granted some respite from the surprising flurry of passing cars.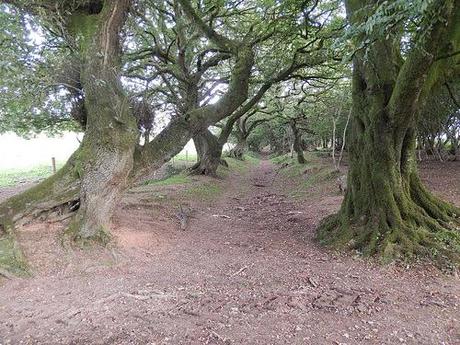 There's a pub only across the road from this point but knew I would have to get up and over this final hill. There isn't a drink on this Earth that would've been cold enough to have set me up for this after sitting down in a soft or hard chair.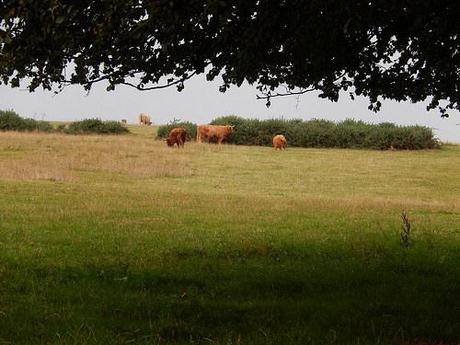 Yet, I was blown away by how pleasant and endearing the climb is. Perhaps my legs were numbed by the 8 previous hours of pain but I did not struggle at all to reach the top.
To the north-west of the hill, it looks as though there's a trig point; away from the footpath but upon what I believe to be designated as open access land. I'd arrived in Broomfield with every intention of finding it – until the very moment I spied the bull-like cows you see above (which may in fact be docile Highland Cattle).
Down another road from the eastern-edge of the hill and I was once again the very last to return to my 'abandoned' vehicle at Fyne Court.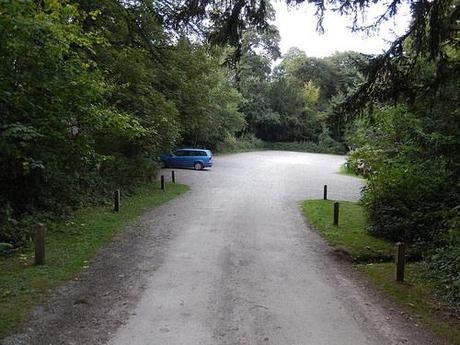 I must be a rotten egg by now or something…
It was 7pm by now. I cannot tell you how tired I was while my foot was failing. I'm just glad I did this on a Saturday because I would've struggled worse than ever to arise for work on Monday morning!
I will have to re-walk the latter half of this one before I can confidently submit it to the group and I imagine it will consist of a greater share of road walking to compensate for the 'lax attitude' portrayed by certain landowners within southern Somerset.
A little advice for you all… If you're intending to walk along a route you're unfamiliar then I would strongly advise you to consider wearing trousers (even zip-offs or lightweight material for the summer). Nothing is worth the suffering of many stings, scratches sores and insect bites because that's what you could end up taking home with you, should you venture out in shorts.
Thanks for reading and let's make the most of the great outdoors while summer continues to fade.