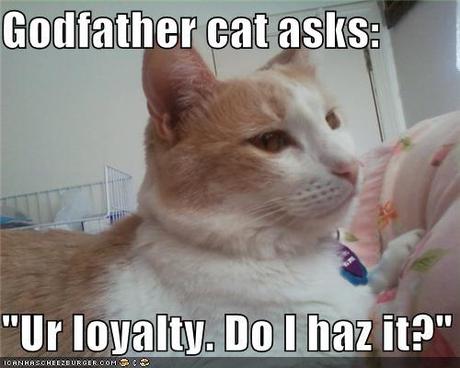 Way back in July of 2007, I talked about the Quality of LOYALTY. At the time, I talked about it from the standpoint of a young employee working at one of their earlier jobs. I talked about the importance of staying loyal to those who employ you and of not being disloyal just because you think you might be getting a better opportunity. Over the next few years, in the classroom, I've been able to experience what many kids call loyalty.
What I've found surprised me perhaps more than it should have given the reason kids are in school in the first place:
They have no clue!

When I deal with my incarcerated students, many of them have the most screwed up vision of loyalty. In their head, loyalty means you never say anything bad about your hommie, no matter what. Period. End of sentence. Ever. In fact, in their world, one never "rats out" a hommie. If a friend is choking to death on a substance that they weren't supposed to ever have been in contact with, loyalty dictates that one will never report the situation to someone who could help. Similarly, if a friend is going to commit a crime against someone else, even someone who is completely innocent, loyalty dictates that the friend commits the crime regardless of any other issues. For these students, the code of loyalty can be summed up best in three words:

Snitches get stitches.

While this sounds like a great premise for a Dr. Seuss book, this kind of warped view of loyalty has the very real-world possible consequence of death or some other permanent condition. One that isn't nearly as funny as a book about the scar-bellied snitch from Dr. Seuss.
I've also seen in regular districts where young people believe they are at war with adults. Or where Hispanic kids believe they are at war with Caucasian kids, Black kids with Asians, or any other, arbitrary grouping.
For example, this week, I had a student call me a name in Spanish that basically included a vulgarity and an adjective that described my being overweight. There were three students in a group, and as they all walked away from my classroom, one of them made the offensive remark. When I asked which one made the comment, surprisingly, none of them even heard the comment or knew what that comment even meant in Spanish. None of them was going to be disloyal to his friends.

I had another student in the same class that committed to writing, some more, even more offensive insults about me. This student at least had the decency to wait until they believed I was gone from the school and therefore out of range to have heard the comment. The student denied writing the comments up till the writing of the comment was compared with a previous writing sample. Of course, other students in the class had seen the student writing the comment, but none of them were going to step forward.

WTF! Nobody knows anything about LOYALTY?

I worry about the future when I see students and young people with such a misunderstanding of real loyalty. I wonder where they get these ideas.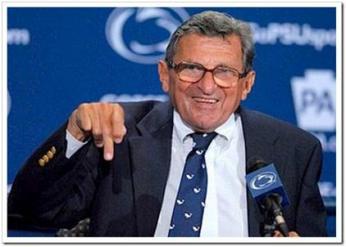 Joe Paterno, formerly of Penn State Football, after receiving reports that one of his friends and former assistant coaches had forcibly sodomized a 10 year-old child, did not go to the police as would have been the right thing to do. Instead, Coach Paterno called the athletic director and might have involved the school administration.

To be fair, this has rather less to do with loyalty, and much more to do with immortality. Coach Paterno was working on half a century of being an institution at Penn State and throughout Pennsylvania. He was a hero to many, and while I believe his decision to not be more active to stop his rapist former assistant coach, there is a small part of me that understands staying out-of-the-way and keeping my head down when I'm trying to accomplish something.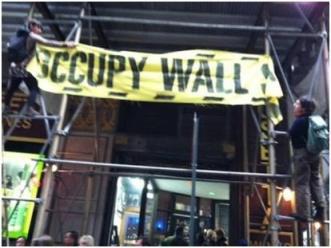 Very serious crimes such as robbery and rape are being committed in many of the Occupado protests. Many of them are going unreported to the authority because the victims and other protesters feel that they are being loyal to their cause and the supporters of the protests.

Their rationale is simple. If they report a crime, then the police will have to come in and do something about it. If the police do that, the protest is over. In a way, the victims feel that they are making some sort of noble sacrifice for what they consider a greater good. I believe they are sadly, and seriously misguided young people who were led astray by the adults in their lives for years.
 
So if this isn't loyalty, what is?
You recognize that this isn't loyalty. You recognize that true loyalty is more about helping others to be successful at all the right things. You know that loyalty sometimes means you have to "snitch" on a friend to keep that friend from screwing their lives up further. You know that loyalty, true and real loyalty, sometimes means telling someone something they don't want to hear.

As an adult, and as a parent, you are probably feeling frustrated because you know that these news stories are no longer the outliers. This stuff is happening every day, across the country. People that we should teach our children to look up to, are becoming with increasing frequency, people that we should shield our children from.

But hope isn't completely lost.
 
What can I do?
1. Show your kids loyalty by being truly loyal yourself. Start with loyalty to your spouse, your family, and to your kids. Sometimes loyalty is protecting your family from malevolent forces. Don't be afraid to let your kids know how your loyalty manifests itself.

2. Call out B.S. demonstrations of false "loyalty" when you see them. When your kids come to you with some story about not wanting to get a friend in trouble, ask them if their friend will be willing to take the punishment for your kid's misbehavior if it comes to it. Spoiler alert, they aren't!

3. Separate your kids from the kids who push for false loyalty. This is a simple one. If your kid has a "friend" who ever says something as stupid as the snitches gets stitches thing, you need to distance your kid from them. First, as we've already said, they aren't really friends, but second, these people are heading towards something dangerous.
I have been unable to verify this story with links to anywhere, but when I was young my dad was big into country music. His favorite artist was George Jones. My dad told me a story about how Jones had either hidden or destroyed all the shoes of his wife at the time Tammy Wynette. I've heard that he took the heels of all the shoes or that he took the shoes altogether. Either way, Wynette's standing by her man definitely smacks of inappropriate "loyalty". Enjoy.