Qminder is a cloud-based queue management solution that helps businesses manage their lines and wait rooms more effectively. Its key features include visitor registration, customer segmentation, comprehensive notifications, and reporting.
For those unfamiliar with queue management systems, they operate on the population's general distaste for long wait times. Unmanageable queues are a plague of many businesses, with customers preferring to abandon their purchases rather than suffer through hours of waiting.
This is what Qminder sets out to fix. Let's see how it actually manages it.
Although we refer to Qminder as a singular system, it is rather a combination of three apps:
1. A sign-in app for iPad.
2. A waitlist app for TV.
3. A desktop dashboard app.
The dashboard app is the default one, but it is recommended that you supplement it with the first one. All three in tandem maximize the value of the Qminder software.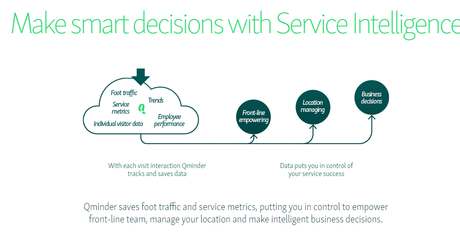 Visitor Registration and Segmentation
The exact manner in which Qminder is employed depends on the business. The most basic application of it is this:
Visitors use tables to sign into queues. They are automatically assigned to the service line they chose during self-registration. Service agents can manually reroute them to a different line in case of a mistake on the visitor's part. When the time comes for the visitors to be served, they are notified by messages on the screen and/or text messages.
This is a simple premise with far-reaching results. On the surface, the core benefit of Qminder seems to be speeding up wait times. Improving the workflow, however, has side-effects, such as granting customers peace of mind.
Giving customers enough information as to how much they need to wait works in favor of both visitors and companies. There is such a thing as perceived wait times, i.e. the way we feel the time we spend waiting is longer than it actually is. By improving the waiting experience, companies can bring the perceived wait times down, as well. As a result, customers don't notice the time they spend in queues.
Qminder is not the only queue management system to hack this, but from what we've seen, it is by far the best one when it comes to implementation of this principle.
Custom Reporting and Analytics
The old saying goes, "You can't improve what you don't measure." The advantage of a digital queue system over a manual one is that it automatically keeps track of every interaction and stores the data for later use.
These data points include averages metric (avg wait time and service time), queue lengths, and also performance. The latter is where Qminder really shines, as the performance is shown for both separate locations and individual employees. This comes in handy when an employer needs to understand what goes right/wrong in their staffing strategy.
The reports themselves are exportable, so you can look them up even when offline. Overall, the numbers tell a detailed story, and for that alone Qminder is worth the price of admission.
Ease of Use
We briefly mentioned Qminder's intuitive nature. Qminder itself boasts that their oldest user is an 80-year old woman. The results, of course, will vary from user to user, but from what we have seen, the interface does seem easy to get the hang of.
For people on the fence with regards to buying a queue management system (we will cover the pricing options below), Qminder offers two standard tryouts: a free two-week trial, and a demo. We did not have much experience with the latter, so we will not speculate on the quality of it. The quality of live support, however, left us satisfied.
We have touched bases with Qminder's online support team on a few occasions, and both response times and responses themselves were admirable. We found ample documentation as well, which helped answer some of the questions we had.
All in all, Qminder's claim of fast, plug-and-play deployment does not seem to be an empty boast, as we were able to get the entire system up and running in a matter of minutes. It does take a little time to learn and get accustomed to some of the nuances of the platform, but the base-level value (managing queues) is indeed intuitive and self-explanatory.
Pricing
Qminder is available on a per location per month subscription basis, and offers three distinct annual pricing plans:
– Standard — $299 a month per location
– Pro — $549 a month per location
– Enterprise — custom price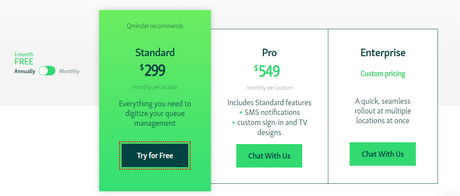 All three plans include the essentials: queue management tools, custom reporting, and a centralized dashboard. Moreover, there are no limitations as to how many people can use the system, and from how many devices it can be accessed. This means that even the Standard plan offers a lot of value, and you don't feel shortchanged by picking it.
The higher price tag of the Pro plan, in comparison to Standard, is explained by its addition of SMS notifications. Users of Qminder's Pro plan can send out text messages to their visitors, either for the purpose of informing them of their upcoming turn or to exchange some personal information.
The Pro plan also offers some quality-of-life improvements, such as custom tablet and TV screen designs, plus team onboarding, HIPAA compliance for healthcare service providers, and third-party software integrations.
For a full list of features and the breakdown of differences between pricing plans, consult Qminder's pricing page.
Conclusion
Making customer queue management simple and fast is one thing, and there are a lot of options on the market to take care of exactly that. What we found the most valuable in Qminder was its:
analytics tools
accessibility.
The latter is especially important, when companies can't afford spend too much time on their teams adapting to ever-changing software and regulations. Qminder proved itself intuitive enough and comprehensive enough to warrant its price tag.
Thanks for reading this review, and keep visiting for more updates!